Do Australians prefer traditional or electric vehicles?
The first thing we wanted to understand was whether Australians had a preference for traditional or electric vehicles (EVs). In order to do this, we asked the question: If two identical vehicles were available in both a traditional or electric model at the same price, which would you prefer?
Half of Australia said they would prefer an electric car (50.8%), compared to just 36.2% that would opt for a traditional vehicle. The remainder indicated no particular preference.
Of those that favoured EVs, 25-34-year-olds were the fondest, as represented by almost 58% of the age group. Those aged 65 and older were the most likely generation to opt for traditional vehicles. We also found that men were slightly more likely than women to prefer an EV, indicated by 55% of males compared to 46% of females.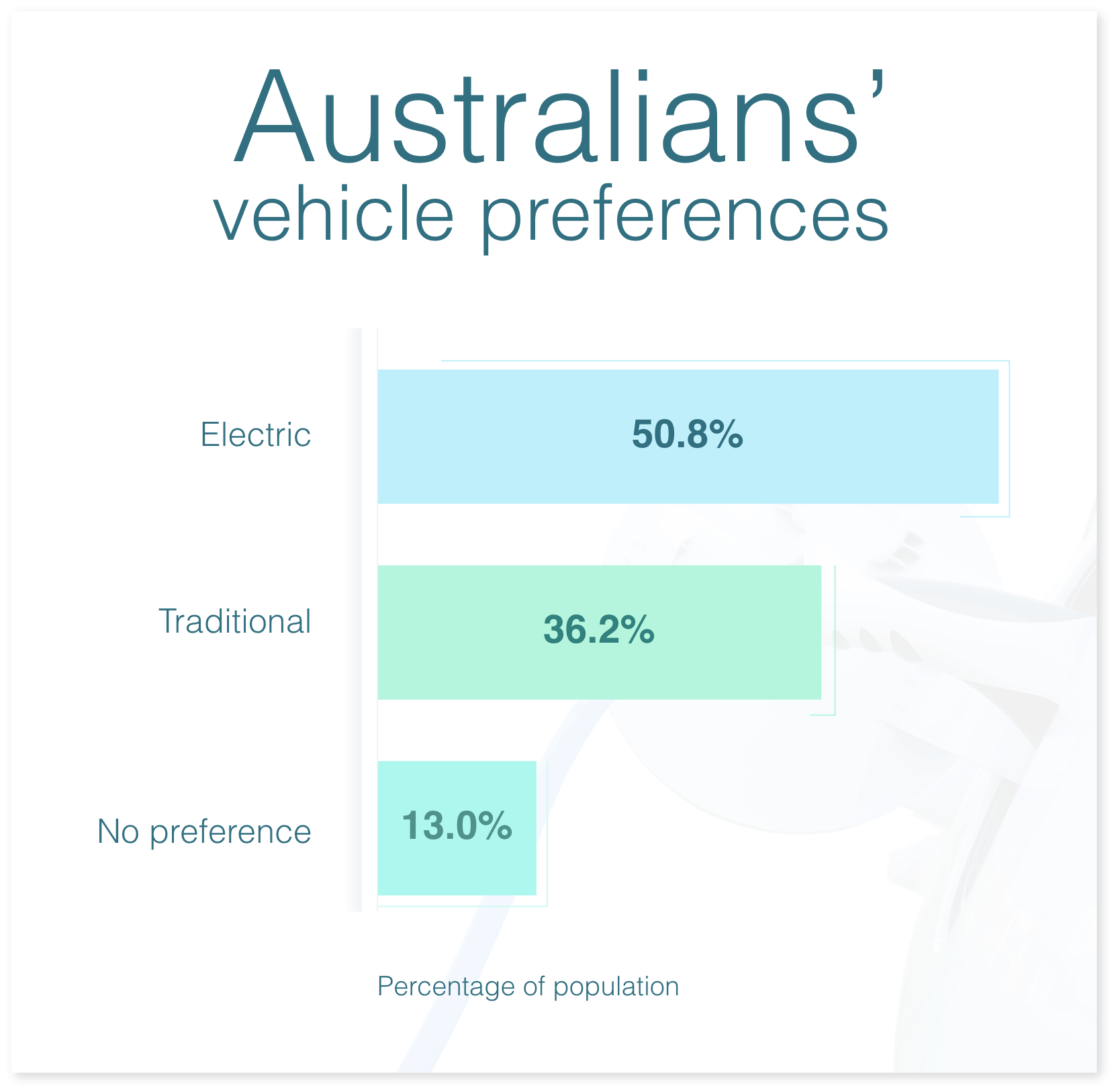 Why electric vehicles aren't more popular in Australia
When it comes to understanding what dissuades prospective buyers from going electric, the main barrier is purchase price (66.6% of population). This was especially true in 35-44-year-olds, who showed the highest likelihood of indicating purchase price as the key driver for not purchasing an EV.
Another common roadblock was the availability of charging stations, among honourable mentions such as the driving range of the car and an understanding of the technology.
Just 6% of respondents indicated that they saw no barriers when it came to the purchase of an EV.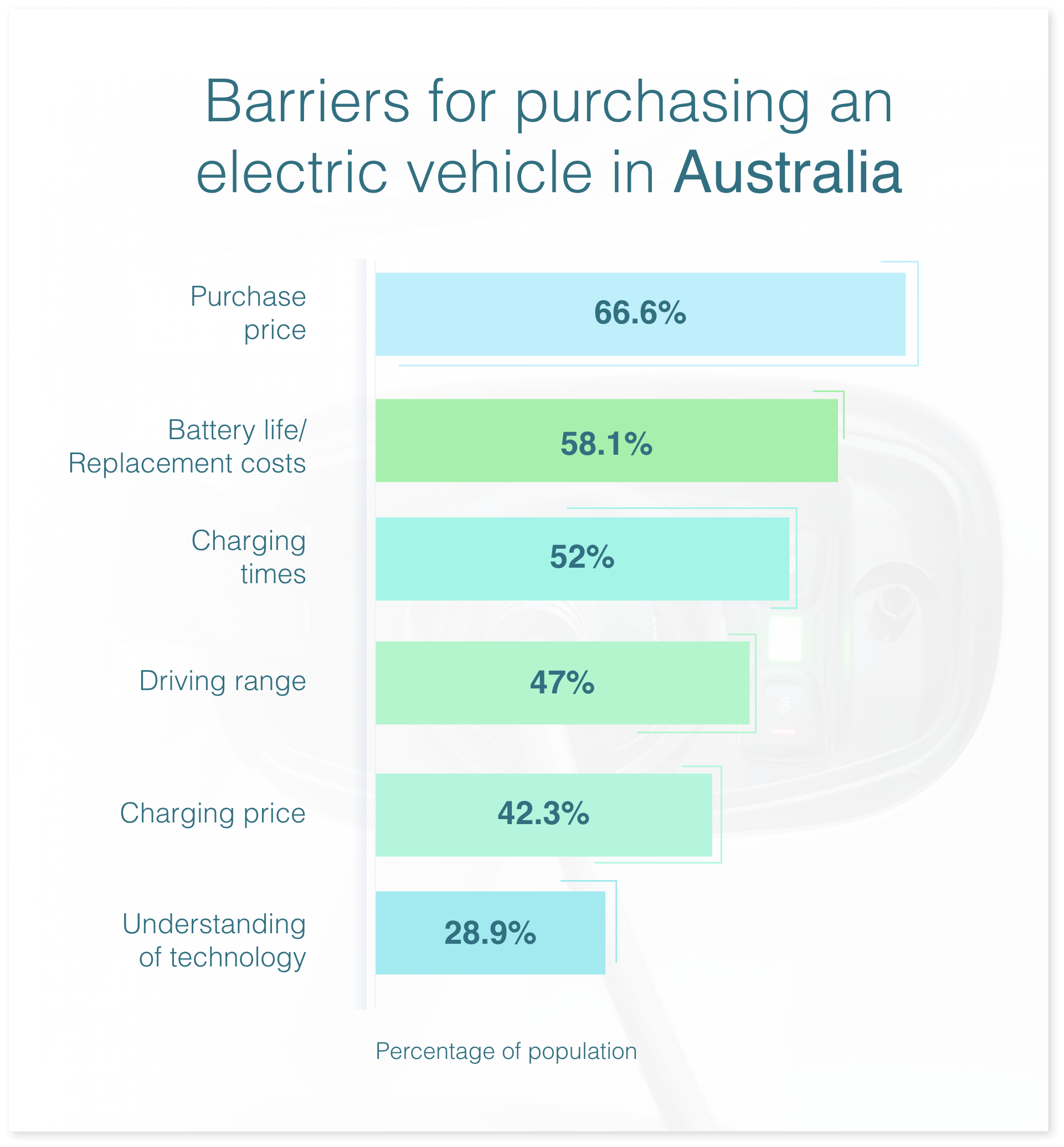 Interestingly, while the older generation (65+) was not the most likely to state 'understanding of technology' as a barrier, they were the most likely to indicate charging time and price, driving range of the car, and the cost of battery replacement, which may indicate that those in this age group do in fact have a lesser understanding of the technology than other age groups included in the study.
Another striking comparison can be made between genders. Not only were women more likely to prefer traditional vehicles, they were also more likely than men to quote five of the six key barriers to purchasing an EV.
How much are Australians willing to spend on a new electric vehicle?
To find out, we asked the question for both EV and traditional cars. As it turns out, more people would be more willing to spend the big dollars on electric vehicles than they would their traditional counterparts. In other words, the majority of shoppers looking to spend less than AU$45,000 on a new car would opt for traditional, whereas those spending more would prefer electric.
If we consider the results from a lower financial threshold, just one in five Australians (21.7%) would spend $25,000 or less on a new EV, compared to more than a quarter (28.7%) that are open to spending the same amount on a petrol or diesel equivalent.
Despite people being open to spending more on an EV, the fact remains that they remain largely unaffordable for many with price the most prominent barrier to entry.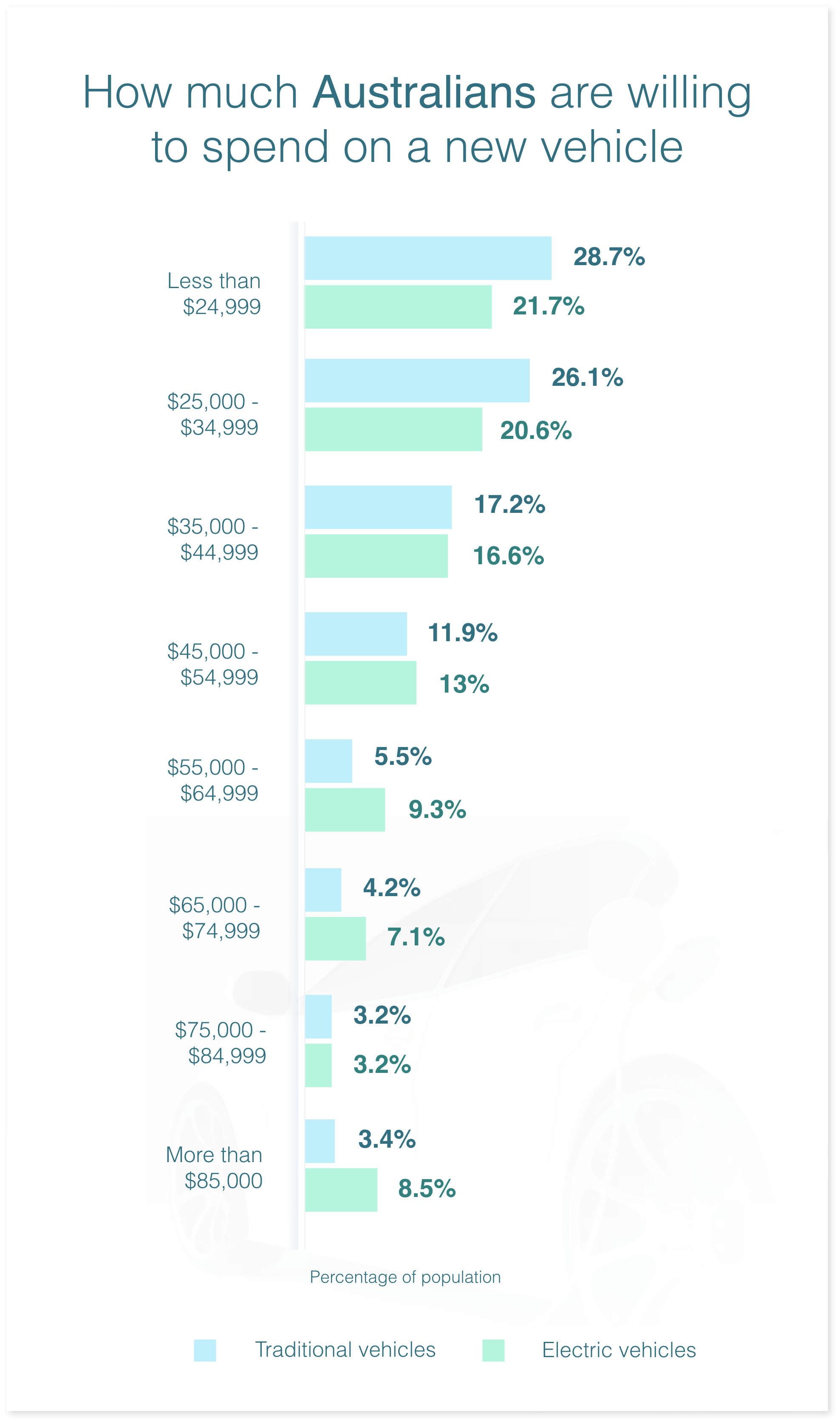 When will electric vehicles become more affordable in Australia?
While EVs are typically more expensive than their traditional counterparts, there is some good news on the way for those looking to purchase one down under. Several newer models, such as the BYD Atto 3 and MG ZS EV were introduced in more recent times, which are considerably more budget-friendly for those concerned about purchase price.1
A number of government-supported initiatives, such as subsidies, are also in place across several states in Australia, which are designed to support those in the market for a new electric vehicle.2