It's an unfortunate reality that fatal road accidents can happen to anyone, at anytime, anywhere around the world. But the latest new research from the car insurance experts at Compare the Market Australia reveals which nations are worst, and which gender is most at risk.
Of course, driving skills cannot just be determined by gender, it comes down to the individual, their abilities and their experience driving, all of which can vary greatly.
However, this research analyses road accidents and subsequent mortality rates across the world and between genders, including a break down by country to reveal whether there could be a difference in this regard, too.
Read on for the results.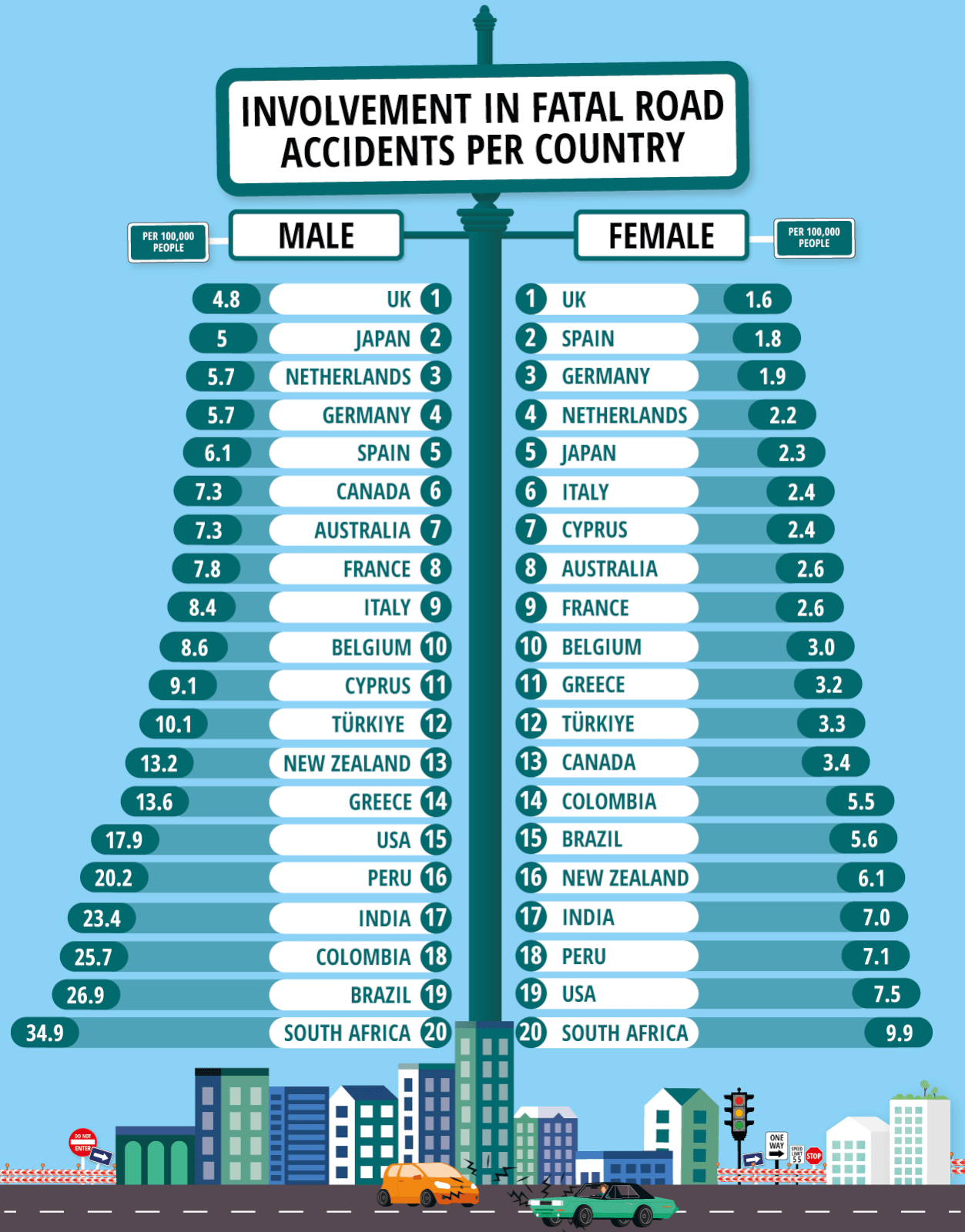 Which countries have the lowest number of road mortalities?
The country earning the title of having the lowest road mortality rate is the United Kingdom. According to our research, the number of fatal male accidents stands at 4.8 per 100,000 people, and this number is even lower for females, too, at 1.6. With a national speed limit of 70 miles per hour which goes down to 30 in built-up areas,1 this could explain why, regardless of gender, British drivers are some of the safest in the world.
Japan just misses out on the top spot, at 5 fatal accidents per 100,000 people. However, when it comes to female drivers in Japan, they actually feature lower down, ranking fifth behind Spain, Germany, and the Netherlands. Interestingly, of all the countries in the index, Japan has the lowest gender gap difference between male and female accident fatalities, at 2.7.
Right behind the UK with 1.8 fatal female accidents per 100,000 is Spain. Looking at genders specifically, male Spanish drivers came in fifth place on the index.
South Africa has the biggest gender gap in fatal road accidents
When it comes to which countries are worst for fatal road accidents overall, South Africa is the country with the highest amount for both genders. However, while South Africa has the highest number of fatal accidents for both genders, this is significantly higher for males at 34.9 per 100,000 people, compared to 9.9 for females which makes it the country with the largest gender gap. This could be because fewer women in South Africa drive on the road, therefore explaining the notable difference.2
Brazil has the second worst rate of fatal road accidents for males at 26.9 per 100,000 people. This could be down to some unkept roads, with the potential of large potholes, mud pits, and roads at risk of flooding.3 Although, this is a drastically different story for women (5.6).
Meanwhile, the USA looks to be where females are more likely to be involved in a fatal accident, with statistics sitting at 7.5 per 100,000. Perhaps this could relate to the lower minimum average driving age of 16 or the fact that each state has its own driving requirement4 (with some not being as strict as others for driving tests). Comparing this to men, it isn't the worst of all the countries included in our index (17.9) but they do still appear in the bottom half.
How to stay safe on the road
No matter how good of a driver you think you are, there are still ways you can take extra care once behind the wheel. While some of them might seem obvious, they're still worth remembering. Here are our three top tips for how to stay safe on the road:
1. Avoid any distractions
Whether you're eating, have notifications coming through on your phone, or have disruptive children in the backseat, it's important to avoid distractions while driving. Limiting distractions ensures that you'll be more alert, have quicker reaction times, and be more aware of your speed.
If you're hungry, pull over somewhere safe to eat a snack. Also, put your phone on Do Not Disturb mode before setting off, so it's not constantly pinging, and prepare something in advance to keep the kids entertained.
2. Take breaks if you're driving long distances
Driver fatigue can be fatal. Even if you don't feel like you need a break, your level of alertness and reaction time can be impacted if you've been driving for too long. Generally speaking, you should take a quick break for around 15 minutes for every two hours of driving. Taking breaks helps you maintain focus on the road and helps you avoid feeling fatigued when driving long distances.
3. Maintain a safe distance
You should always keep at least 2-3 seconds' distance between yourself and the vehicle ahead. Maintaining a safe distance from other cars also means you have time to react, if necessary. Depending on the weather conditions, such as heavy rain or snow, it's better to be extra cautious and leave an even bigger gap.