The number of electric vehicle (EV) sales has exploded in recent years, with more established brands switching over to electric and hybrid models and new manufacturers entering the market. Countries across the globe have set targets for when new fossil-fuel vehicle sales will cease as they look to an EV future.
As car insurance experts, we wanted to see which brands people have in mind when searching online for electric cars in countries all over the world. Compare the Market has crunched the data from 179 different nations to find out who takes pole position, as well as some other interesting search trends which we'll get into later.
Let's take a look at the results.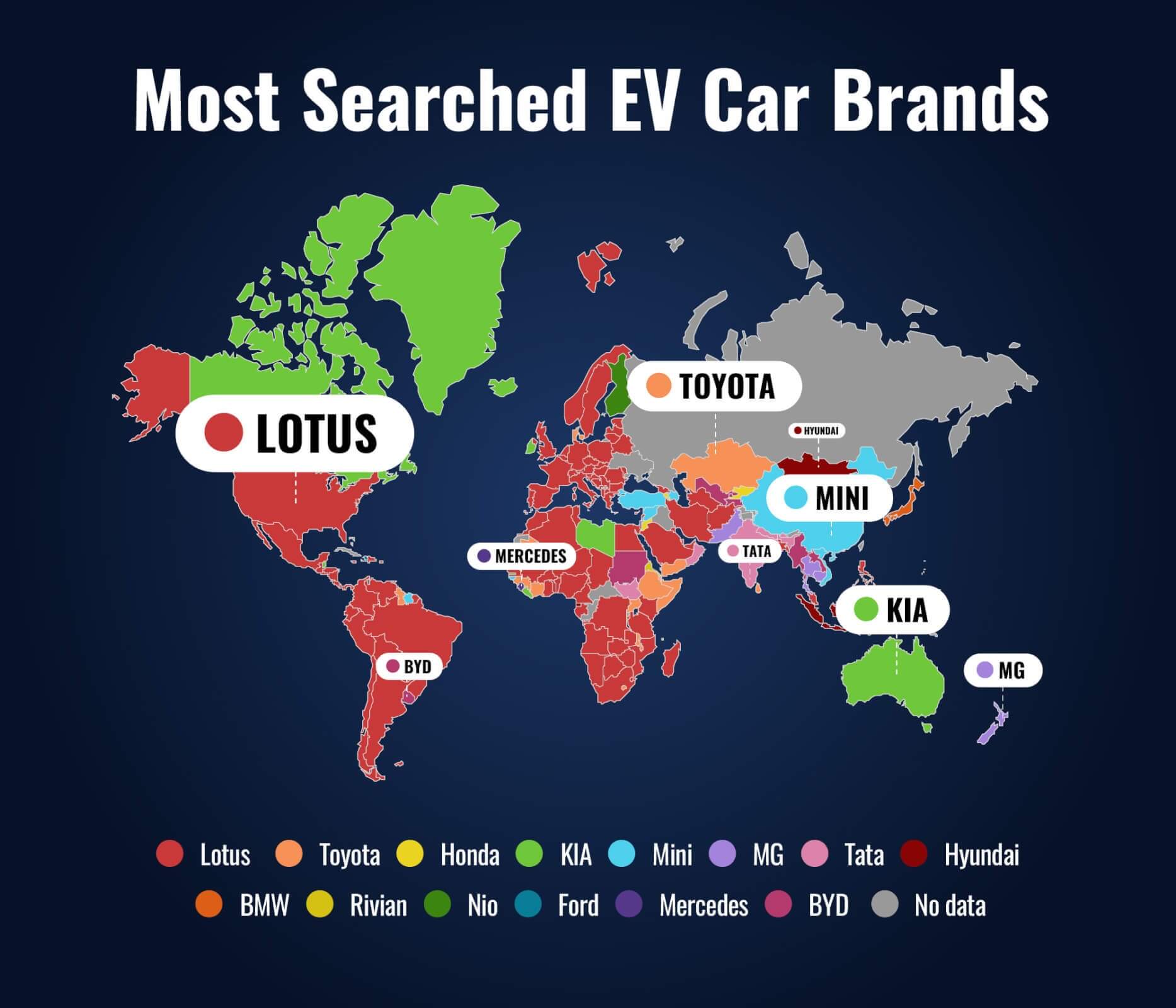 Lotus races ahead of other brands when people search for car brands and EVs
When looking at searches for brand names and the term EV, there was one clear winner as British supercar brand Lotus left the competition in its dust.
One-hundred-and-two nations across the world searched for Lotus more than any other brand that sells electric vehicles and hybrids, placing it well ahead of the next most-popular brands for this search term.
Lotus was joined on the podium by Toyota in second place and KIA in third. Toyota was the most popular in 18 countries, while KIA was the top choice for 11 countries searching for EVs by car brand.
What makes this more interesting is that Lotus currently only has two electric models currently available as of time of writing: the Eletre luxury SUV and the Evija hypercar. In contrast, Toyota has eight current hybrid models available for sale. KIA currently has three available, with a fourth one (EV9 SUV) coming soon.
What happened to Tesla?
Highly conspicuous by their absence was renowned EV manufacturer Tesla. When combining brand names and the acronym 'EV' as a search term, not one single country had Tesla as their most popular brand. We looked a total of 70 brands, but 55 didn't make it onto the table. This isn't to say that nobody was searching for Tesla or other brands and the term 'EV', just that they weren't the most popular brand for this query in any particular nation.
But given how popular Tesla is as a brand, we decided to dig a little further.
Switching to another search volume tool, SEMRush, and searching for the terms "Tesla" and "Lotus", it was Tesla that was more popular, with 114 countries favouring Tesla while two favoured Lotus in terms of search volume (SEMRush did not have as many countries available as Google Ads Keyword Planner). It appears that Tesla is so synonymous with electric cars that most people searching online don't bother to add the term 'EV' to their query.
This shows that Tesla remains a highly popular brand, but because we added 'EV' to our queries to focus on people specifically looking for car brands that sell electric cars, this popularity wasn't adequately reflected in our data.