Burglaries around the world decreased significantly during the pandemic, due to more people being at home.1 But with life back to normality, and people going out and socialising, break-ins are on the rise.
As experts in home and contents insurance, we know the importance of having your home and belongings protected, especially if you live in a theft-prone area. Having a home and contents insurance policy can keep your belongings and home protected in the event of damage or theft during a break-in. Depending on the level of cover your policy provides, you could be entitled to a pay out that goes towards the cost of repair or replacement of your items.
Knowing the benefits of being covered by such a policy, we decided to uncover the cities that have reported the most and least break-ins, as well as the cities that spend the most on smart home security, so that you can get a better idea of just how common theft can (unfortunately) be.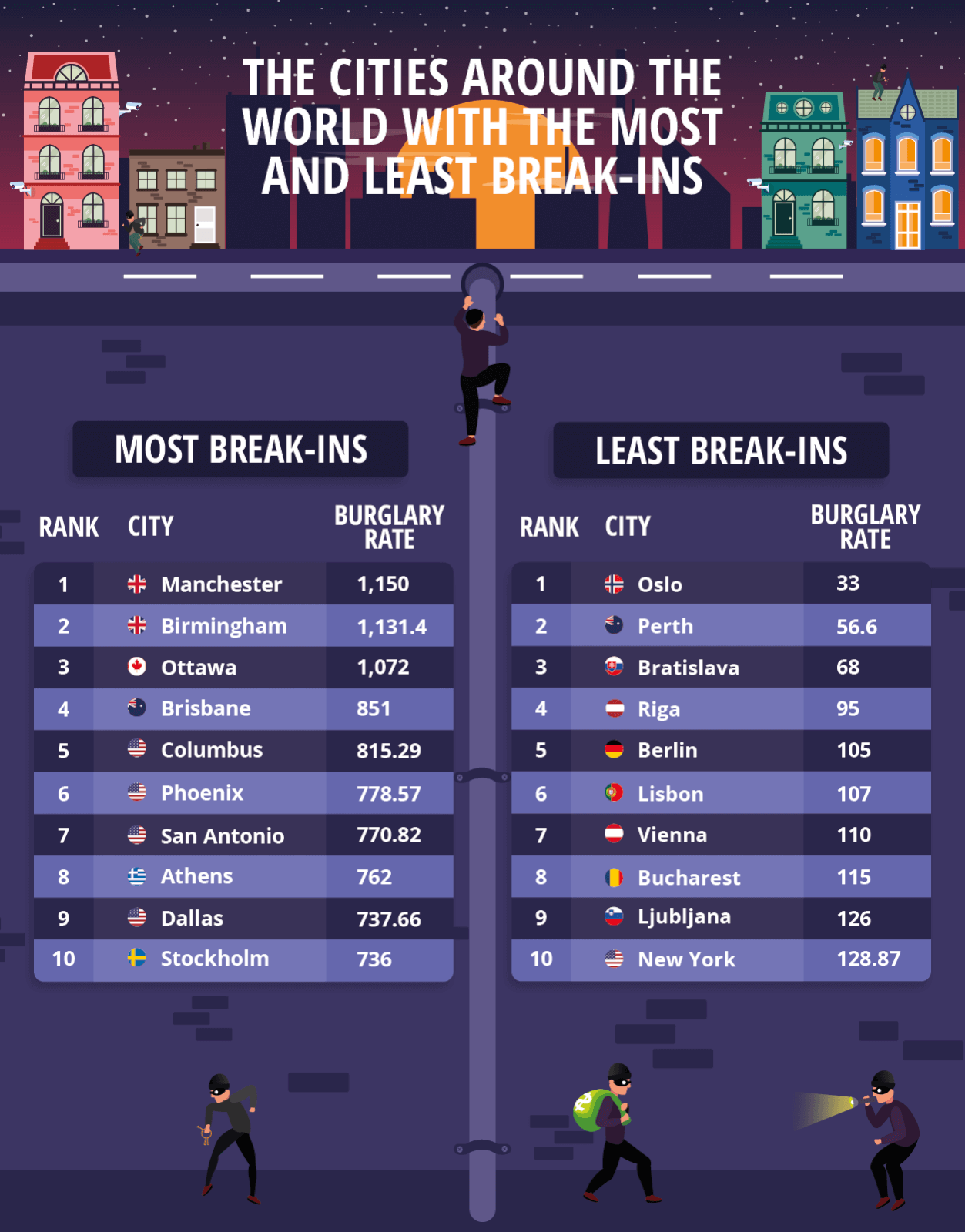 The cities prone to the most break-ins
The city that has the most break-ins is Manchester, in the UK, at a rate of 1,150 per 100,000 people; with Birmingham, UK coming in second place at 1,131.4. Regional police forces across the UK post tips on the best ways to prevent burglaries, but that hasn't stopped them from having the highest rates.
Canada's capital comes in third place, with Ottawa experiencing a burglary rate of 1,072 per 100,000 people. Ottawa police run an initiative where, at the request of a homeowner, they'll visit a property to carry out a safety audit, and suggest ways to help reduce the risk of a break-in.
The USA featured quite heavily, with Columbus, Phoenix, San Antonio and Dallas all making it into the top 10.
When it comes to Australia, Brisbane has the highest burglary rates, at 851 per 100,000 people, putting it in fourth place. However, there are a couple of European cities that make the list too – Athens, with a break-in rate of 762, and Stockholm, at 736.
The cities with the least break-ins
At the other end of the spectrum is Oslo, with Norway's capital having the lowest burglary rate, at just 33 per 100,000 people.
Most of the cities listed are all located in Europe – Bratislava, Riga, and Berlin are in third, fourth and fifth place; with Lisbon, Vienna, Bucharest, and Ljubljana also making it into our list of cities with the fewest break-ins.
Perth scores extremely well – at a burglary rate of 56.6 per 100,000 people, it's the city with the second least amount of break-ins in the world; and New York has the lowest rates in the US, at 128.87.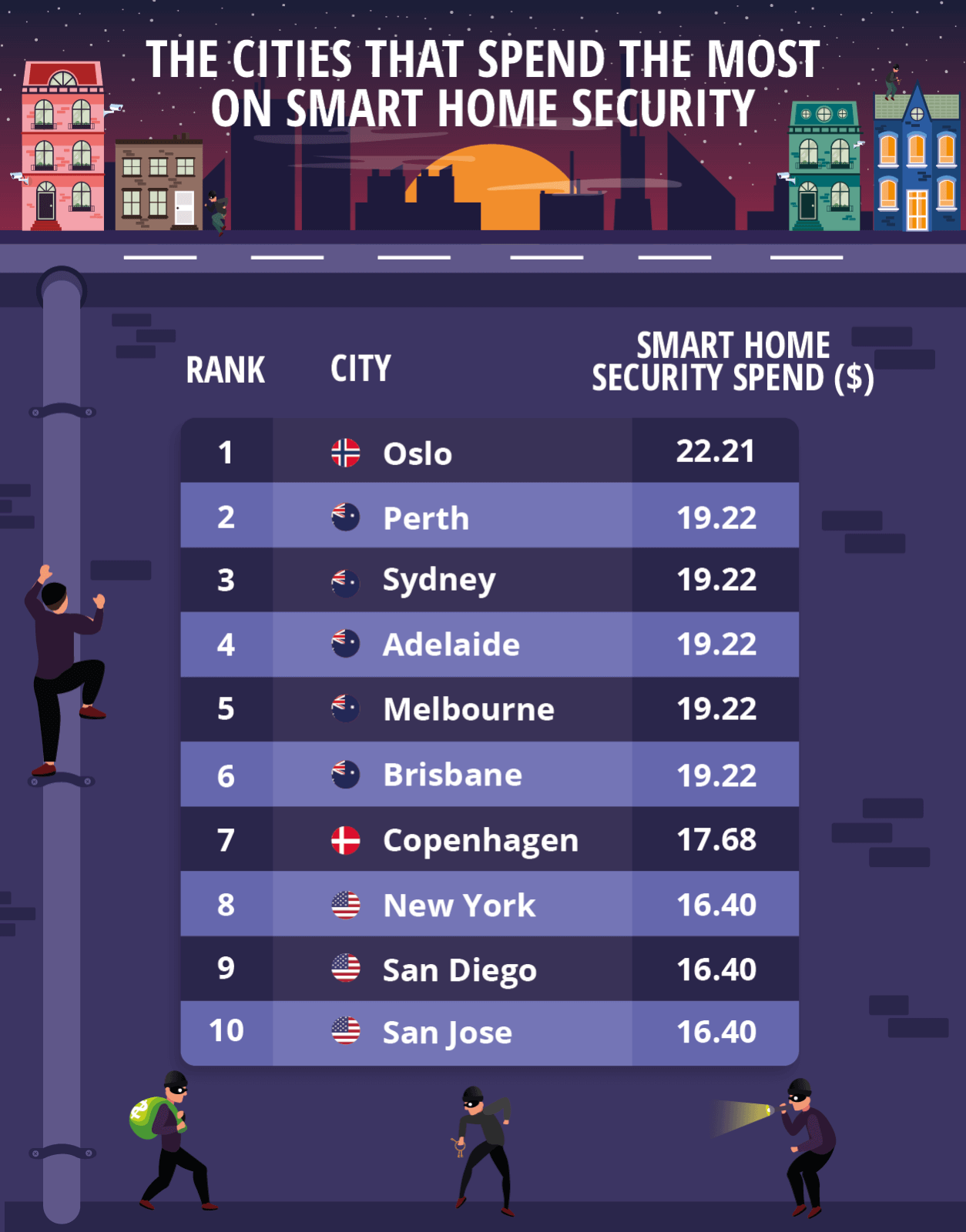 The countries that spend the most on smart home security
Interestingly, if we then look at the countries that spend the most on smart home security, we can see that Oslo and Perth both come out on top, spending an average of US$22.21 and US$19.22 per person.
In fact, Oslo's always been ahead of the curve, and are working through initiatives to make it a smart city. This means that everything from energy usage to traffic and congestion can be analysed and worked on, to ensure the city is as sustainable and safe as possible.
Smart home security systems are popular in Australia, with Sydney, Adelaide, Melbourne, and Brisbane all spending the same amount as Perth, at around US$19.22 per person, to make sure their homes are safe and secure.
Copenhagen comes in seventh place, as the second and last European city in the top ten, with New York, San Diego and San Jose rounding off the top 10, each at US$16.40 on average per person.
Adrian Taylor, General Manager of General Insurance at Compare the Market states: "Spending more time away from your home provides an opportunity for would-be thieves to break in and see what they can take. However, there are many things you can do to help reduce that risk – from ensuring all of your windows are locked, to not posting about holidays on social media, and installing a home security system.
"In fact, having a home security system in place can, in some instances, lead to discounts on home and contents insurance policies.
"However, these things will not protect you from the financial impact a break-in can have, which is why it's so important that you do insure your home and belongings, as it can help to cover the cost of damaged or stolen possessions."
Just remember that policies can vary from one another, but also between different insurers, too. It's a good idea to check the Product Disclosure Statement (PDS) before purchasing to better understand any limits, exclusions and restrictions of your chosen policy.
To browse our range of insurance options and discover a policy that is most suitable for you, visit our home and contents insurance journey.