The most disliked architectural styles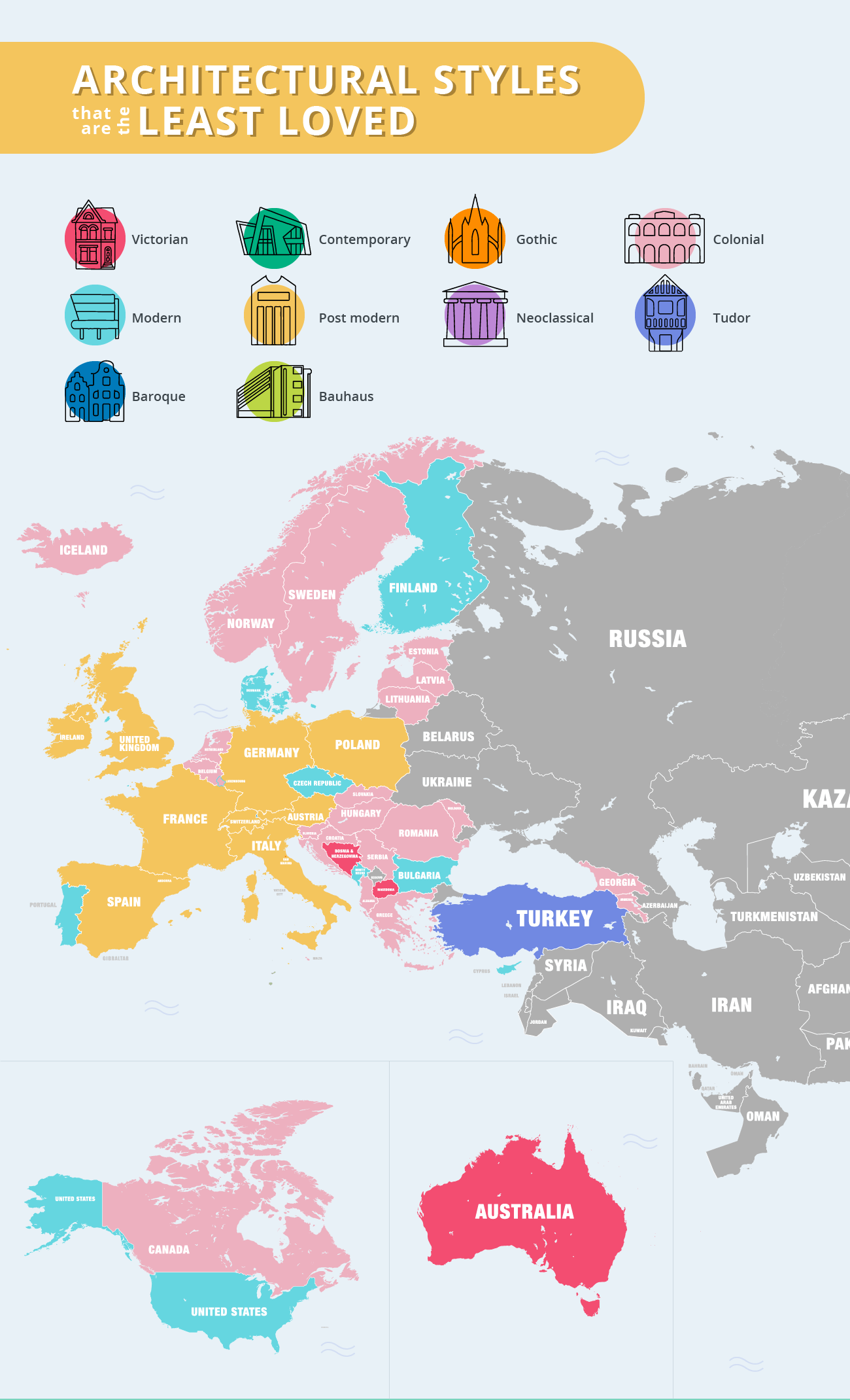 Colonial
23 out of our 54 nations reported disliking colonial architecture the most, including some big names like Greece, Canada, and Iceland. Furthermore, around 24% of online architecture discourse out of the Faroe Islands was of negative sentiment towards the style!
Colonial architecture stems from architectural inspiration being taken from a mother country and utilised in colonised areas, the most famous of these being American Colonial architecture. Colonial architecture is often a mix of other architectural styles in itself, typically being wood-centric and a simple rectangle in shape.
Modern
12 countries are not keen on the style of Modern architecture, including the USA, Portugal, Denmark, and Finland. Modern architecture is typically glass and steel-heavy buildings, like the Shard in London or any of Australia, America, or Asia's latest skyscrapers. They also incorporate modern and cutting-edge materials as and when they are developed.
Many of these new materials are developed to improve structural strength and thermal performance, and to also be more sustainable and generally more environmentally conscious. More commonly used for commercial than residential construction, modern architecture is truly iconic and will certainly be something the 2000s will be recognised for.
Post-Modern
Post-modern architecture is unsurprisingly not well-loved in Europe, particularly amongst smaller, traditional countries like the Vatican, but also in plenty of larger countries that have more progressive architecture (including Spain, the United Kingdom, Germany, and France).
As one of the most interesting and diverse architectural styles, postmodernism was created to counteract the uniform styles that were developing from modern and contemporary architecture. This style has inspired some of the most iconic 20th century buildings in the world, from the Sydney Opera House to all kinds of structures being erected even today.
Tudor
Turkey is not into Tudor style – 3% of Turks have reportedly expressed negative sentiment towards the style online. Tudor and subsequently Tudor revival came again from England and is commonly seen in black and white cottage style buildings with thatch roofing in some cases. Truly iconic of the period, it's hard to miss where it can be found.
So, if you're moving over to Europe or the USA, you'll know for sure what styles of homes you're likely to have on offer! If you're looking to upgrade from your Tudor home to a contemporary home in favour of the trends, why not compare home loans from different mortgage providers to find the best deal you can.