Caused by damp and ventilation problems, it's estimated that 30% of homes worldwide are affected by mould damage.1 Persistent mould can not only lead to damage to your possessions and the structure of your property; but because mould can release something called mycotoxins, which is toxic to humans, it can cause health issues too – most commonly, respiratory problems.
As home and contents insurance experts, we recognise that prominent mould is a regular issue in many cities across the globe, and it has been known to cause damage to the home. With this in mind, we decided to take a look across Australia and the USA to discover the cities and states that are most impacted by mould. To do this, we looked at monthly search volumes for the topic.
So, read on to discover which areas are impacted by mould the most, as well as tips on how you can prevent it from entering your home.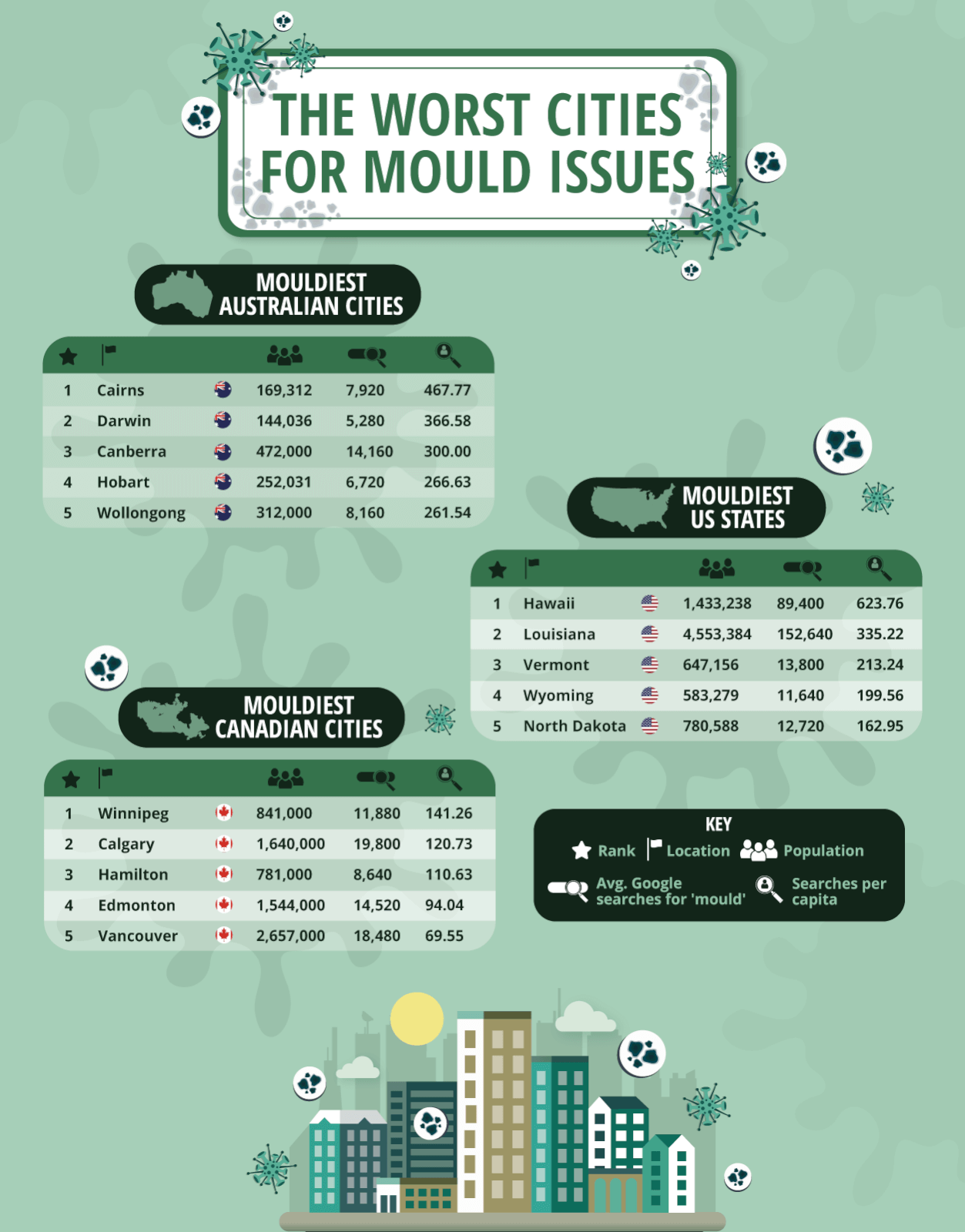 Australia's mouldiest cities
Cairns is officially the mouldiest city in Australia, with its 169,312-strong population searching for 'damp issues' 7,920 times every month; or 467.77 searches per capita.
Darwin and Canberra aren't far behind, with 366.58 and 300.00 searches per capita respectively, with Hobart and Wollongong making up the top five.
With summers hot and humid in Cairns, Darwin, and Wollongong; it makes sense that damp can be an issue, with humidity a prime space for mould to grow and spread. Other cities like Canberra and Hobart experience damp, cold winters, and can also be at risk of mould.
Mouldiest states in the USA
Looking at the US, Hawaii is the mouldiest state, with its population of 1,433,238 making 89,400 monthly searches for 'damp issues', totalling 623.76 searches per capita. Again, with the warm temperatures and island location in the Pacific, Hawaii is the ideal place for mould to grow.
Louisiana – a quite humid state in the US – comes in second place, with 335.22 searches per capita, and the most searches for 'damp issues' out of our top five, at 152,640 every single month.
The other three mouldiest states can all be found in the north (Vermont, Wyoming, and North Dakota); showing that if you don't take steps to prevent mould, it can still grow even in cold climates – it's all about the humidity and dampness in the air.