Every year, the coast draws thousands of us away from city centres with the promise of a slower pace of life, and easier access to nature. Whilst coastal cities have so many benefits to them, if you're considering making the move, it's also important to take into consideration things like access to amenities and monthly salaries, so you can still enjoy a great quality of life.
As experts in helping consumers look for home loans while on their home-buying journey, we decided to take a look at a variety of coastal cities all over the world, and see where's best to live, based on a range of factors including unemployment rates, average salaries, healthcare quality, interest rates and more.
How do interest rates affect quality of life?
A nation's average interest rate can be looked at as a key cost of living measure, and plays a big part in the affordability of housing in said nation, along with other cost of living pressures.
A higher average interest rate can be particularly important in coastal cities, where property is often more expensive due to the perceived desirability of those markets, since higher rates and large mortgage sizes can significantly impact affordability. When looking to purchase, particularly in Australia, comparing your options for home loans can help you to identify whether a reasonable interest rate is available and look for a deal that is best for your circumstances.
So, whether you're considering packing up and moving to the shores, or just want to book a beach break, read on to discover the best coastal cities the world has to offer.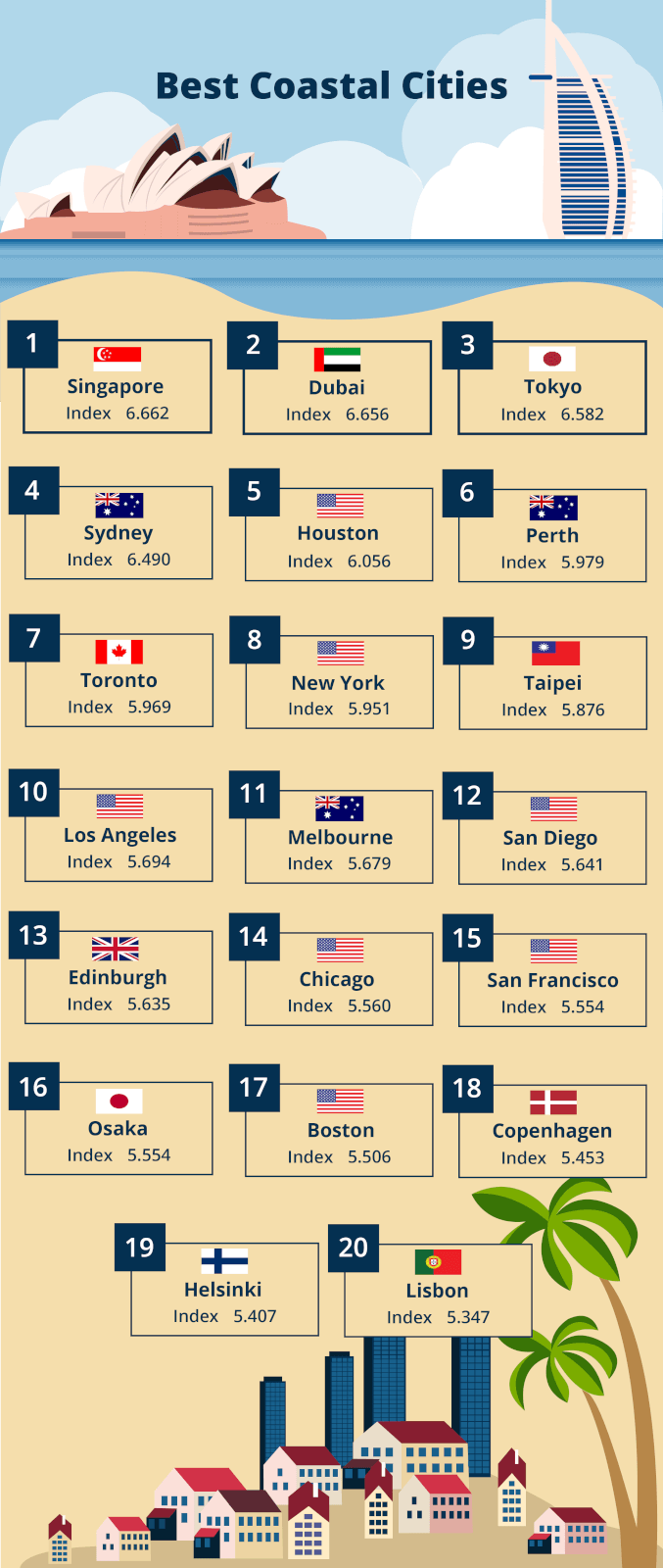 To view results for each individual ranking factor for the above cities, please click here.
1. Singapore, Singapore
Coming in first place, Singapore is renowned for offering an excellent quality of life, and part of the reason why it scores so well is because it has the third-lowest rate of unemployment (2.25%), and low interest rates.
If you want to live right by the beach, then you've got loads of places to choose from. Siloso beach is surrounded by cute cafes and hip eateries, whereas Palawan boasts some of Singapore's best swimming areas, with tranquil waters.
2. Dubai, UAE
Commonly referred to as the playground of the rich, Dubai comes in a very respectable second position, due to its incredibly high standard of living. Not only that, but it has the second-lowest unemployment rate on our list (1.6%), the third-lowest crime rate levels, and the fifth-highest number of attractions.
JBR beach is undoubtedly the most well-known. The biggest in Dubai, whilst some sections are private for hotels, the vast majority is open for everyone to enjoy. Alternatively, you can head to one of Dubai's newest beach developments, La Mer, which also offers lots of places to eat and shop, or Kite beach for watersports.
3. Tokyo, Japan
Japan's capital comes in third place, with its high healthcare quality, low unemployment rate, and sheer number of things to do (with 12,131 attractions!) making it one of the best coastal cities in the world to move to.
Whilst Tokyo might be more well-known for the hustle and bustle of its city centre, there are actually loads of beautiful beaches on the outskirts that you can move to. Southern Beach Chigasaki is popular with both surfers and swimmers, and on a clear day, you can see Mount Fuji; whereas Atami Sun Beach in Shizuoka is an hour and a half out of the city, and is also home to tranquil hot springs.
4. Sydney, Australia
The first Australian city to feature on our list, Sydney is famed worldwide for its beautiful beaches. Bondi Beach might be the most well-known, and it's certainly one of the closest to Sydney's city centre, but there are so many more shores to discover, too.
Hop on a ferry and head over to Manly Beach for its gorgeous golden sands, Shelly Beach for some of the best sunset views, or Balmoral Beach, which is particularly popular with families.
In terms of practicalities, Sydney has a high quality of healthcare (sixth on our list), and the 14th highest monthly salary after tax, at US$4,212.50 (AU$6,697.88).
5. Houston, Texas
Wrapping up our list of top five coastal cities is Houston, located on the edge of the Gulf of Mexico. For a slower pace of life, head out of the city centre to the suburbs, to the likes of East Beach in Galveston, which isn't just home to pure white sands, but the annual American Institute of Architects Sandcastle Competition (perfect if you like sandcastles!).
Alternatively, Stewart Beach is perfect for families with its calm waters, pavilion, and playground; or Bryan Beach, which is the ideal choice if you don't want to leave the party scene behind.
With Houston's monthly salary after tax being the seventh-highest on the list, at US$5,020.60 (AU$7,982.75), and unemployment rates fairly low, at 3.89%, it's clear to see why you might choose to move here.