The family holiday destinations with the most expensive peak seasons
We sampled the prices of family-friendly hotels and family activities at some of the world's most famous holiday destinations that are known for child and family friendly activities and attractions. We then compared the difference in peak and off-peak prices for hotels and day activities to calculate an average price difference between them. Here's what we found.
Top three destinations with biggest price increase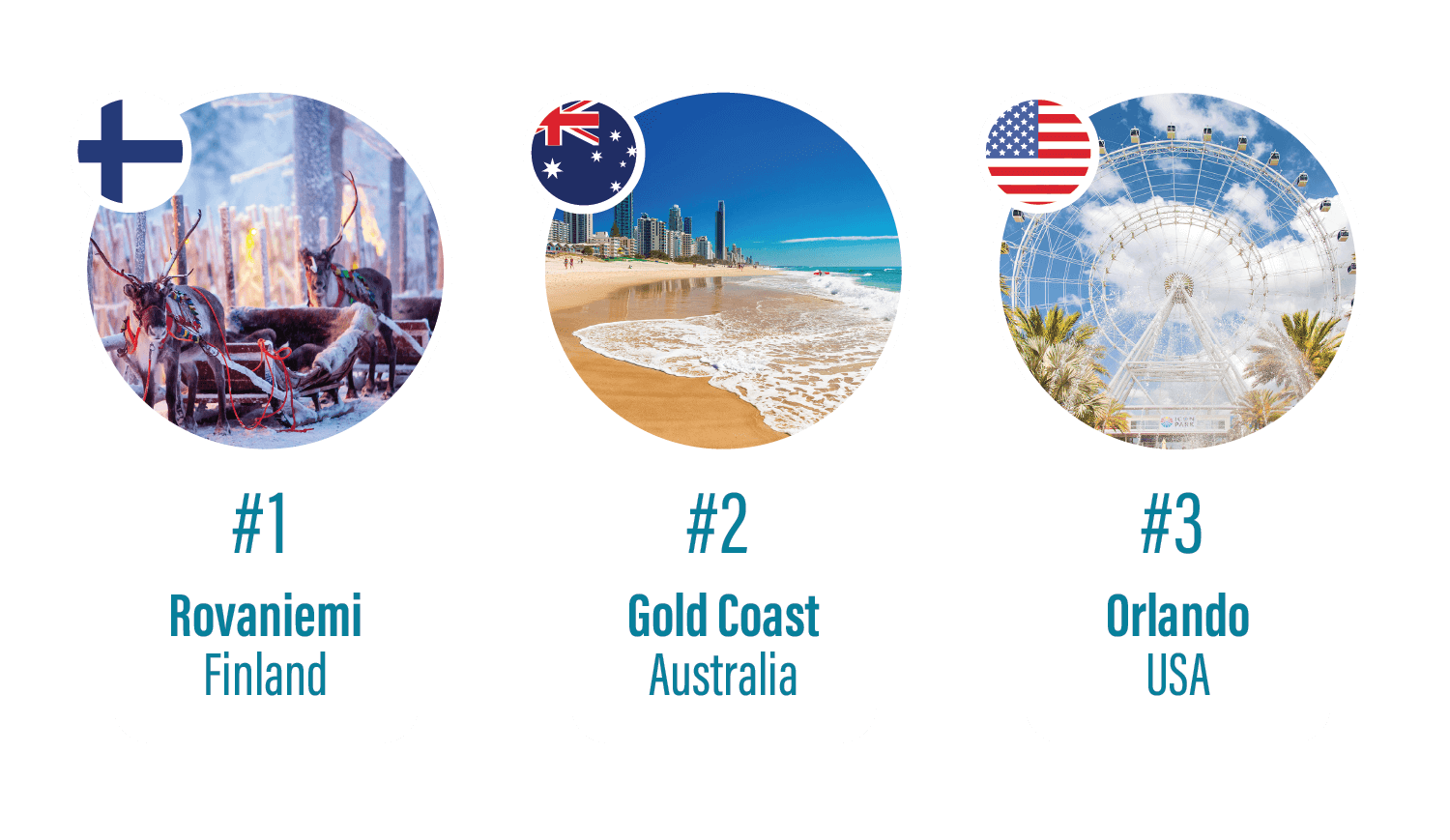 1. Rovaniemi, Finland
Percentage increase in hotel prices: 230%
Percentage increase in activity prices: 15%
The Finnish city of Rovaniemi is the capital of Lapland, in the Arctic Circle of the country's northern half. The city is a winter wonderland and the "official" home of Santa Claus, making it the perfect white Christmas family destination for those with young children with plenty of enchanting and high-quality themed activities and experiences.
It's also a great place to learn more about the region's natural wonders and life next to the North Pole at the Arktikum Science Centre and Science Centre Pilke.
Given the big crowds that head to SantaPark for the most wonderful time of the year, its no wonder there is a big difference in hotel costs across the year. If you want to experience it at Christmas time though, as many people do, you have to be prepared to pay a pretty penny!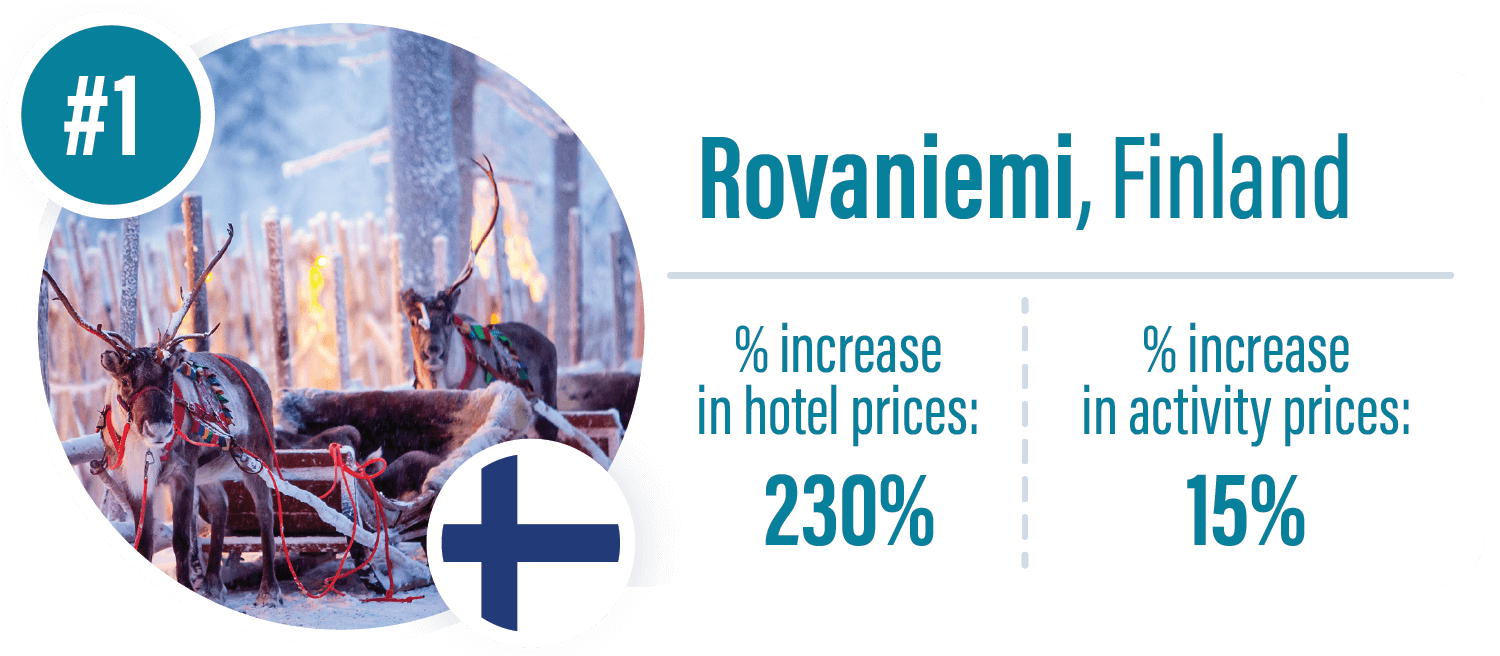 2. Gold Coast, Australia
Percentage increase in hotel prices: 111%
Percentage increase in activity prices: 0%
Australia's own Gold Coast is world famous for summer fun on the beach and a treasure trove of theme parks like Sea World, Movie World and Wet'n'Wild, making it a great destination for a fun day out with the whole family. For those looking for a closer connection with nature, the Gold Coast is also home to the Currumbin Wildlife Sanctuary.
Given that the season can have a big impact on how enjoyable the beach may be to your family, and the timing of Australia's end of year school holidays, there is a big disparity in prices for hotels.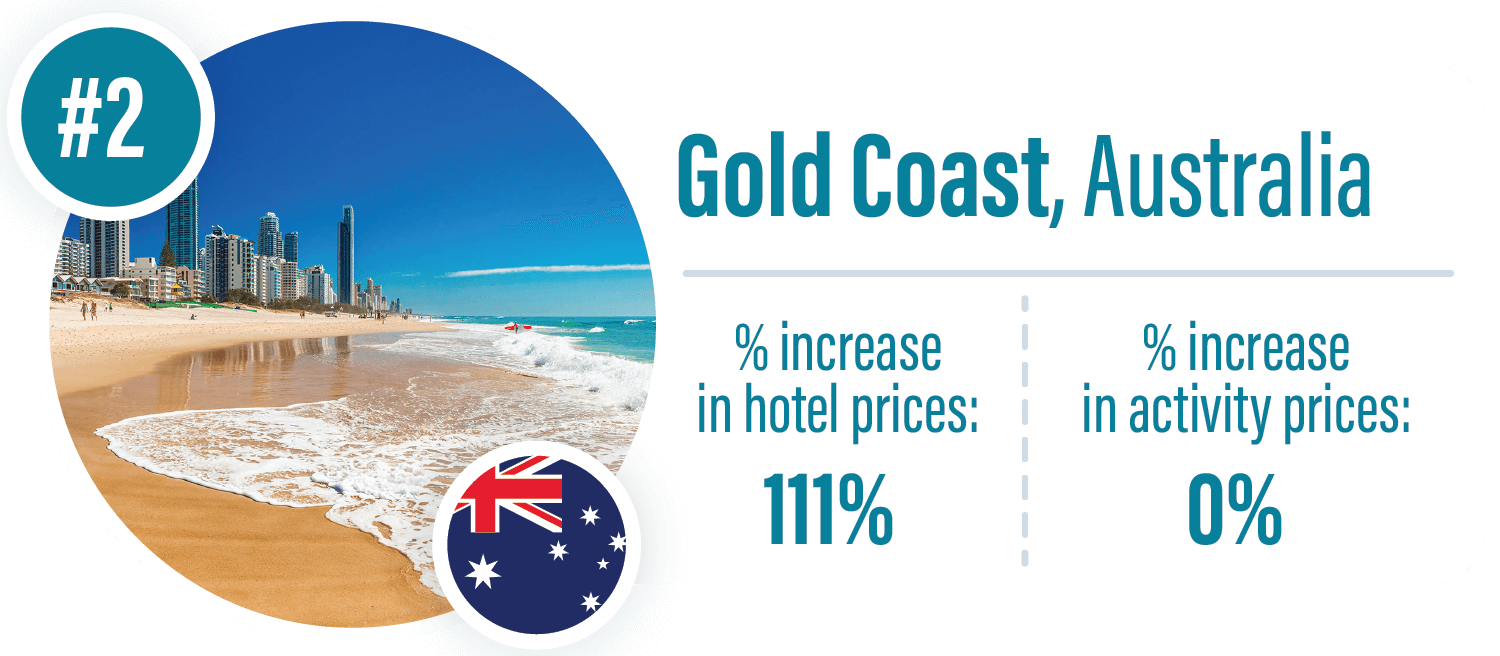 3. Orlando, United States of America
Percentage increase in hotel prices: 51%
Percentage increase in activity prices: 17%
Orlando is home to some of the biggest theme parks in the world, such as Walt Disney World Resort and Universal Studios Orlando. Each park is not a single destination, but a collection of different parks, offering fun, excitement and adventure for everyone in the family. It's not surprising that out of all the activities sampled from all cities in our feature, Orlando had the biggest jump in activity prices.
This is particularly noticeable when most family-oriented activities we looked at charged the same price whether it was peak or off-peak. Four out of the five activities we examined in Orlando had a higher peak season price for activities, reflecting a greater demand for these activities at various holiday periods across the year.