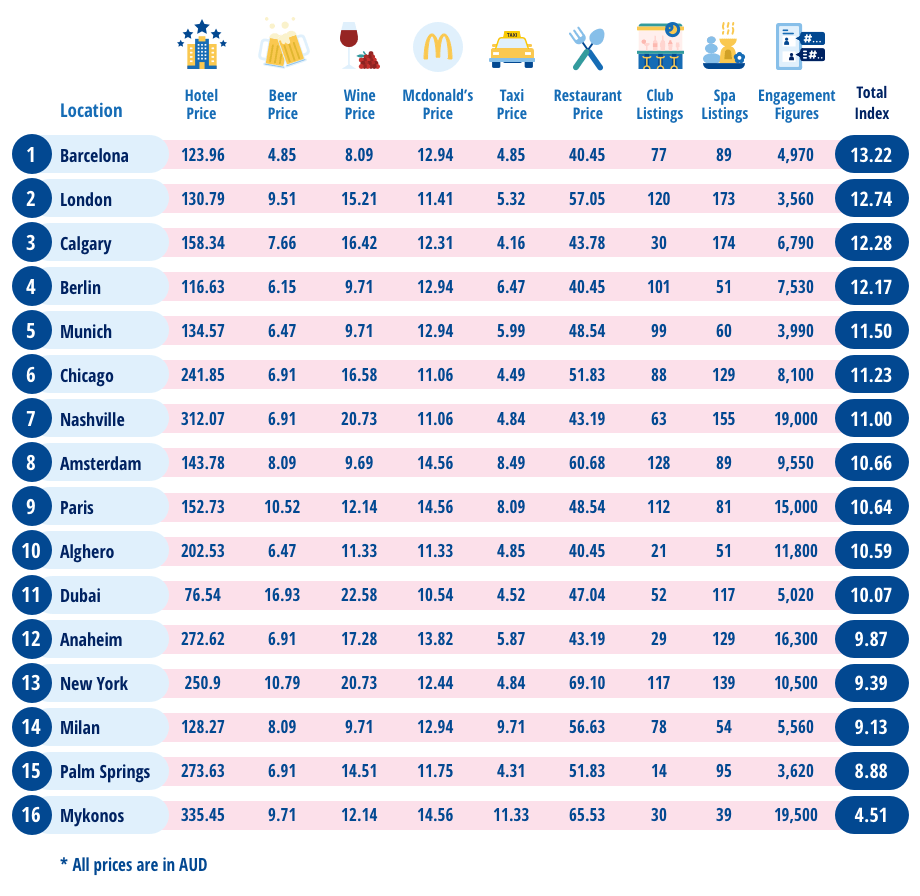 1. Barcelona, Spain
Top of the list is Barcelona, where a bottle of wine in a supermarket will cost you $8.09, and a hotel will set you back by $123.96 AUD per night – the third cheapest on our entire list, with only Dubai and Berlin offering cheaper rooms on average.
If you're considering a Barcelona break with the girls, you'll get to immerse yourself in art, architecture, and a whole lot of sunshine! If you want to soak up the sun, then walk down the beachfront boardwalk to the likes of Barceloneta Beach (the perfect place for meeting people!), or Mar Bella, if you'd prefer to enjoy the golden sands without the crowds.
Alternatively, if sightseeing is more your thing, then revel in the architecture of Sagrada Familia before heading up to Park Güell on Carmel Hill to enjoy panoramic views of the city. You can then spend your evening sipping cocktails at one of the many rooftop bars.
2. London, UK
In second place for the best girls' trip is the capital of England. Whilst London might be known for being particularly pricy, you'll get to choose from 120 club listings (the numbers are beaten only by Amsterdam) and 173 spa listings. You can also stop by McDonald's and grab a meal for as little as $11.41, which was the fourth cheapest on our list.
There really is something for everyone in London. If you and your girls love shopping, then skip the high street brands of Oxford Street and head to Spitalfields or Camden instead, or lust over the designer brands at the likes of Harrods and Harvey Nichols.
If you're more into history, then there are SO many museums to discover – from the V&A to the Natural History Museum, and Museum of London. You could spend a whole month in London and still only have discovered less than half of it! Return flight back, anyone?
3. Calgary, Canada
The only Canadian city to feature on our list, Calgary is often overshadowed by Toronto and Vancouver, but it's the perfect place for a girls' trip! One night in a three-star hotel will set you back approximately $158.34, and a taxi ride starts from $4.16.
Known as the cowboy central of Canada, Calgary is the gateway to the Rockies, with breath-taking Lake Louise and Lake Jasper just a short trip away. If you and your besties love to party, then you've come to the right place: Calgary has one of the youngest populations in all of Canada. Plus, it has the most spas out of everywhere on our list, at 174.
If you want to sightsee in the city itself, make the Calgary Tower your highest priority for views of the city, before heading to Calgary Zoo to visit the penguins, hippos, and giraffes.
4. Berlin, Germany
Probably the coolest city in all of Europe, Berlin is also one of the cheapest: a 500ml beer will cost you $6.15, and a bottle of wine $9.71. Berlin is home to 101 clubs, with one of the most famous being Anomalie Art Club, providing a mixture of clubbing and art.
If secret bars are more your thing, head over to Buck & Breck in Mitte, Bar Tausend (which is tucked away under some railway tracks), or Schwarze Traube, which shuns menus and instead concocts you a cocktail based on your favourite ingredients.
During the day, there are tons of things to do. A visit to the Berlin Wall is a must (and if you want to know more, you can take part in one of the guided underground tours), as is a trip to Brandenburg Gate, the Reichstag, and Checkpoint Charlie.
5. Munich, Germany
Germany's second biggest city has also made it on our girls' trip list and is seen as the more 'traditional' city, when compared to Berlin's hipster haunts. The beer is slightly more expensive, but you'll have more fun drinking it at one of Munich's many Bavarian beer halls. Time your trip right and you might get to attend Oktoberfest, with its multiple beer tents and fun fairground.
Munich's streets are much prettier than Berlin's. The Neues Rathaus is a perfect example of Gothic architecture, and the Englischer Garten is even bigger than New York's Central Park – see if you can spot the cute Japanese teahouse and Chinese Tower.
If you and your BFFs fancy a day trip, book your tickets to Neuschwanstein. Located two hours south of Munich, Disney's Sleeping Beauty castle is said to be modelled on this. Not only is the exterior (and interior!) exquisite, but so is the view: nestled high up on the top of a hill by the Austrian border, you'll get to enjoy views of rolling hills, and spot picturesque Alpine cottages on the journey back.
6. Chicago, Illinois, USA
The third biggest city in the U.S. by population, Chicago is another great option if you're looking for a city break with the girls. With 129 spas and 88 clubs, you could spend your days relaxing and your nights partying. But if you want to see more of the windy city, there are SO many things you can do.
For a whistle-stop tour of the city, head to the water with a city cruise, where you can see many of Chicago's iconic landmarks. When you're back on land, head up to the top of the Willis Tower for views of the city – on a good day, you can spot four separate U.S. states!
Grant Park and Millennium Park should be at the top of your list too, as should be the quest to find the perfect deep-dish pizza – it's practically the national dish of Chicago, after all!
7. Nashville, Tennessee, USA
The capital of country music, a girls' trip to Tennessee is incomplete without visiting the Country Music Hall of Fame, where you'll get to see some of the most coveted memorabilia from the genre, including Elvis' Cadillac. On the way back to the hotel, you can stop to order a McDonald's meal for just $11.06, which tied with Chicago as the cheapest city for stopping at the golden arches.
Whilst you can find classic cocktail bars in Nashville, make sure you visit a honkytonk (a deep Southern tradition with live bands playing swing music) at least once. Beer and wine are pretty cheap too, at approximately $6.91 and $20.73 per bottle respectively, so you're sure to have a good night!
During the day, be sure to check out other city highlights, including the Tennessee State Capitol with free guided tours available, and the Belle Meade Plantation, with tours explaining the history of the home from the perspective of the slaves that were forced to work there.
8. Amsterdam, The Netherlands
Heading back to Europe for number eight, Amsterdam is one of the most classic spots for a fun and fabulous girls' trip! Get lost walking around the charming streets and winding canals, before stopping off at a cute café for a coffee and a Stroopwafel.
Immerse yourself in the city's history with a visit to Anne Frank's House followed by the Van Gogh Museum or take a canal tour to see the city's sights from the water.
For laidback nightlife, head to the Jordaan area, or take in the views of the city at SkyLounge at the Hilton Hotel. Drinks might be slightly pricier here than the average ($8.09 for a beer), but if you and your gals love a fancy cocktail, it's definitely worth it!
9. Paris, France
The penultimate location on the top 10 list of the best places for a girls' trip, is the romantic capital of the world: Paris. Hotels can be surprisingly cheap if you're willing to hunt out a bargain (approximately $152.73 for the night), and a meal in a restaurant will set you back around $60.68 – but French cuisine is so good, it's definitely worth it.
Once you've seen the major tourist attractions, including the Eiffel Tower, the Louvre, and Champs-Élysées, visit the lesser-known Saint Chapelle, Place de la Concorde, and of course, Versailles, which is located 30km outside of Paris.
A trip to Paris would be incomplete without endless breakfasts, brunches, and great cocktails. The 3rd arrondissement is a brunch lover's paradise, whereas the 9th arrondissement is the perfect destination for cocktail bars.
10. Alghero, Italy
Claiming the final spot is the beautiful town of Alghero, situated on the northwest coast of Sardinia, Italy. With the cost of a McDonald's ($11.33) coming in cheaper than Barcelona, London, and Calgary, you might want to consider this as your next destination (after all, we all love some carbs at the end of the night, right?). The cost of a three-course meal shouldn't set you back too much either, coming in at $40.45 it's on the lower end compared to other locations on the list.
Day trips are a great way to see some of the most beautiful sites in the area, including the Porto Conte Natural Park, or if you prefer, you can venture into the hinterland. If you're more interested in testing out the delicious local produce, you might want to check out a wine, oil, and cheese tour! What could be better…