All around the world there are signs and remnants of the human story waiting to be discovered. Lovers of history could theoretically be happy anywhere – every location has a story to tell, and no culture's history is more important than any other.
That being said, some cities have a lot of history condensed into one location. Whether it's a high number of museums, historic sites or landmarks, particular destinations may rise to the top of a history buff's list of locations to visit.
We've put together an index ranking 49 cities based on various metrics that could be of use to history lovers planning their next overseas adventure.
Travel insurance for your historic holiday
Ideally your holiday will be memorable for all the right reasons, but as any student of history knows, the best laid plans of mice and men can still go awry. Travel insurance can be beneficial for holidays not just because it can cover medical expenses, lost and stolen luggage or flight delays and cancellations, but it can also cover special events.
For example, if you'd booked tickets for a museum exhibit but something beyond your control delayed or cancelled your flight, forcing you to lose out on your deposit or the price of your tickets, comprehensive travel insurance can cover the financial loss.
Also, historical locations are often a hotspot for scammers, pick-pockets and thieves, preying on unsuspecting travellers drawn to these historical destinations.
Top three locations for history buffs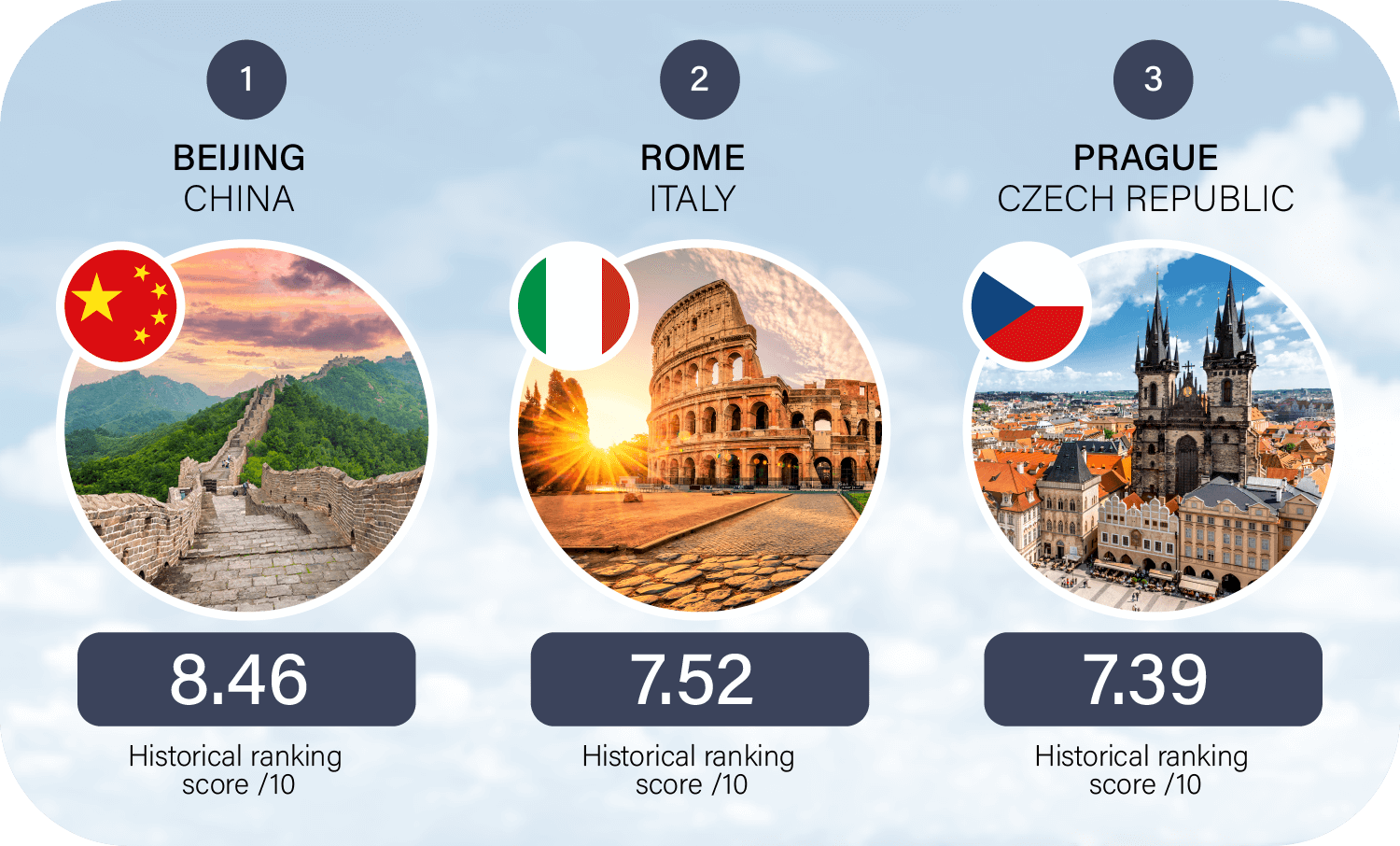 1. Beijing, China
The capital of China has a history stretching back over 3,000 years. It has numerous museums and several UNESCO world heritage cultural sites including the Summer Palace, the Temple of Heaven, a section of the Great Wall, and the Peking Man Site (a site of significant remains from prehistory). Perhaps most famous of all is the Forbidden City, the palace of Chinese emperors built in the beginning of the 15th century.
Beijing had the highest rank on our index due to its high number of UNESCO listed sites, historic walking areas, cheap taxi fares, and a sizable number of museums, landmarks and historic sites within the city.
2. Rome, Italy
Italy's capital has a history reaching back almost as far as Beijing. Famously the capital of the Roman Empire and Papal States, the city is filled with ancient ruins and historical buildings such as the Colosseum, Pantheon, Trevi Fountain, Roman Forum and the Catacombs of Rome, to list a few.
Rome took the second highest ranking in our index due to having the highest number of historical walking areas, a high number of landmarks and a high number of historic sites.
3. Prague, Czechia
Rounding out our top three is Prague, the beautiful capital city of modern-day Czechia. Built on the banks of the Vltava River in the latter part of the 9th century, Prague is famous for its Gothic, Baroque and Romanesque architecture. Prague Castle, the Charles Bridge, the Astronomical Clock, and St Vitus Cathedral are just a few of the more iconic examples of Prague's rich history.
Prague was ranked so highly due to a high number of museums, one of the best safety scores of all cities on our list, as well as a fair number of historic walking areas and landmarks to explore.