The best cities to earn with Airbnb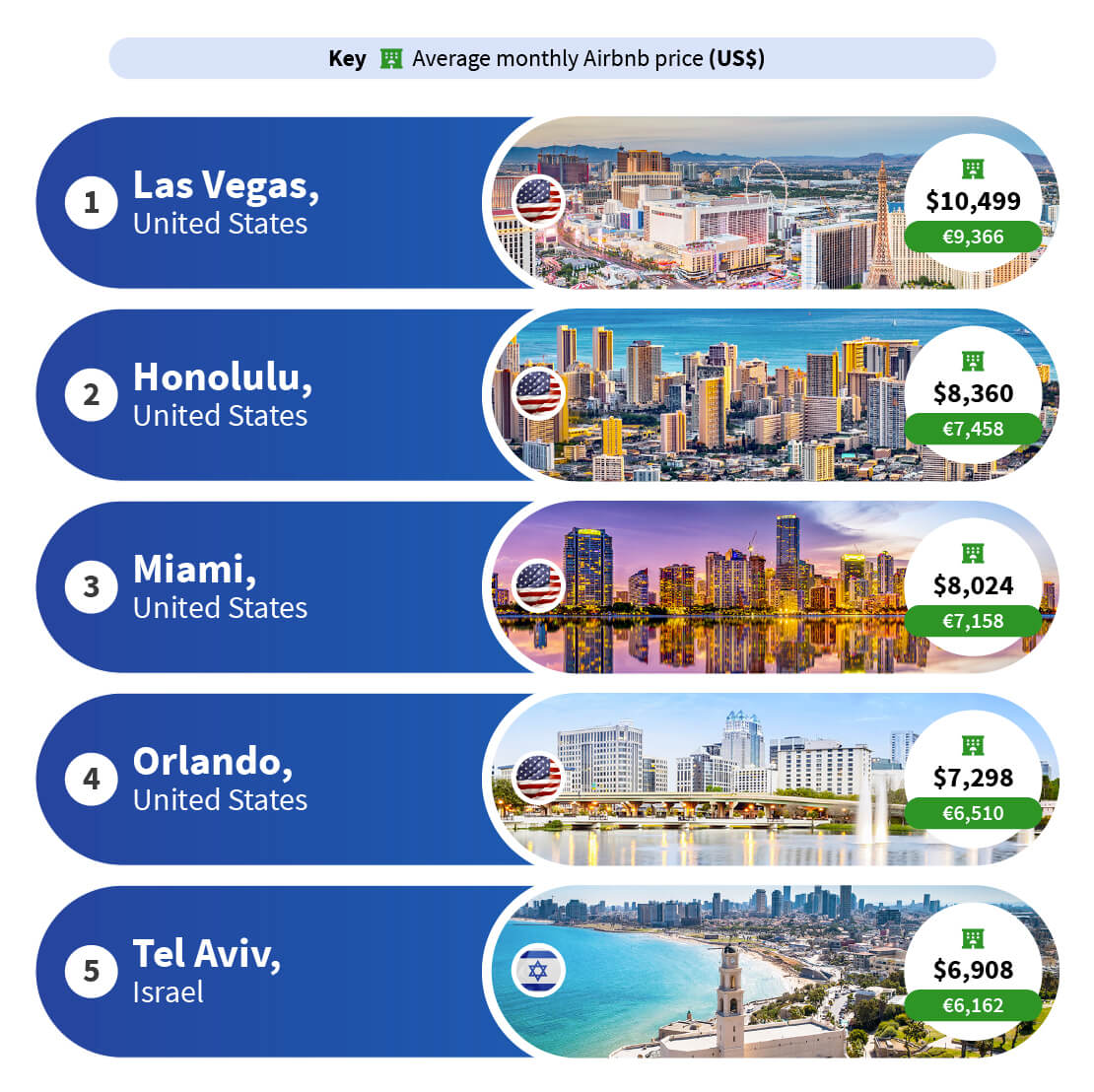 1.  Las Vegas, United States
Average monthly Airbnb price: US$10,499
'Sin City' attracts travellers from all over the world for its shopping, entertainment and, of course, gambling. This city is the most profitable on our list as the average Las Vegas Airbnb listing is more than $7,000 higher than the overall average. With an average price of more than $10,000 a month, Airbnb is an attractive offer for locals looking to make some extra cash.
2.  Honolulu, United States
Average monthly Airbnb price: US$8,360
The largest city in Hawaii is popular with tourists for its moderate tropical climate, natural scenery and white sandy beaches. However, its relative isolation from the mainland US results in a high cost of living for locals, with the average monthly rent being $2,763. These factors could explain why it ranks second on our list, as hiring an Airbnb is $5,597 higher than renting.
3.  Miami, United States
Average monthly Airbnb price: US$8,024
This city boasts year-round sunshine and temperatures that rarely drop below 24ºC (75.2ºF). Also renowned for its nightlife and golf courses, there's plenty to attract a diverse array of travellers to the second coastal city on our list. Average Airbnbs in this city are $5,123 more expensive per month than renting, so are a great opportunity for out-of-town locals to earn some extra cash while they're away.
4.  Orlando, United States
Average monthly Airbnb price: US$7,298
As the second city in Florida on our list, Orlando is a popular destination for families, being home to seven of the world's top theme parks, including Walt Disney World and Universal Orlando. It also provides the perfect base to explore the rest of the state, making it attractive to more adventurous tourists. Homeowners have recognised the appeal of holidaying in their city as Airbnb hosts charge $5,397 more per month than rent.
5.  Tel Aviv, Israel
Average monthly Airbnb price: US$6,908
This city is located on the Israeli Mediterranean coast, known for its stark 1930s Bauhaus buildings and also as a popular nightlife destination in the Middle East. Tel Aviv has also been referred to as 'The World's Vegan Food Capital', home to more vegans per capita than anywhere else in the world. Airbnb hosts in this city charge $6,908 on average.
---