What is home loan refinancing?
Refinancing is the process of replacing your existing home loan with another, ostensibly 'better' home loan from either your current lender or a different financial institution.
To properly explain refinancing, let's quickly cover the difference between your home loan and your mortgage.
Your mortgage is the contractual agreement you have with the lender who gave you your home loan, which:
Specifies the property as security against your home loan
Recognises you as the conditional owner of the property as long as you continue to meet the terms of the agreement
Gives the lender the right to repossess it if you don't meet the terms of the agreement (e.g. default on your home loan repayments).
Your home loan is the loan you took out in order to purchase your property and linked to your mortgage. It's a financial product just like a credit card or a personal loan.
If you refinance with the same lender, you'll have a new loan but keep your existing mortgage, albeit with some potential modifications based on the nitty gritty of your new home loan. Whereas if you refinance with a different lender (which is known as external refinancing), you'll have a new home loan and a new mortgage with a new lender.
External refinancing in Australia: By the numbers
According to the Australian Bureau of Statistics (ABS), the seasonally adjusted value of external refinancing for total housing in May 2022 hit $17.1 billion, representing a month-on-month increase of 3.1% and a year-on-year increase of 16.6%.1
For owner-occupiers, the total value of external refinancing reached $11.5 billion; for investors, it was $5.5 billion.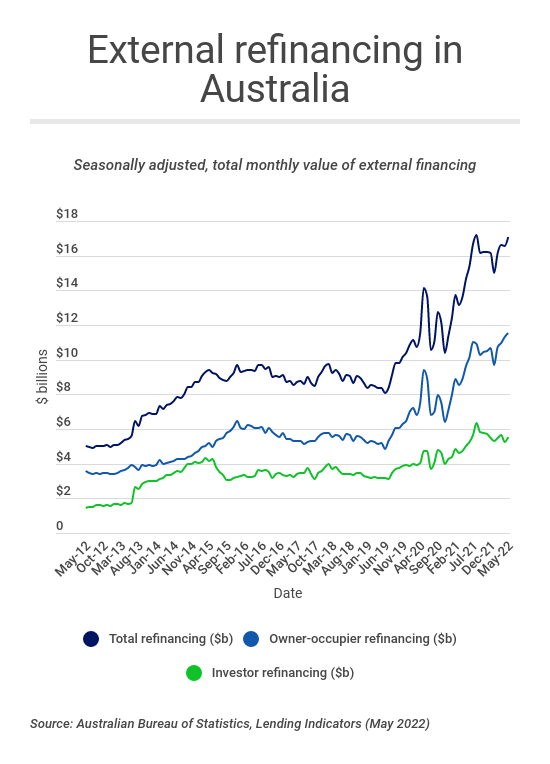 How does refinancing a home loan work?
The process of refinancing your home loan will vary depending on whether you're refinancing internally (with your current lender) or externally (with a new lender).
If you're refinancing internally, the process may be simple as your lender already has all your information and documentation in the one place. Additionally, an internal refinance can be more akin to a renegotiation of your home loan rather than a full-blown product switch, and it's generally simpler to deal with a familiar lender than one you've never dealt with before. You may also incur fewer or smaller fees by refinancing internally, but this will vary from lender to lender and from loan to loan.
External refinancing, on the other hand, will generally be a more complex affair, as it will involve dealing with two lenders, one of whom you likely don't have a relationship with yet. Porting your mortgage from one lender to another can be a lengthier process, and you may incur more or larger fees for the privilege. These can potentially include discharge fees, break costs (if you're on a fixed rate home loan) and other lender charges. That being said, at any given time you may see certain lenders trying to entice new customers by offering cashback when you refinance.
Whichever method of refinancing you decide to pursue, you should assess all your options and make sure you find a home loan that offers you better value than your current one.
Pros of refinancing
Some common benefits of refinancing can include:
A better interest rate. Shopping around affords you the luxury of finding a home loan with a lower interest rate.
Cashback offers. Lenders may also offer a cashback deal in exchange for your home loan account, which can provide a nice cash boost in the short term. However, you shouldn't sign up for a low-value home rate solely because there's cash to be had.
Avoiding a nasty revert rate. Fixed rate and introductory-period loans generally revert to a standard variable interest rate after a pre-determined amount of time, which is often much higher than the market average rate. Refinancing before your fixed rate or introductory period ends can help you get the 'best of both worlds', so to speak.
Refinancing gives you an opportunity to reassess your loan term and home loan repayment frequency. If done smartly, this could potentially save you money over the life of the loan.
Access to more loan features. Your current home loan may not offer features such as an offset account, redraw facility, the option to split your loan or the ability to make additional repayments. By shopping around and refinancing, you can end up with a home loan that has the features you want.
Debt consolidation. If you have an array of outstanding loans with higher interest rates than your home loan, you could consider refinancing in order to consolidate all of your debt into the one loan, with a lower interest rate.
Cons of refinancing
Some potential drawbacks of refinancing may be:
Break costs. If you refinance from a fixed rate loan before the fixed term is up, you could incur significant break costs, depending on the fixed term left and the size of your home loan.
Fees. Even if you're currently on a variable rate home loan and won't have to pay a break fee, the fees involved with taking out a new home loan all apply in the event of a refinance, so you'll need to be prepared to fork out for things like property valuation fees, legal fees and documentation fees.
LMI. Lenders Mortgage Insurance (LMI) can make your regular home loan repayments noticeably larger. Depending on the specifics of your financial situation, you may decide that your loan-to-value ratio (LVR) isn't good enough to refinance just yet, as an LVR greater than 80% will generally attract LMI.
How to refinance a home loan
Generally, the process to refinance a home will involve the following steps:
Research
Find out the details of your home loan, including your current interest rate and mortgage repayments, as well as your potential break costs, and determine what changes could assist you in meeting your personal and financial goals.
Compare
Use our home loans comparison tool to assess your options and look for a great-value product based on its rates, fees, features and more.
Speak to an expert
Our home loan consultants can answer some of the burning questions you might have about refinancing. They may also be able to help you negotiate a better rate with your existing lender or refinance to a different one.
Valuation
Have your property evaluated, especially if you've completed renovations or your last valuation was more than 12 months ago. You may find that your property value has changed noticeably.
Application
Undergo a full application process, credit analysis, documentation and assessment with either your current lender or a new financial institution. Even though you're a card-carrying homeowner now, you'll still be assessed against the same stringent lending criteria as everyone else.
Legal documents
Have your financial institution's required documents at the ready to support your application. Ensure you meet the lender's eligibility criteria.
Approval
Receive unconditional approval from a lender to refinance.
Settlement
When refinancing, your new lender will replace the old lender on the title deeds to the home and payout the old lender's loan amount with the new loan funds.
When can you refinance a home loan?
You can usually refinance your mortgage at any time, though it's generally a good idea to have at least 20% equity before refinancing (and subsequently an LVR smaller than 80%). If you're on a fixed rate home loan, you may want to wait until your fixed term expires before doing so in order to avoid expensive break fees.
However, there are several other factors that you may want to consider before deciding to refinance, including:
Your existing home loan. If you want to refinance, check with your current lender to see if you can negotiate a cheaper interest rate. This is also something a mortgage broker may be able to assist you with. This could save you time and money if it works out for you, as you won't have to move to a new lender and undergo their full application process.
The cost of refinancing your home loan. Check which break penalties, exit fees and legal fees you may be on the hook for if you refinance, and investigate which  fees the new lender is likely to charge you during the application process (e.g. application fees).
Compare the costs. Consider if the costs of refinancing (like your old loan's break fees and the new loan's administrative fees and additional costs) outweigh any perceived benefits of refinancing. For example, it might be worth paying a break fee if you can save thousands of dollars over the life of the loan through lower interest rates, lower annual fees and a different repayment frequency. However, if it's going to cost you more than you could save to refinance, it may not be the right move at this point in time.
Your current LVR and whether or not you require LMI. You can't transfer LMI to another lender as it's an insurance policy designed to cover only the lender you took it out to protect. So, if your LVR is higher than 80%, you'll have to sort out LMI all over again.
Speaking to a broker. A broker may be able to negotiate a more favourable interest rate or deal with your current lender, or help you find a better home loan with a new one.