Why choose a split rate home loan?
If you're torn between fixed rate and variable rate home loans, a split home loan could be a 'best of both worlds' home loan type
A fixed rate component gives you a measure of protection against rate increases, whereas a variable rate component lets you benefit from rate cuts
Comparing split rate home loans
When weighing up different split rate home loan products, you'll want to keep a few different factors in mind:
Both comparison rates – Two different interest rates means two different comparison rates, so you'll need to make sure that both of the rates on any given split home loan product are competitive.
Permitted split proportions – Depending on the lender, a split loan product may impose minimum or maximum proportion amounts. Be sure that any product you're considering allows the split proportions you're looking for.
Features and fees – Make sure you're getting value in the form of the features you want or need and competitive fees.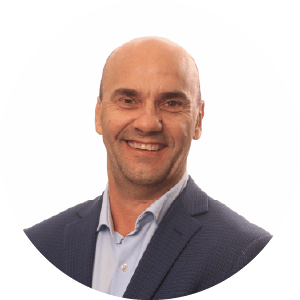 Expert tips for split rate home loans
While split rate home loans can make for a great home loan solution, it's important to understand the ramifications of choosing a split home loan and how your loan balance is divided up. Our General Manager of Money, Stephen Zeller, has some tips for anyone considering a split rate home loan:
You can split for investment purposes too
Be aware you can also "split" a home loan for it's purpose as well, which can come in handy if you are a property investor who is borrowing money against your property and you need to evidence to your accountant the interest charged for investment purposes for tax time. But you will need to keep in mind most lenders will apply the appropriate rate based on the purpose of the loan split, so if the split is for investment purposes, investment rates may apply for the split.
Don't go overboard on offset accounts
Be mindful some lenders can be restrictive with how many offset accounts a customer can set up, regardless of how many loan splits they have. If you are inclined to have multiple offset accounts set up across multiple loan splits, best to research any possible restrictions before applying for the finance.
A split loan could help you pay your car off smarter
When purchasing a car using the equity in your home loan, some customers may set up a new loan split for the car and make advanced repayments towards this loan split to mimic a typical car loan term (usually around 5 years). By doing this, you could be paying off the car loan in the same amount of time as a typical car lease/loan, but taking advantage of a possibly lower interest rate than a standard car loan.
Split rate home loans explained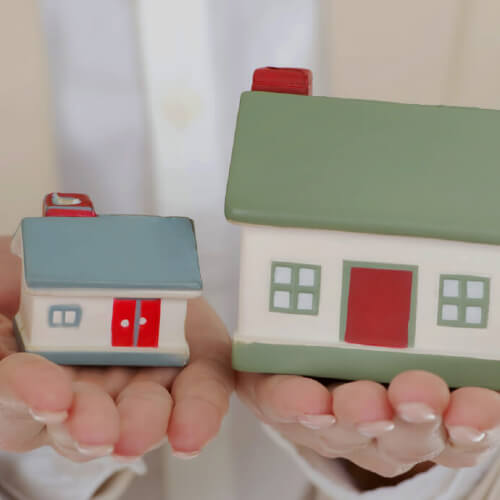 What is a split home loan?
A split rate home loan is a type of home loan in which the principal (i.e. loan amount) is divided up and placed into two loan accounts, one with a fixed interest rate attached to it and the other with a variable interest rate. These two components form the same overall home loan but are treated like separate loans for the purpose of calculating your total interest charges and fees. It's worth noting that your loan-to-value ratio (LVR) will be based on the total size of the loan, rather than on its individual two components.
As with standard fixed rate home loans, the fixed rate period will generally only be for one to five years, after which the entire principal will typically revert to a standard variable rate unless you refinance or otherwise arrange your loan differently.
Split rate home loans are a potentially attractive option for risk-averse homebuyers. By fixing a portion of the loan and leaving the rest on a variable home loan interest rate, you simultaneously stand to potentially benefit from an interest rate decrease and are better guarded against the impact of an interest rate rise.
As is the case with all home loan applications, the applicant will need to meet the relevant eligibility criteria in order to qualify for a split home loan.
What features can I get on a split rate home loan?
You'll typically find that split rate home loans offer the same features as those available on fixed and variable rate home loans, including:
An offset account
A redraw facility
Flexible repayment options
The option to take a repayment holiday.
Be sure to shop around to find a home loan that offers features that work for you.
Can I get a split rate investment home loan?
Yes, you can take out a split rate home loan on an investment property. Keep in mind, though, that lenders may have stricter lending criteria for their investment home loans than for owner-occupier home loans, require a larger deposit relative to the loan size or charge higher interest rates on them.
However, you may decide that the benefits of a split rate home loan outweigh these potential drawbacks.
What are the pros and cons of a split home loan?
Pro: The fixed portion can afford you a measure of budgeting security
By having a fixed interest rate on part of your home loan, you'll have a much better idea of what your regular home loan repayments will look like. While it will still potentially fluctuate overall due to the variable component of your home loan, the potential for said fluctuation in either direction is smaller than it would be on a fully-fledged variable rate home loan.
The security afforded by the fixed rate term can be invaluable for those on strict budgets, or who just want as much peace of mind as possible when it comes to their home loan repayments.
Pro: If interest rates drop, you may be charged less interest on your split loan's variable portion
If the official cash rate goes down, most lenders typically follow suit by dropping the rates on their variable rate loan products. For those on split home loans, this would mean a dip in the amount of interest they're paying on the variable rate component of their home loan. This would in turn make for smaller weekly, fortnightly or monthly repayments.
Bear in mind, though, that the choice to pass on an interest rate cut rests solely with your lender, and you won't benefit from a cash rate reduction if your lender chooses not to pass it on to customers.
Pro: You can generally make penalty-free extra repayments on your variable portion
If you're the proactive type and (when possible) like to pay more than the minimum amount towards your home loan, you'll be pleased to know this is generally available with split rate home loans.
You'll typically be able to make unlimited additional repayments on the variable rate component of your home loan without incurring any fees or penalties. This in turn could potentially see you pay less interest over the loan term.
However, it's worth noting that you'll generally not be able to make additional repayments towards the fixed rate component of your home loan balance, and if you are allowed to, there will usually be a tight annual limit for said repayments.
Pro: You can choose the proportions of your home loan split
Split home loans don't have to be 50% fixed and 50% variable; you'll generally have a fair amount of freedom in deciding how much of your home loan you want to fix or leave variable, depending on available lenders. This makes split home loans an extremely flexible home loan option, with plenty of different possible ratios to suit different borrowers with different financial situations and priorities.
For example, a borrower worried about interest rates going up might fix the majority of their home loan, and only leave a small portion of it open to interest rate fluctuations. On the other hand, a less risk-averse borrower might decide to wager on rates going down, and only fix a smaller portion of their home loan accordingly.
Con: If rates go down, you won't pay any less on your fixed component
Depending on how much of your home loan you put on a fixed rate, you may not benefit much if interest rates go down. If a large portion of your home loan is fixed, the size of your home loan repayments will only decrease fractionally, which could make your repayments seem quite large relative to the rest of the variable rate market.
The flexibility of a variable rate is a big part of the wager inherent to split rate home loans; you can either have a larger fixed rate portion offering you greater piece of mind during the fixed period but less benefit from lower rates, or a larger variable rate portion offering you less security but the chance to benefit greatly from a rate drop. And only you can decide what kind of fixed/variable ratio is right for you.
Con: You may pay a break fee if you refinance or pay off your home loan early
If you decide to sell your property or refinance, you'll likely have to pay a break fee on the fixed portion of your loan.
Break costs may also apply if you pay your loan off early, as that would presumably have involved making additional repayments on your fixed component, and as we've discussed that will usually incur a fee.
Keep in mind that most home loan types (not just fixed) will come with a discharge fee for borrowers that have paid off their home loan. Be sure to check the size of all of these fees with your lender before refinancing or paying off your home loan, as they may be larger than expected.
Con: You may pay more in fees on a split rate home loan
As a split rate home loan essentially functions as two smaller home loans, you may end up paying double in account keeping fees on a split loan.
But remember that rates and fees aren't everything – the true value of a home loan is also determined by factors including the features it offers, the flexibility it provides and its overall appropriateness for your financial circumstances and priorities.
Important to know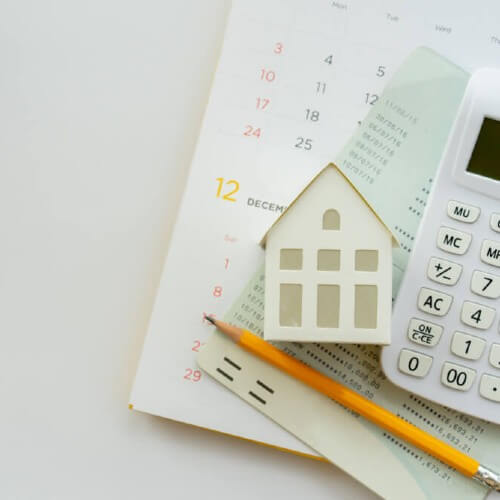 Can a split loan help me pay off my mortgage faster?
Depending on interest rate movements, your financial circumstances and mortgage product details, a split loan may help you pay off your mortgage faster compared to a fully fixed or fully variable home loan. However, there's an argument to be made that any of the three home loan types could save you time on your home loan if conditions are just right.
Can I switch from a split loan to a standalone fixed or variable rate home loan?
You'll generally be able to switch from a split rate home loan to a variable or fixed rate home loan at any time – you can even switch from one split rate home loan to another.
The only thing to keep in mind is that you may incur upfront break or discharge fees for the privilege of doing so, so make sure you're happy to pay those before making any moves.
Should I have a bigger fixed rate or variable rate component?
Only you can decide what fixed/variable ratio is right for you, and you'll generally want to make this decision with the help of as much knowledge and expert advice as possible.
Risk-averse and worried about a rate increase? You may want to fix a larger proportion of your home loan. Slightly more risk-tolerant and reckon you could benefit from a rate drop soon? You might want a bigger variable component.
Assess your financial circumstances and priorities and figure out what makes the most sense for you – that'll help you make the most informed decision possible regarding your future home loan.
---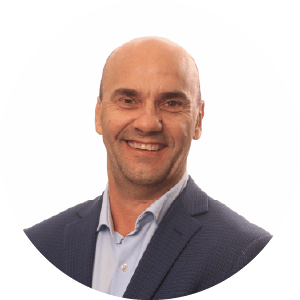 Stephen has more than 30 years of experience in the financial services industry and holds a Certificate IV in Finance and Mortgage Broking. He's also a member of both the Australian and New Zealand Institute of Insurance and Finance (ANZIIF) and the Mortgage and Finance Association of Australia (MFAA).
Stephen leads our team of Home Loan Specialists, and reviews and contributes to Compare the Market's banking-relating content to ensure it's as helpful and empowering as possible for our readers.
---