Could a split home loan save you money?
Yes and no. Super helpful, right?
There is indeed no way of knowing for sure what the interest rates will do in the future. So, you're taking a chance when you decide to go fully fixed or fully variable. With a split home loan, you're diffusing the risk of both interest rate options, while reaping their potential rewards.
To demonstrate this, we need to see how interest rates from lenders have tracked in the past, and when it might have been better to go fixed or variable. Take a look at the graph below: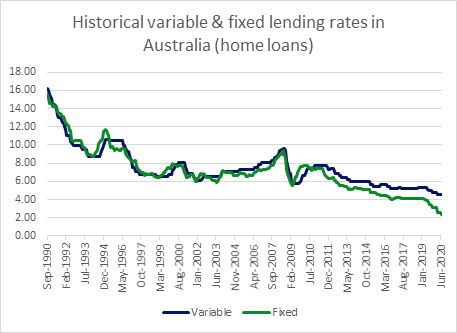 Source: Reserve Bank of Australia
Home loan types: Variable and fixed, standard owner-occupier. Indicative rates only.
Accessed 15 July 2020
Take a look at September 1990 in particular. Variable lending rates were sitting at 16.19% and fixed rates were sitting at 15.50%.
Let's say you fixed that 15.50% rate for three years; you could be paying much more in interest than those who stuck to variable rates. How so? At the end of your three-year term at September 1993, variable interest rates were sitting at around 9.50% – a whopping six per cent lower than your original fixed rate.
If you had gone variable or, at least, split your home loan, you might have benefitted from these rate cuts.
Similarly, during the Global Financial Crisis (particularly during 2008 and 2009, according to the RBA), a variable home loan might have been ideal before rates plummeted.
So, the virtue of a split loan is that you can account for highs and lows in the market, which can be crucial when you're on a budget.
Three-year snapshot: Fixed vs variable vs split rate home loans
To further demonstrate the potential interest savings one type of loan may offer over another, let's see how fixed, variable and split-rate home loans may have fared from 2017 to 2020.
The interest rates used below are indicative historical lending rates sourced from the RBA. These rates are based on standard owner-occupier home loans.
Keep in mind: This example doesn't account for fees associated with fixed and variable loans. So, while one loan type may mean you're spending less on interest, there's a chance you could still pay more overall when loan fees apply (which vary between lenders). As such, it's important you also look at the comparison rate (interest plus annual fees) when comparing home loans.