The best countries for long term investment
There are a variety of factors that can affect whether a particular country is good for a long-term investment on a new home or rental. We decided to look at two: changes in house price growth and the average wage.
These two factors provide a simple snapshot that is easy for anyone to understand – how quickly house prices have risen, and whether the average wage has increased alongside them – which can help prospective borrowers save more for a deposit.
When we combine the data to rank the nations on both house price growth and wages, the top three nations are: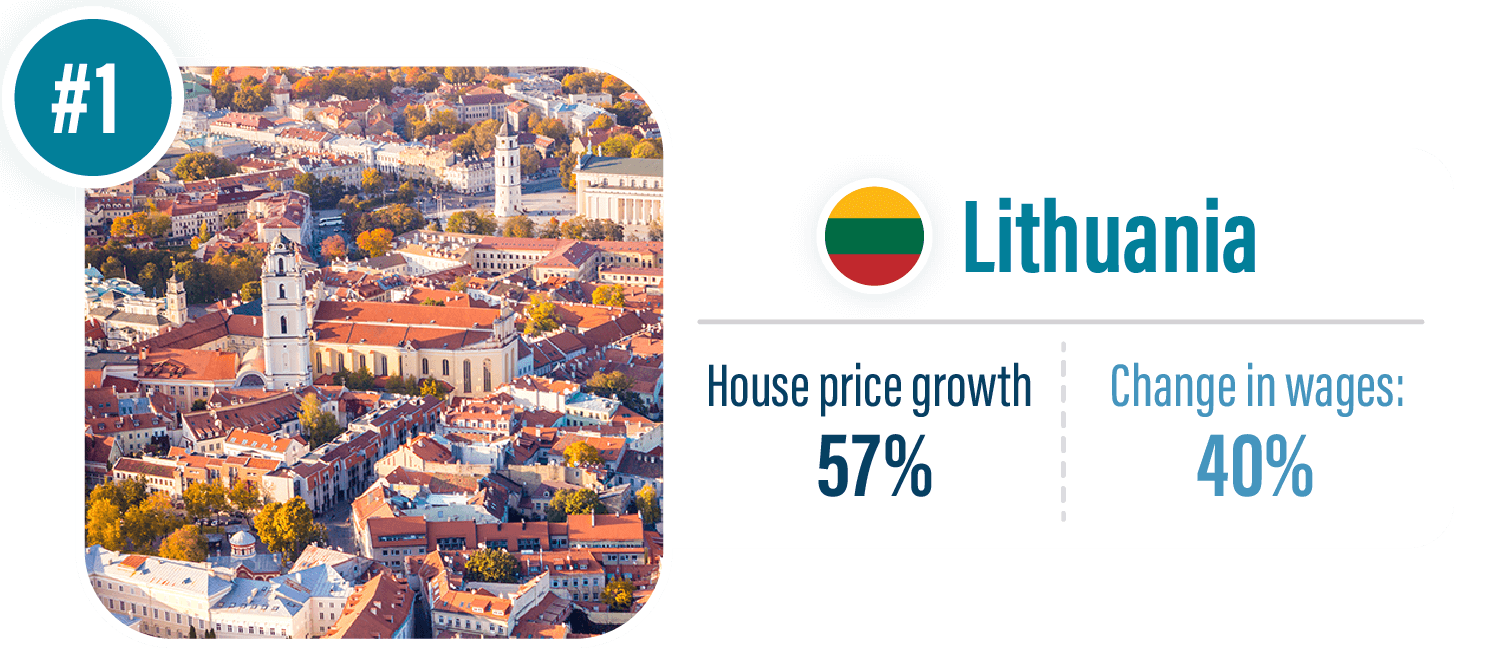 1. Lithuania
Lithuania stands out as the top nation when focusing on both house price growth and average wages. At first glance, it would appear the best nation for a return on investment for purchasing real estate.
The Lithuanian economy has been resilient in the face of inflation increases driven by supply chain issues and the war in Ukraine,1 and wages have seen strong growth. Compared to 2015, the average wage in 2021 was 39.74% higher, according to the Organisation for Economic Co-Development (OECD). The rate of house price growth increased 56.65% in 2021 compared to house price growth in 2015.
It's worth noting that the Bank of Lithuania did state that inflation in 2022 has made the cost of living outpace wages,1 highlighting how important house price growth is for investors and prospective borrowers with plans to sell later on, as every dollar counts.

2. Hungary
House prices in Hungary have grown consistently year-on-year since 2015. While prices rose rapidly from 2016 to 2019, the rate of growth was slowed by the COVID-19 pandemic but has continued to move upwards.2 Average wages have also grown strongly.3
Interestingly, in the first quarter of 2022 house prices in Hungary continued to rise despite sales numbers remaining relatively flat. House prices in Hungary since 2015 have seen some of the highest growth among all European countries, as noted by the Hungarian Central Statistical Office.4

3. Iceland, Poland and Czech Republic
Iceland, Poland and Czech Republic all tied for third place when ranked on changes in house price growth and the average wage together in a single indexed figure, despite slight differences between each country for those two metrics. Iceland had the biggest increase in the average wage, but the smallest change in house price growth rate of the three nations. On the flipside, the Czech Republic had the lowest average wage of the three but the biggest jump in house price growth rate.
Here's how the rest of the nations performed.