Even though COVID made it possible for more people to work from home, surprisingly, 52% of the world's population continue to commute to work five or more days every single week, according to Euromonitor.1
So, if congestion is showing no signs of stopping, which cities are the worst for traffic? By analysing social media data from Linkfluence, the home loan experts at Compare the Market were able to see which cities were complaining about traffic the most, to uncover the worst places for commuters.
Read on to find out if your city makes the cut.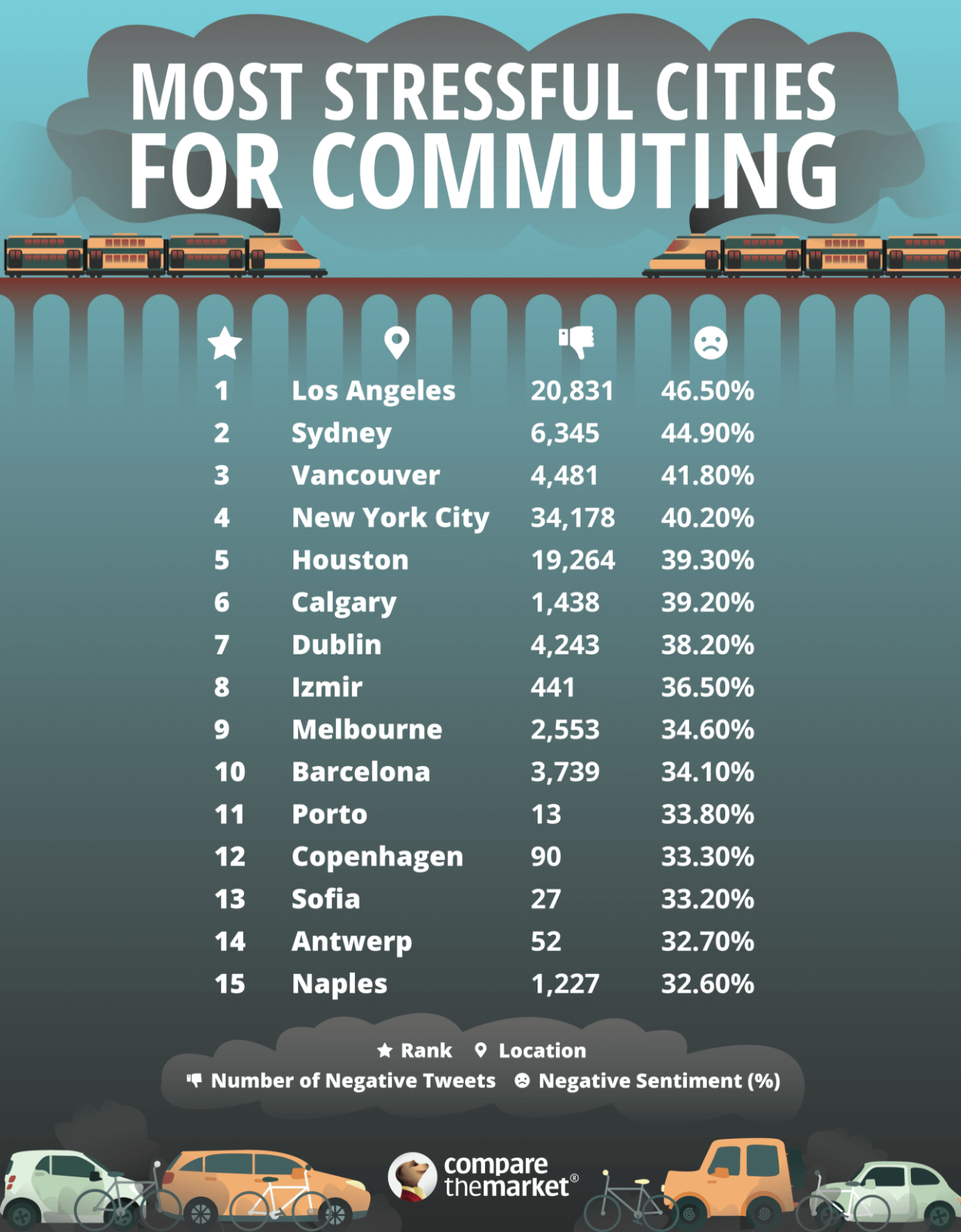 North American cities with the worst commuting times
With many North Americans favouring driving to work over getting public transport, which cities are officially the worst for commuting?
1. Los Angeles, California, USA
With the highest negative sentiment score of 46.5% and 20,831 negative tweets about traffic in the past year, Los Angeles firmly cements itself as the worst US city for traffic. One of the key reasons for this is that the city doesn't have a well-connected public transport system; and coupled with the fact that LA's more sprawling than the likes of New York, more people are on the roads, meaning there's more congestion.
2. Vancouver, Canada
Vancouver is officially the most congested city in Canada, and the second most across North America, with a negative sentiment of 41.8%.
Highway 1 is one of the most notorious roads for traffic – whilst it was initially built for people going out of the city on long drives, it's a popular way for people to commute into Vancouver. According to a survey by TomTom, a 10km drive in Vancouver will likely take you 22 minutes and 30 seconds to complete.2
3. New York City, New York, USA
With a negative sentiment of 40.2% and a staggering 34,178 negative tweets regarding traffic, the Big Apple comes in third place for its bad traffic.
Despite the subway system stretching from Brooklyn to the Bronx, traffic on the roads is still bad, which isn't surprising, considering New York City has the largest population in the US, at 7,888,121.
4. Houston, Texas, USA
Houston comes in fourth place, with 19,264 negative tweets about the bad traffic, and a negative sentiment of 39.3%.
The most congested areas to avoid during rush hour (if you can) include the West Loop Freeway between I-10 and I-69, as well as the South Loop East Freeway, from I-45 to I-10.
5. Calgary, Canada
Rounding off our top five worst commuter cities in North America is Alberta's Calgary. Despite only having a population of 1,639,613, negative sentiment regarding the traffic stands at 39.2%, with 1,438 negative tweets made about it.
Some of the most congested streets to try and avoid if you don't want to get stuck in traffic include Ottawa River Roadway, Woodroffe, and Queen Elizabeth Parkway.
Philadelphia, Toronto, Edmonton, Dallas, and Winnipeg all make it into the top 10 for the worst North American commuter cities.