The pandemic has truly changed the global property market, with renters and buyers to this day placing more value not just in specific features of their homes (think gardens and home offices), but also their future neighbourhoods – in terms of both safety, and ease of access to amenities.
With interest rates rising across the world, getting a mortgage in your home country can seem less enticing; with more people instead choosing to move abroad.
If that's something you're considering, then first of all, how exciting! But you might be wondering where's the best place to move to – as experts in home loan comparison, that's where we come in. By analysing various factors from safety and happiness rates, to health and more, we've created a list of the most and least desirable cities in the world to move to. Read on to find out more.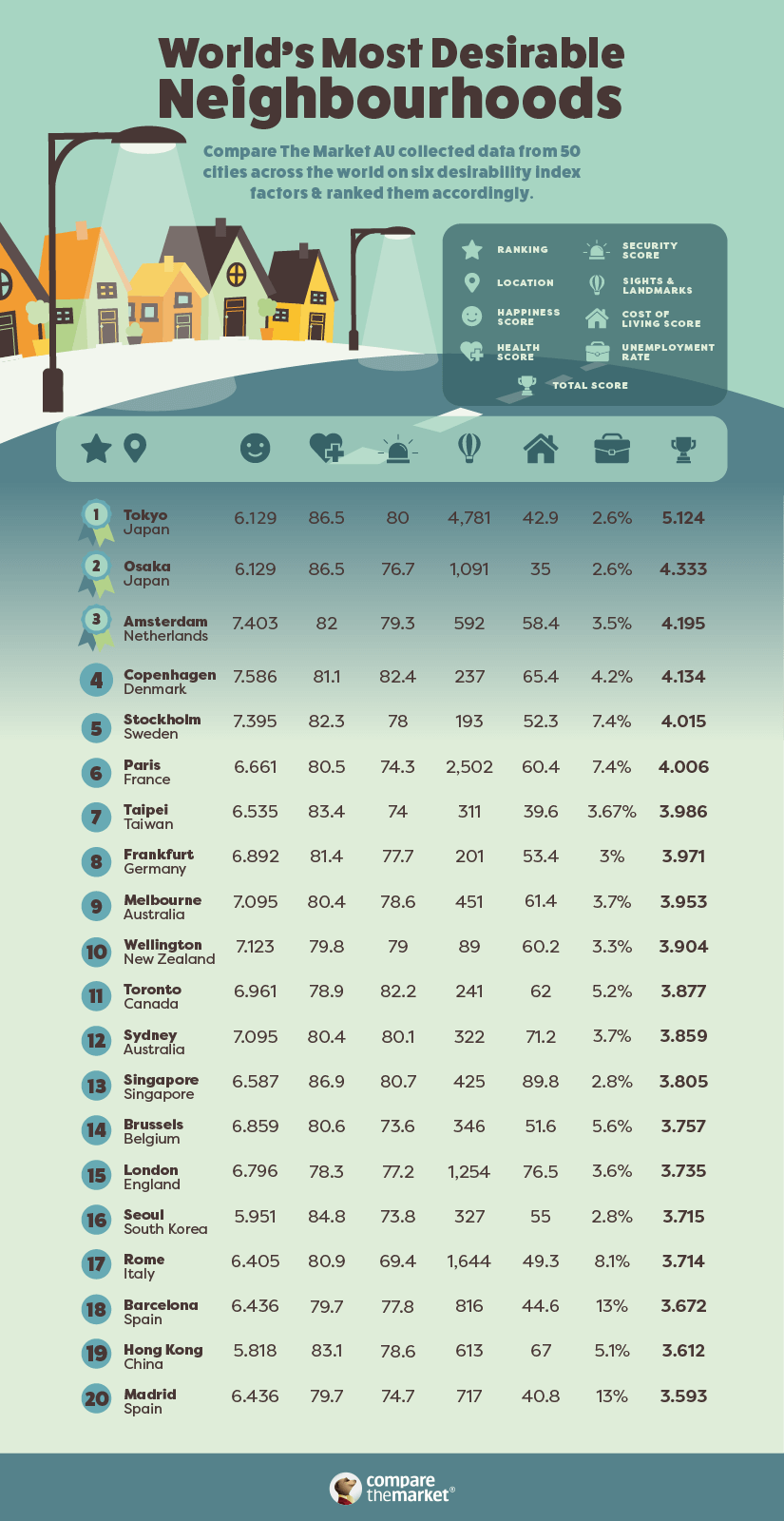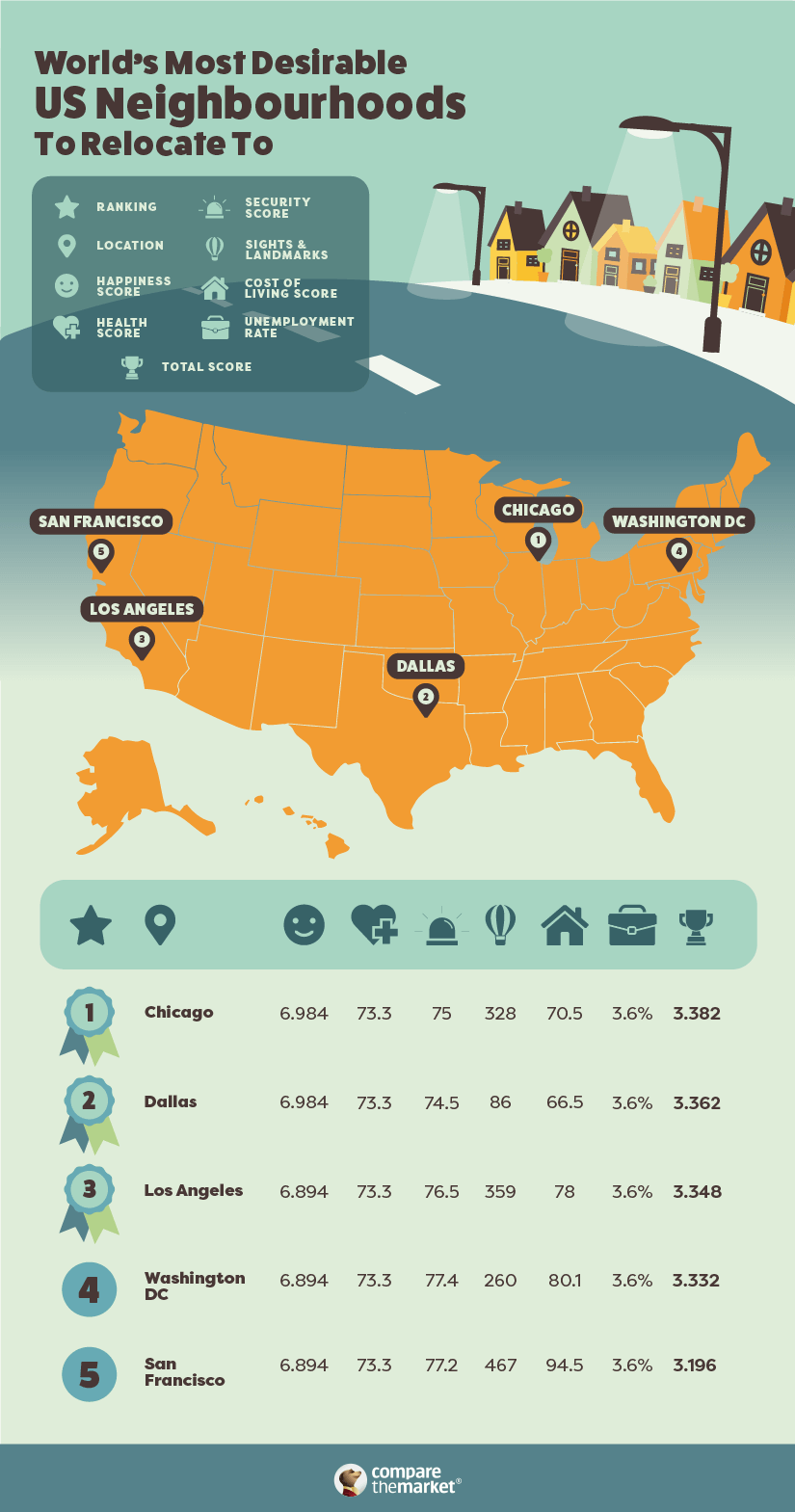 Most desirable neighbourhoods in the world
From Asia to Europe and Australia, these are officially the best neighbourhoods to relocate to, according to our index.
1. Tokyo, Japan
It's official: the best city in the world to live in is Tokyo! Not only does it top the list for the most sights and landmarks to visit, at a staggering 4,781; but it has the joint second highest health score on our list at 86.5 (behind only Singapore, which scores 13th overall); and the joint fourth lowest unemployment rates, at 2.6%.
When you think of Tokyo, you likely think of sprawling skyscrapers, bright lights, and a whole host of cafes, restaurants, and bars… and you'd be right! However, if you want easy access to everything, but prefer to live away from the noise, then Meguro could be the ideal neighbourhood for you, with a huge range of shops and museums, as well as lots of greenery by the Meguro River – perfect for long walks.
2. Osaka, Japan
Japan's third biggest city makes it into second place – also with the joint second highest health score, and the joint fourth lowest rates of unemployment. Move here and you could spend your days wandering around the pretty Osaka Castle, discovering the bars of Dotonbori, and taking a day trip to nearby Hiroshima to learn more about the city's tragic history.
When it comes to choosing where to live, Umeda is close to the action, with lots of shops, restaurants and office buildings; whereas Ashiya is known for its tree-lined streets and rolling hills.
3. Amsterdam, Netherlands
With the second highest happiness score on our list and ranked as the sixth securest city; Amsterdam comes in a very respectable third position. If you've dreamed of owning a Dutch baroque home overlooking a winding canal, then you'll want to search for housing in the city centre.
However, if you don't mind moving a bit further out, then De Baarsjes is known for its affordable housing and low crime rates; and the upmarket Amsterdam Oud-West and Zuid are known for their proximity to museums and parks, as well as the nearby British School.
4. Copenhagen, Denmark
The Scandinavian countries are famed for their well-rounded lifestyles, so it's no surprise Denmark's capital comes in fourth place. Not only does it have the highest happiness score on our list, at 7.586, but it's also officially the most secure city in the world, in terms of health, security, digital and more.
When it comes to choosing whereabouts in Copenhagen to move to; Vesterbro is great for young professionals and couples who want to be close to the nightlife. However, if you're moving as a family, leafy Frederiksberg is an ideal choice, with its beautiful public gardens and great schools; or Amager, with its close proximity to the long, sandy beach.
5. Stockholm, Sweden
Stockholm is the second Scandinavian city to enter the list, with the third highest happiness score, at 7.395. Known for its progressive maternity and paternity policies, and its long summer holidays, focusing on families spending time together, it's no wonder many people consider moving to Sweden.
If you want to make the move and be right in the heart of the action, edgy Södermalm could be the ideal neighbourhood for you. Alternatively, if it's good schools and safe streets you're after, then look into Sollentuna, which is just a 20-minute drive away from the city centre.
If we then look at the top 10, Paris comes in sixth place, with the second most number of sights to see, at 2,502 (Rome, London and Milan also scored top for these, but fell outside of the top 10).
Taipei sits in seventh place, followed by Frankfurt, Melbourne, and Wellington; with Sydney sitting just outside the top 10, in position 12.
When it comes to low unemployment rates, Bangkok and Ho Chi Minh City sit in the top positions at 0.9% and 1.9% respectively, but overall, rank 32nd and 37th.