Relocating is a big deal and requires a lot of time and thought in order to find the right place for you. In fact, there have been almost 900,000 global searches for 'best places to live' in the last 12 months which shows that potential buyers are doing their research.
Late-night noise is one of those things that is practically unavoidable but can impact your quality of life if it's constant or disrupts your sleep. That's why it's a factor that a lot of potential buyers take into consideration when they're thinking of purchasing a new home.
As home loan experts, we wanted to figure out which areas across Australia and the USA had the noisiest neighbours, and where you should consider living if you just want some peace and quiet.
To this end, we surveyed more than 1,000 people across these two nations. Keep on reading to see if your area made our list of loudest neighbour hotspots!
Nuisance neighbours in the US
According to our research, one in five Americans (19%) experience disruptive noise from their neighbours on a daily basis. Additionally, it seems that the noisiest times of day are the afternoon and evening, with about two thirds of Americans saying their neighbours are noisiest at these times (33% and 34% respectively).
Now, some noise every now and then is understandable but there does become a point when it gets too much. Unfortunately, this seems to be the case for over a quarter of Americans (26%) who said they're dissatisfied with the noise control measures in their neighbourhood.
Even if the noise is bothering you, deciding whether to do something about it is a whole other predicament. Having said that, 36% of Americans have actually taken some sort of action against their noisy neighbours.
What are the causes behind all of this noise?
Perhaps unsurprisingly, the main reason that Americans experience disruptive noise in their neighbourhood is down to barking dogs (53%). As a dog-loving nation, there'll be lots of households that have at least one dog, so it's not shocking that there's a lot of howling and barking going on.
It appears that another big noise complaint for 39% of Americans comes from playing music at unreasonable levels and loud parties.
Other common neighbourly noises include yard work (36%), children running around and screaming (27%), and the typical sounds that come with construction or home improvement work (23%).
Where are the loudest neighbour hotspots in the US?
It seems as though anyone considering a move to North Carolina might find themselves getting used to some neighbourly noise with almost 3 in 10 residents (28%) mentioning that it is a daily occurrence in this state.
Another place worth a second thought if you're looking to move somewhere peaceful is Pennsylvania and Illinois as 26% of respondents from each state noted that there are daily neighbour disturbances.
Not too far behind and taking the third spot in our loudest neighbour hotspots is New Jersey, where neighbourly noisiness is a regular occurrence for a quarter of locals.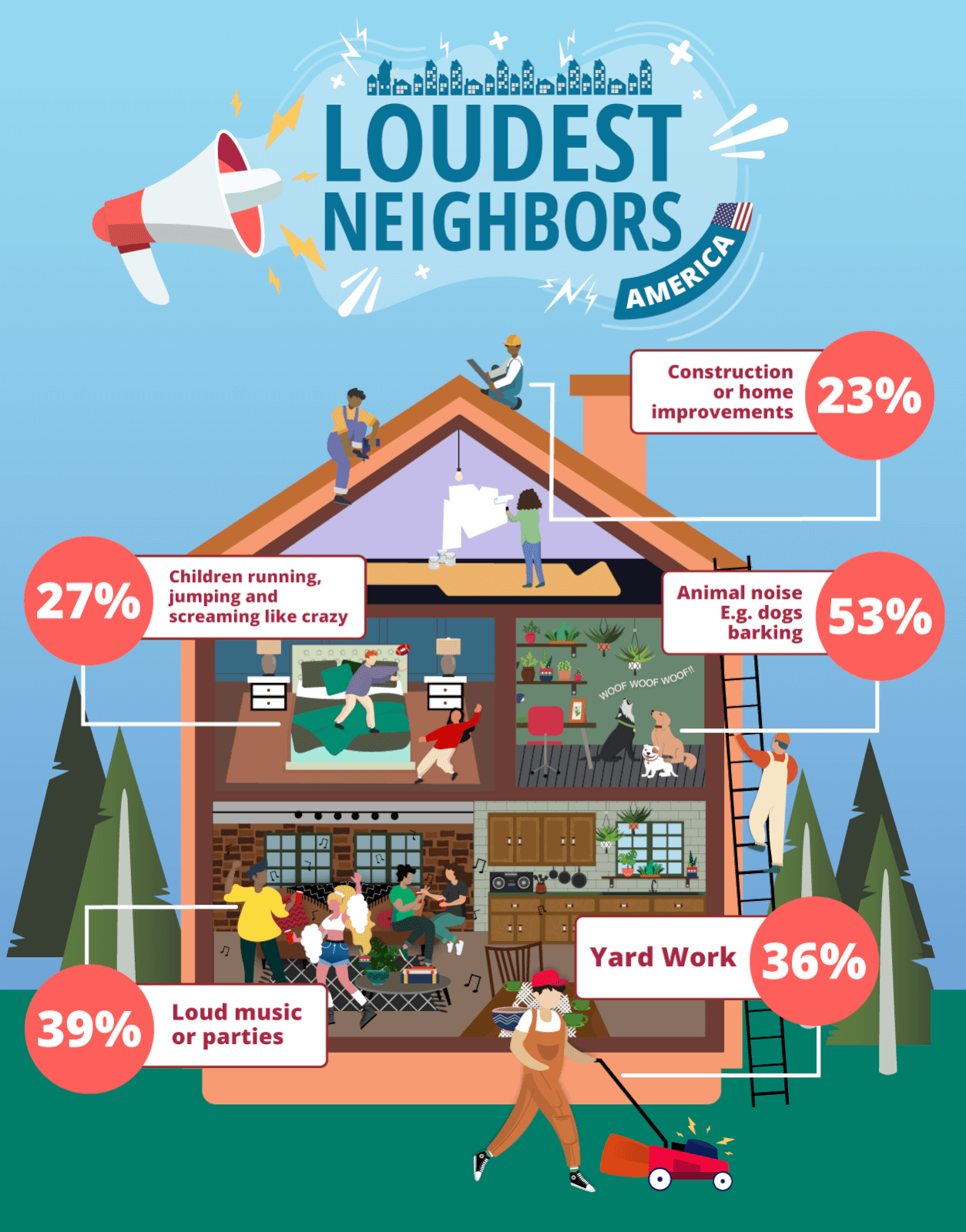 Nuisance neighbours in Australia
Across the ocean in Australia, it seems nuisance neighbours are still just as much of a problem with around one in ten Australians (12%) saying that they deal with disruptive noises every day.
For 36%, they feel their neighbours start getting the rowdiest in the evening. Naturally, this can lead to some issues, and one in five (20%) aren't impressed with the noise control measures in their neighbourhood.
To deal with this, around one third (33%) of Aussie respondents have taken some action against their noisy neighbours.
What is causing all of this noise?
In our research, we discovered that loud music and parties are the biggest noise problem, with 45% of Australian residents citing it as an issue. For some, this may not come as too much of a surprise given that Australians are known to be social and enjoy a good time.
Whether it's dogs barking or birds squeaking, animal noise is inevitable regardless of where you are, but has unfortunately been another problematic source of noise for 39% of Australians.
Meanwhile, the overall sound of garden work is something that's been noted by 31% of people.
Some of the other notable causes of noise come from children running, jumping, and screaming like crazy (27%) as well as construction or work on people's homes (24%).
Where are the loudest neighbour hotspots in Australia?
Western Australia appears to be home to the loudest neighbours with 18% of residents experiencing particularly high levels of noise on a daily basis. So, anybody hoping to move to this area might want to keep this in mind.
Another location where you won't get total peace and quiet is Queensland, with 16% of locals saying that they have unwanted noise at some point each day.
Lastly, South Australia takes the third spot in our loudest neighbour hotspots with 15% of those living in the area putting up with daily noise disturbances.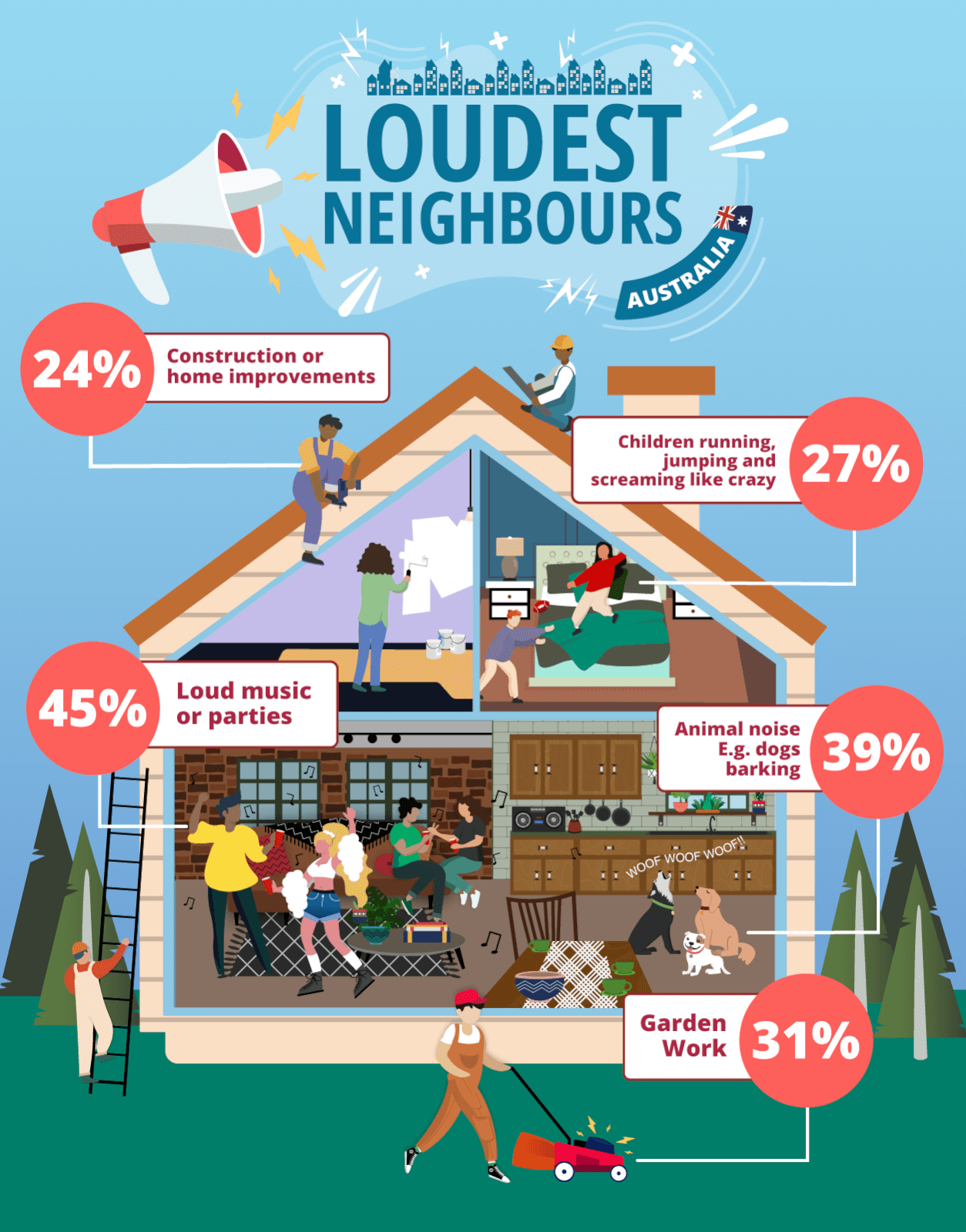 Compare the Market's General Manager of Money, Stephen Zeller, said that while it can be hard to predict what your neighbours will be like, there are some noises that you can prepare for – and avoid."Nobody wants to move into their new home, only to find out that it is noisy around the clock," Mr Zeller explained.
"However, there are some disturbances that you could expect based on certain locations, such as construction noise in a newly developed area, or traffic commotion if located near a main road.
"You could also try asking local residents or browsing community pages on social media to gauge the amount of noise disturbances in any given area.
"By running such checks before you commit to buying, you could limit the possibility of needing to deal with related issues," he explained.
"And if you are currently in a home with unbearable neighbours and surrounding disturbances, it might be time to find a new home escape to a better location.
"You can use Compare the Market's free online home loan comparison tool to help you look for a deal on your dream home, where you can finally get some peace and quiet."
A survey of 1,000 homeowners across the USA and Australia was conducted by 3Gem in August 2023.