With so many countries around the world experiencing a rise in food prices, gas, electricity, and the general cost of living; you might be wondering whether relocating to a different country will be easier on the wallet. Especially if you're considering a location where property is more affordable and interest rates are still low.
After all, things such as home loan repayments and interest rates in any given area can be some of the biggest influencers on how affordable a city is to live in. That's why if you're looking to embark on a home loans journey, be it to purchase a new property or refinance your current loan to look for a better deal, you should consider Compare the Market's Australian service. You can compare your options and search for a home loan that is suited to your circumstances, helping you on your way to securing lower living costs.
As experts in home loan comparison, we've looked at various factors around the world, including the cost of a grocery shop, inflation rates, apartment costs, average monthly salaries and more, to see where in the world is the most cost-effective. So, read on to discover where you could move to, to save yourself some money.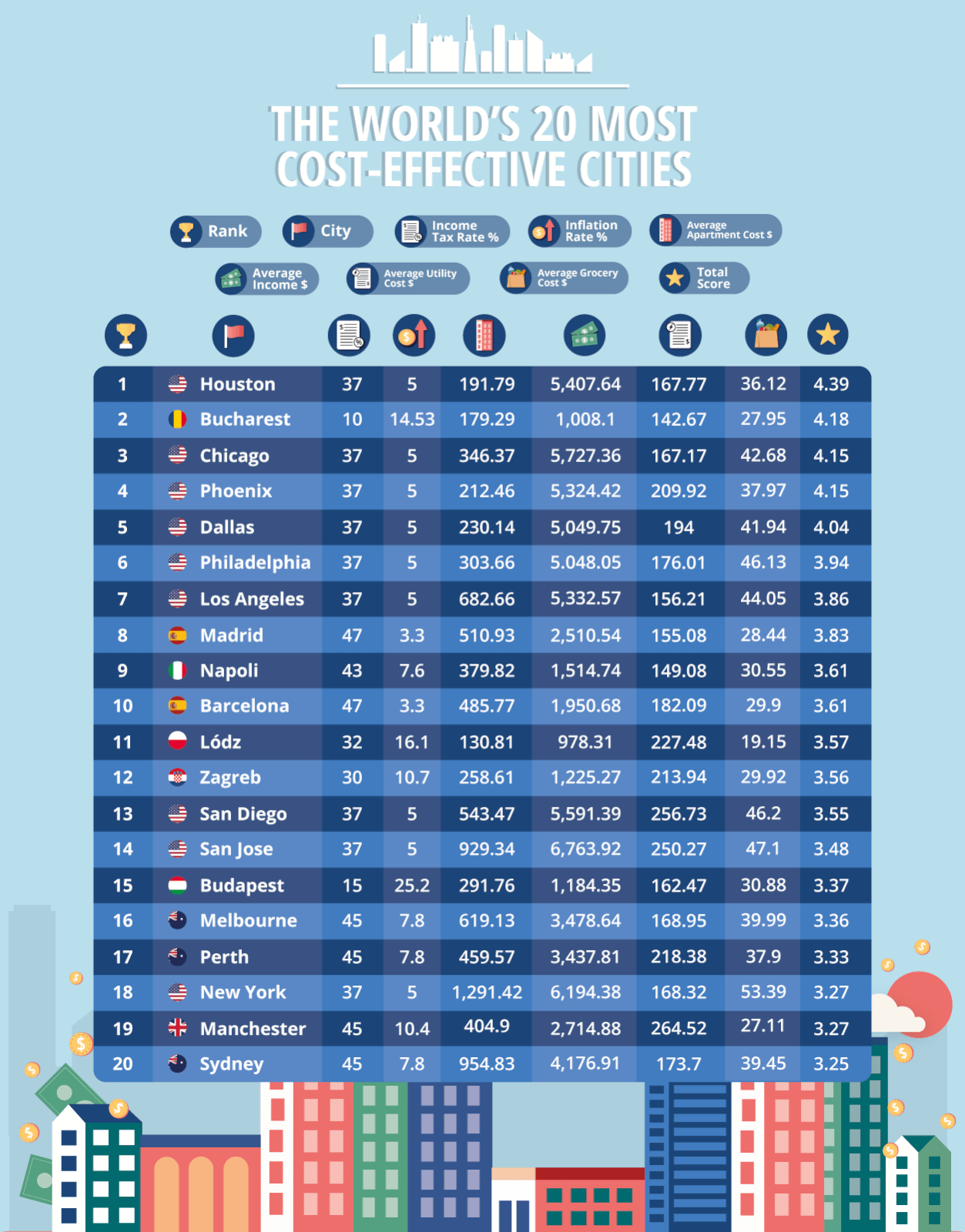 1. Houston, Texas, USA
In first place is Houston, most well-known for the Space Center, and its authentic Tex-Mex cuisine. However, if you're looking to move somewhere more affordable, then it's the city to be in.
An average grocery shop here will set you back by US$36.12, and the city has some of the lowest inflation rates, at 5%. Plus, with salaries fifth-highest on our list, at an average of US$5,407.64 a month, you'll have plenty of additional money to save.
2. Bucharest, Romania
Bucharest comes in a very respectable second place. Whilst average incomes are low, at US$1,008.10, the cost of living Is low too – expect to pay around US$27.95 for groceries, US$142.67 on monthly utilities (the fourth-cheapest on our list), and just US$179.29 per square foot of property (the second-cheapest).
3. Chicago, Illinois, USA
It might surprise you to see that Chicago has placed so highly in affordability, but with the third-highest average monthly income, at US$5,727.36, you should be able to afford bills, with plenty of money to spare.
If you want to save as much money as you can in Chicago, then there are plenty of ways you can enjoy the city for free, such as people watching in Millennium Park, or enjoying a wander along the Navy Pier.
4. Phoenix, Arizona, USA
Phoenix makes it into fourth place, with inflation rates low at 5%, affordable apartment costs at US$212.46 per square foot, and average grocery shops of US$37.97.
Average monthly salaries in Phoenix stand at around US$5,324.42, but just like Chicago, there are lots of fun, free things to do in the city if you're trying to save as much money as possible, such as hiking to the top of Camelback Mountain, and taking yourself on a self-guided art walk.
5. Dallas, Texas, USA
Rounding off our top five is Dallas, with cheap apartment costs, at US$230.14 per square foot, and high average monthly salaries, at US$5,049.75.
For fun, free ways to spend your time in Dallas, many of the museums have free admission days that you can check out, and you could also spend some time at the Pioneer Plaza Cattle Drive, for a true Texan experience.
The USA dominates the top 10 list, with Philadelphia and LA also making it into the top 10. Aside from Bucharest, other European cities that make it on top are Madrid, Napoli, and Barcelona.