When you move into a new property, one of the most exciting things about it, is adding your own personal touches, to transform it into a home. And, with the new year quickly approaching, people will be thinking about the ways they can refresh their space for 2024.
According to Statista,1 the home improvement market worldwide is valued at USD$763 billion, and this is expected to increase to a trillion dollars by 2027. So, if you want to refresh your home but aren't sure of where to start, read on to discover the most popular home improvements across Australia and the USA, according to online search volumes.
Plus, as experts in home loan comparison, we have also included some tips on how a new home loan could make the renovation process much easier.
Australia's most popular home improvements
With 28 different home renovations searched, which are the most popular in Australia?
1. Bathroom renovations
With 27,100 monthly searches, bathroom renovations are the top home improvement across Australia. They say that bathrooms and kitchens are the two selling points of any home, so making these changes could increase house prices in the long-term.
Looking at this from a territory perspective, bathroom renovations were the most popular choice in New South Wales and Victoria, and shared the top spot across the Australian Capital Territory, Northern Territory, Queensland, and Western Australia with outdoor kitchens.
2. Outdoor kitchens
Living up to our love of a 'barbie', outdoor kitchens are the second most popular home renovation in Australia, with 22,200 searches a month. Essentially a kitchen set up in the garden, with a designated place to prep food, cook, and socialise, it's a great addition to any outdoor space.
Outdoor kitchens were the favourite in South Australia, and were also popular in Queensland, Western Australia, the Australian Capital Territory, and Northern Territory.
3. Fencing
With 18,100 searches a month, fencing comes in third place. With the weather so nice across much of Australia, it makes sense that improvements to the garden are a priority – and if quality materials are used, then they could also help to increase the value of your home by adding a sense privacy or security to the property.
=4. Flooring
Flooring is the joint fourth most popular home improvement in Australia, with 12,100 searches a month. Whether that's adding plush carpet into your bedroom or living room, modern marble tile in your bathroom, or versatile laminate in your kitchen; new flooring can instantly freshen up any room, without costing too much money.
=4. Landscaping
Also with 12,100 monthly searches, landscaping makes it into joint fourth position. Setting the foundations for gardening, this kind of work involves amending the layout of gardens, or building driveways and patios, to help make the garden a great space for spending time.
Decking came joint fifth on our list, showing the importance of the garden to Australians; with everything else in the top 10 focusing on the home itself. Kitchen remodelling was the other fifth-top renovation, while roofing and solar energy tied for sixth. Home office renovations rounded up the list of top 10 renovations in Australia.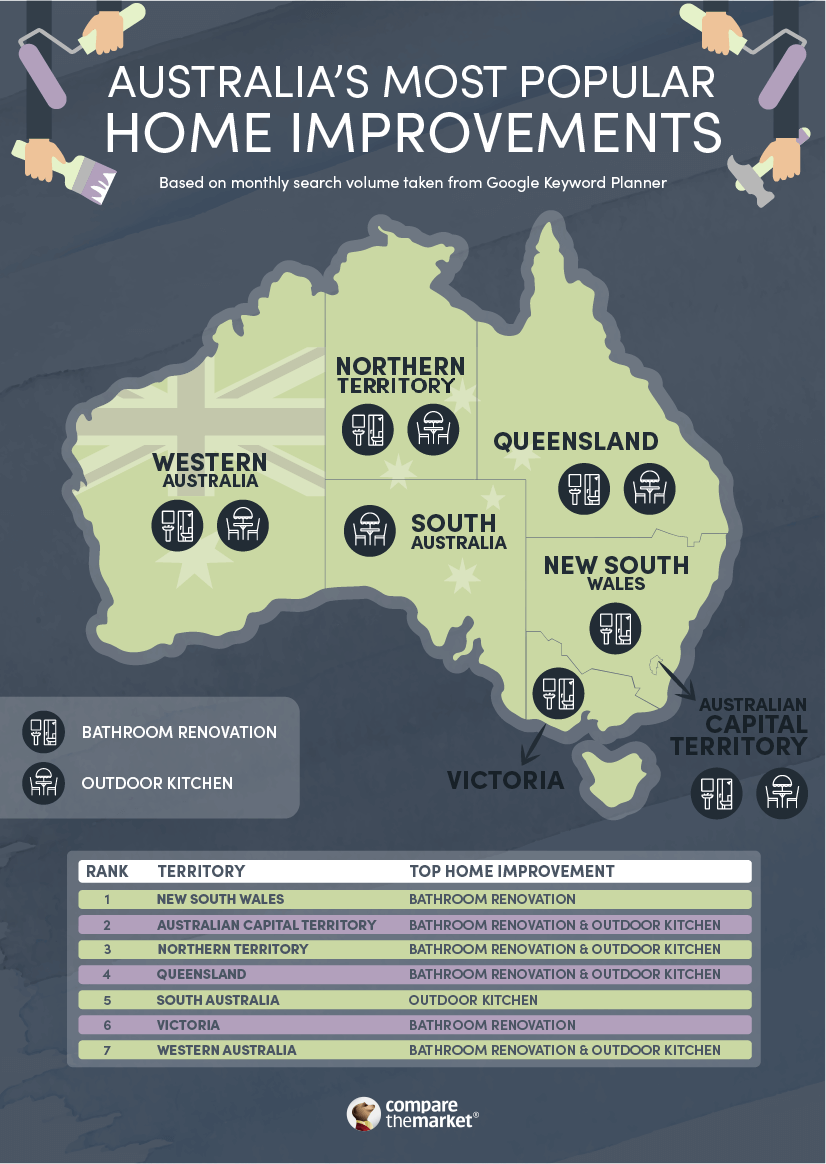 The USA's most popular home improvements
So, now we know the most popular home renovations in Australia, it's time to see what's most important to Americans when refreshing their homes.
=1. Bathroom remodelling
With 165,000 searches a month, bathroom remodelling takes the joint top spot for the most popular home improvement in the US. In fact, it's topped the boards across several different states, including California, Georgia, Hawaii, Massachusetts, and South Carolina.
=1. Landscaping
Landscaping also comes in joint first place, with 165,000 searches a month. Idaho, Nebraska, New Mexico, South Dakota, and Texas all had it as their top home improvement, and it came joint top in several other states too, including New York and Washington.
2. Flooring
With 135,000 searches every single month, new flooring easily made it into second position amongst the American population. It was a particularly popular choice in Arkansas, Montana, Oklahoma, and Wyoming, with eight states in total searching for it the most, and it being joint top in an additional seven other states.
=3. Fencing
Fencing makes it into joint third place as a popular home improvement, with 110,000 searches every month across the USA, despite the fact it didn't actually place top in any state.
=3. Roofing
Also enjoying 110,000 monthly searches, roofing makes it into joint third position, and is the only home improvement that didn't make it into Australia's top five, too. Playing a vital role in protecting your home both internally and externally, roofing came top in Tennessee, with more searches for it than any other type of home improvement.
Other popular home improvements that make it into the top 10 include kitchen remodelling, outdoor kitchens, new kitchen countertops, garage door installations, and home offices.
With long, hot summers, Florida and Louisiana both had joint top search volumes for outdoor kitchens; whereas kitchen countertops were the home improvement of choice for Oregon, and garage door installations topped the list in Utah.
General Manager of Money at Compare the Market, Stephen Zeller, talked about how refinancing a home loan can be a useful way to fund renovations.
"Home renovations are a great way to breathe life into an old home, and spruce up a space, making it a great alternative to moving home and spending lots of money in solicitors fees and moving.
"If you're considering updating your home and making some improvements – whether it's investing in new quality flooring, or turning your garden into a sociable space with an outdoor kitchen – a home loan can help to finance that. When you're ready to make your home feel new again, make sure you compare loans from different providers so you can find a great rate or choose a loan that offers the features you're looking for, such as a redraw facility. This can help you get a bit of extra cash when you need it if you find a particular phase of a renovation more expensive than you initially budgeted for."