When it comes to securing a home loan, some banks and lenders may consider a customer's rental repayment history as evidence that they have the ability to make consistent, on-time repayments for an extended period. This is a great indicator that they can reflect the same behaviours when it comes to paying off a home loan. Some lenders may even request between 6-12 months' worth of evidence in rental repayments to assist in their decision towards securing you finance.
That's why it's important to not only keep on top of credit card, car loan and personal loan repayments, but also to maintain good rental repayment habits.
Compare the Market's own Home Loan Expert, David Ruddiman, discusses further:
"For people who are looking to make the move from the rental market to the property market, having a good payment history and references may come in handy throughout the pre-application and application process to show the banks that you could continuously pay a mortgage," Ruddiman explains.
"While ultimately the rental market can be quite brutal at any given time, people should ensure that they are not lying on their application or making choices that could jeopardise their good rental references and ledgers, simply for a short-term benefit."
So, just how many people are susceptible to being dishonest about their rentals and putting themselves at risk of securing a home loan in the future? Given well over a third of Australians1, Canadians2 and Americans3 live in rental properties, home loan comparison site Compare the Market went into field to see what lengths people have gone to in order to secure a place in a competitive rental property market, retain their existing agreement, or recuperate some rental bond funds.
Percentage of people who have concealed rental damage
Natural wear and tear happens to most things that we use in day to day life, and a home is no different. While putting a nail in the wall to hang a treasured photo may be okay in your own home, it's often frowned upon in rental properties. We set out to reveal how many people have concealed rental property damage from their landlord or property manager.
Our survey found that Australian renters are the most honest, with only 8.87% of renters concealing some sort of defect in their rental properties.
Similarly, 8.94% of Canadians have held their lips on possible damage to the property, while Americans (9.4%) were the most likely to not spill the beans.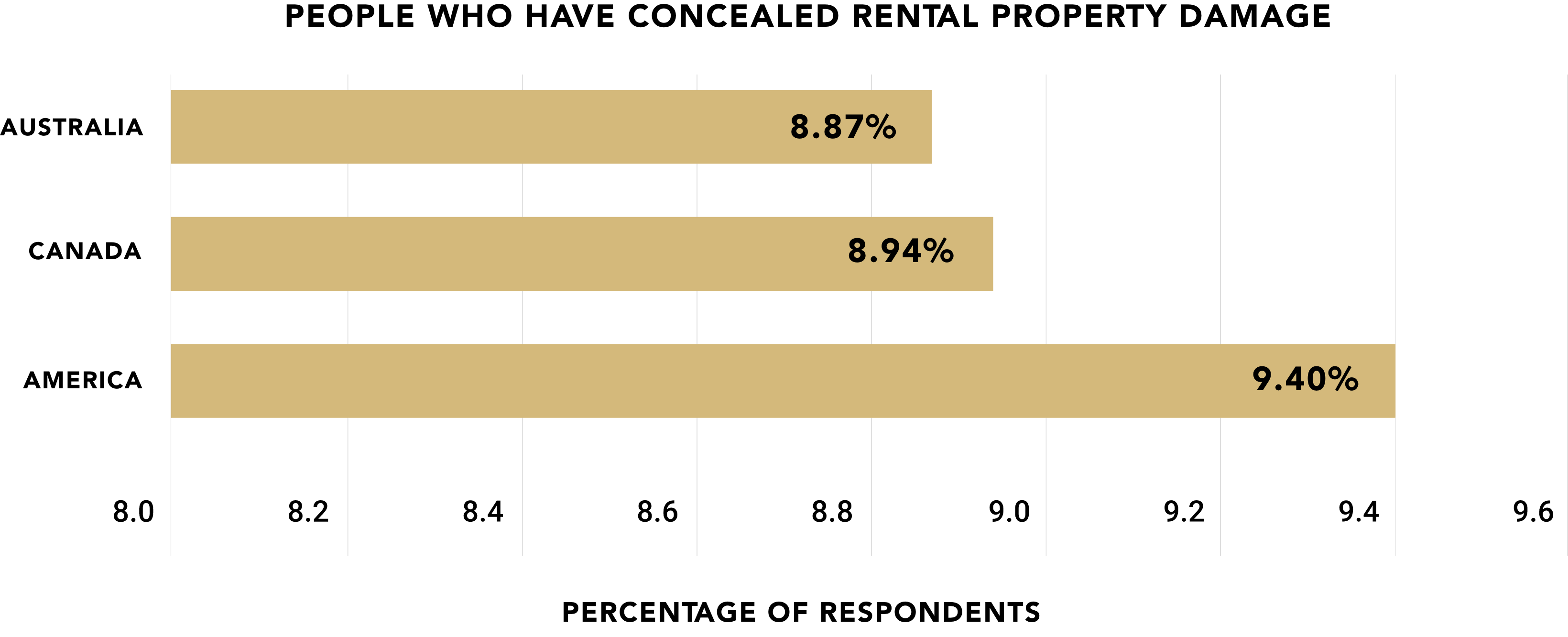 Our research also found that men were more likely to withhold information from their landlord or property manager than their female or non-binary counterparts. Gen Y and Gen Z were also more likely to be tight-lipped, with 15.91% of Australians aged 34-44, 17.43% of Canadians 18-24 and 19.44% of Americans aged 25-34 revealing they have concealed property damage.
What type of rental damage do people most commonly admit to?
We also quizzed our respondents on what type of damages they would admit to. We found that 5.6% of Australian renters would not disclose any type of defect to their property manager, while 13% would only admit minor dents and scrapes. Another 18.2% would only admit to significant damages, and the remaining 63.2% would be willing to admit to all types of property defects.
For Canadian property managers, it might be a bit more of a challenging job to find out if there are any faults to the property, with 7.5% of respondents, the highest rate out of all three countries, stating that they would not mention any damage. 12.6% of renters would only be willing to note minor wear and tear, while 17.5% would only mention if something significant happened. The outstanding 62.4% of renters would be willing to confess to both minor and significant defects within the property.
Americans (65.7%) were the most likely to speak to their landlord about any damage their property sustained, while 6.9% of American renters would look the other way. Another 11.9% would only talk about minor damages such as nails in the walls, compared to 15.5% who would only mention major issues like a water or gas leak.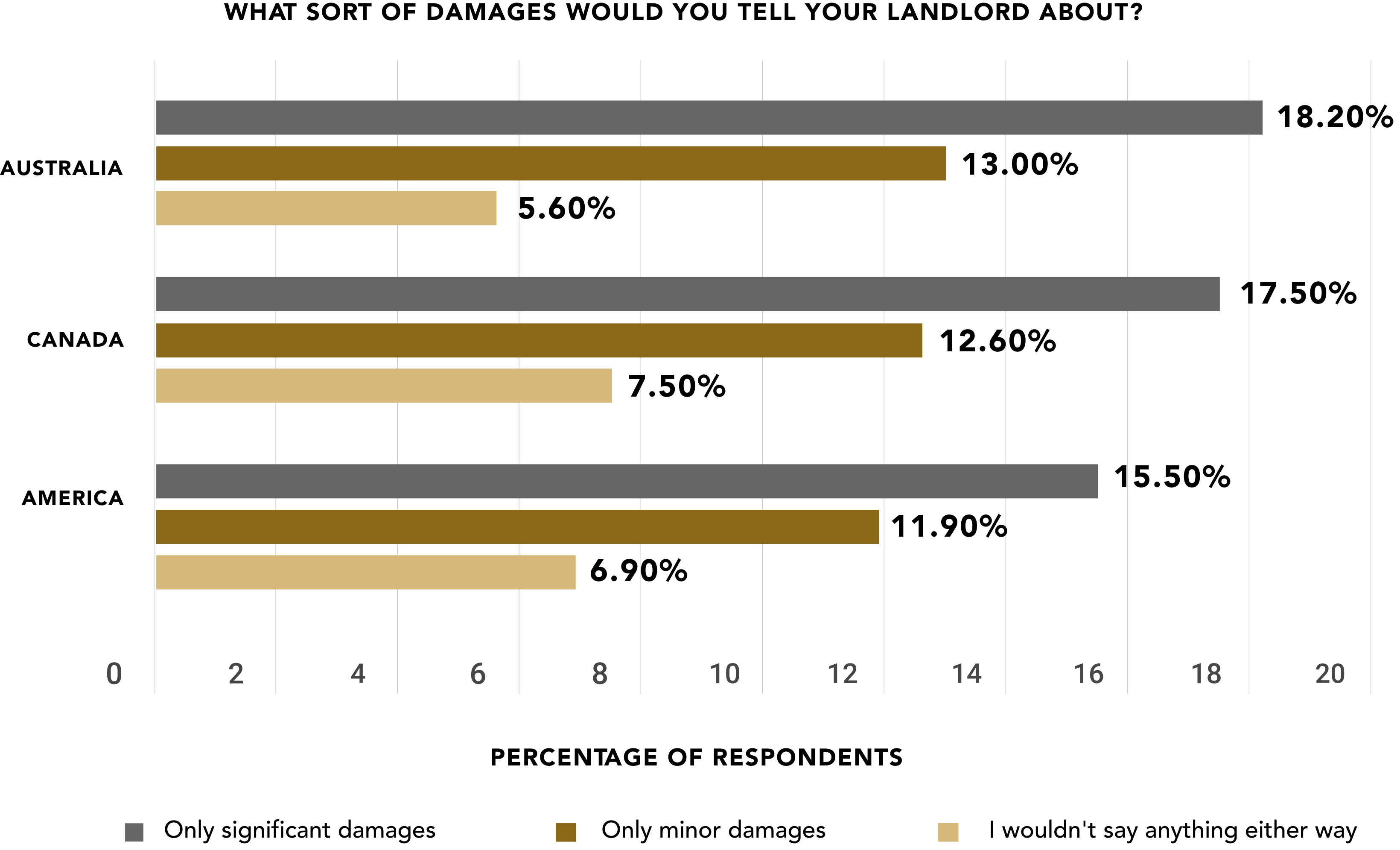 How many people intentionally breach their leasing agreements?
Some people might also look to breach their leasing agreement to gain something financially (through subleasing the property without prior approval) or emotionally (by getting a pet).
Australians (8.7%) were the least likely to have intentionally breached their rental agreement, with Canadians and Americans at 12.8% and 13.4%, respectively, looking for more ways to enhance their lives.
We also explored whether there were any gender differences and found that both men and women have similar rates of intentionally breaching their agreements (average of 11.93% and 11.13%, respectively).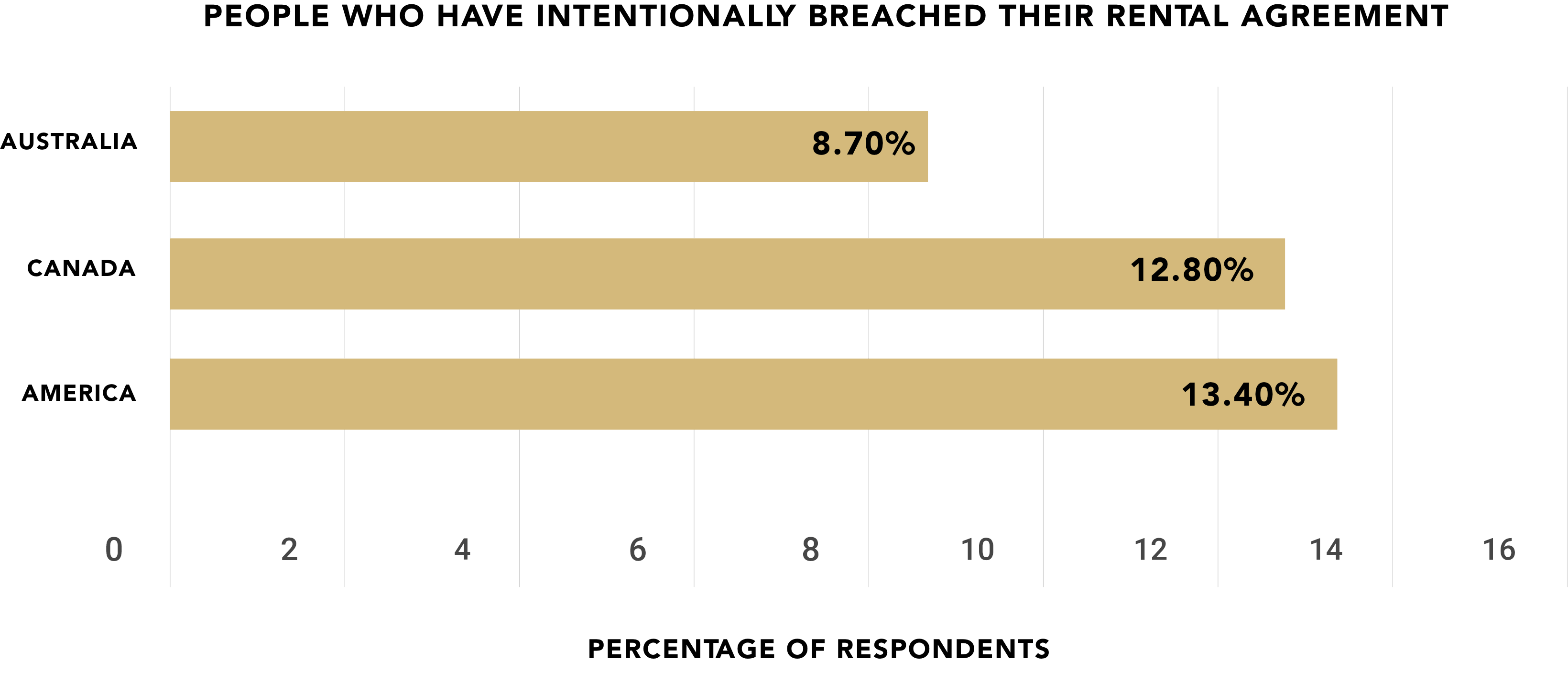 Percentage of people who have been refused their rental bond
We also wanted to determine how many people had been refused their rental bond refund after clearing out of a property.
Australian and American renters were on par, with both countries having 6.5% of their renters' bonds refused. Canada was not too far behind with 5.8%.
Breaking this down further by gender, we found that North American men (7.7%), on average, had their bond refused more often than their female counterparts (4.6%). This was completely flipped in Australia, where slightly more women had their rental bond payments refused (7%) compared to their male counterparts (6%).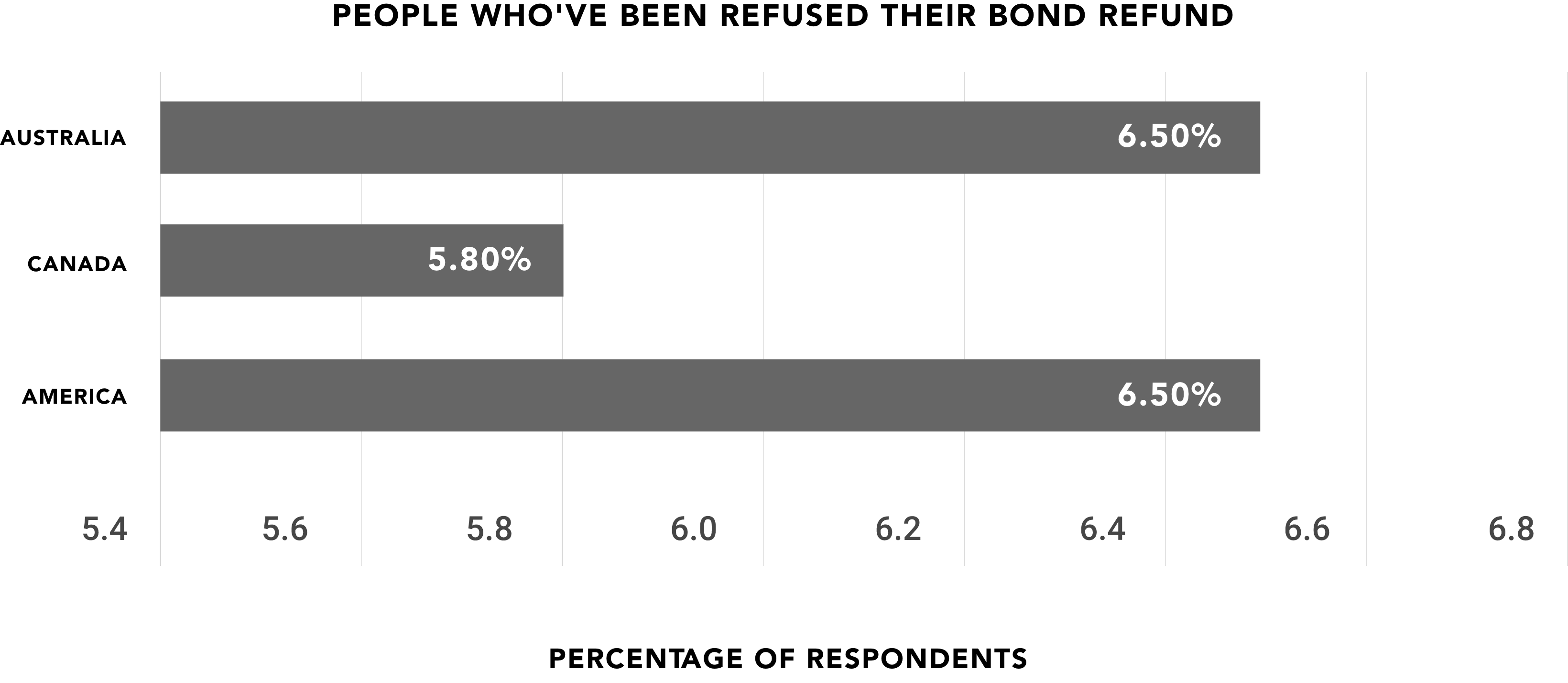 Rental bond refusals by age group
Almost 1 in 10 Australians aged 45 to 54 have had their rental bonds denied, the highest of any age group in Australia. In a similar range, 35-44 years old had a refusal rate of 9.1%, whereas those aged 25-34 (7.9%) edged in for the third highest rental bond refusal rate.
Canadians aged 18-24 (13.2%) and Americans aged 25-34 (17.4%) hold the crown for the highest rate of rental bond refusal, which is dramatically high, even in comparison to the third spot of 3.2% (ages 35-44) and 9% (ages 18-24) respectively.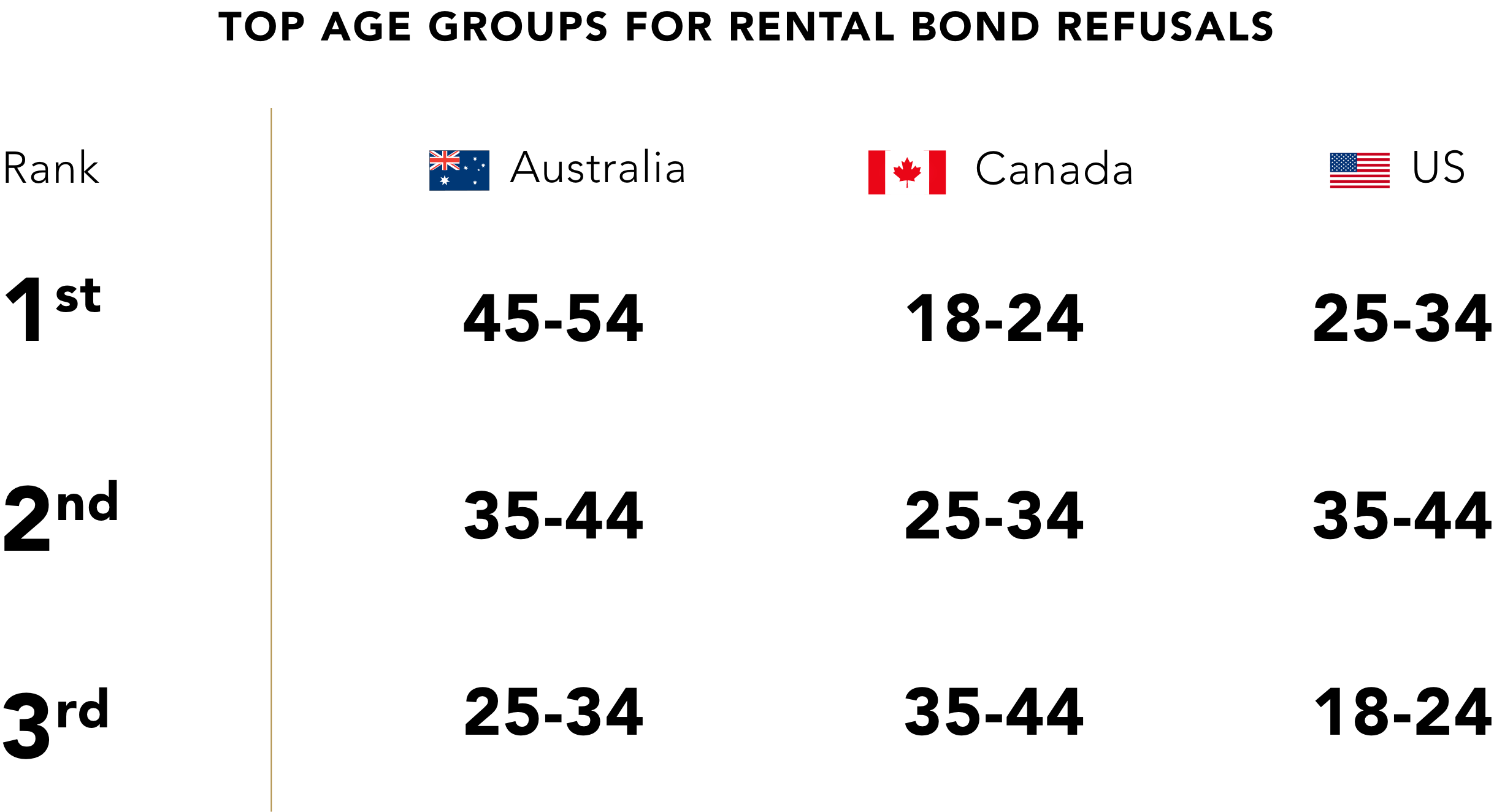 Most common reasons for rental bond refusal
The most common reason for not getting their bond money back across Australia and America was because of damage to floors. This was followed by the place not being left in a reasonable condition with wear and tear to walls and doors/windows. Other common reasons included defects on benchtops, walls, doors and windows. Over two-fifths of Canadians were refused their bonds because of water damage and commonly cited dents and scrapes to walls.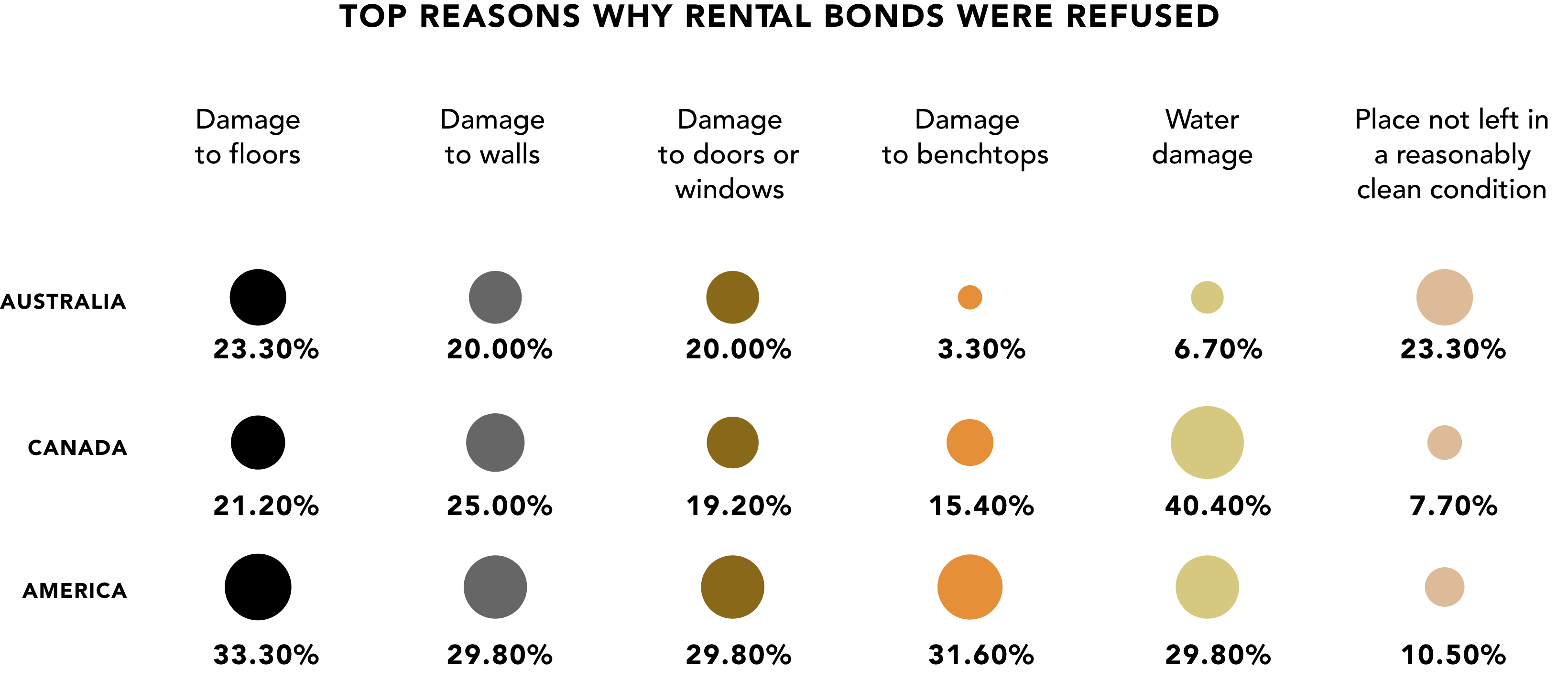 How common is lying on rental applications?
Last but not least, we wanted to know if there were many people out there who would lie on their rental applications to secure the property. It's no wonder that people would do anything to secure a place, given the level of competition the current market is experiencing; however, lying on legal documents is fraud and is highly advised against. Our research found that 5.6% of Australians, 9.7% of Canadians and 10% of Americans admit to lying on their rental applications.
Surprisingly the number jumps dramatically from these national averages when we break it down for age groups. Australians aged 35-44 have lied on their rental applications the most, with 11.4% admitting as much. This, however, is easily lapsed by Canadians aged 18-24, where 16.5% of the people surveyed confessed to lying on rental applications. Maybe the most outrageous of all are Americans aged 25-34, where more than 1 in every 5 people have admitted to lying.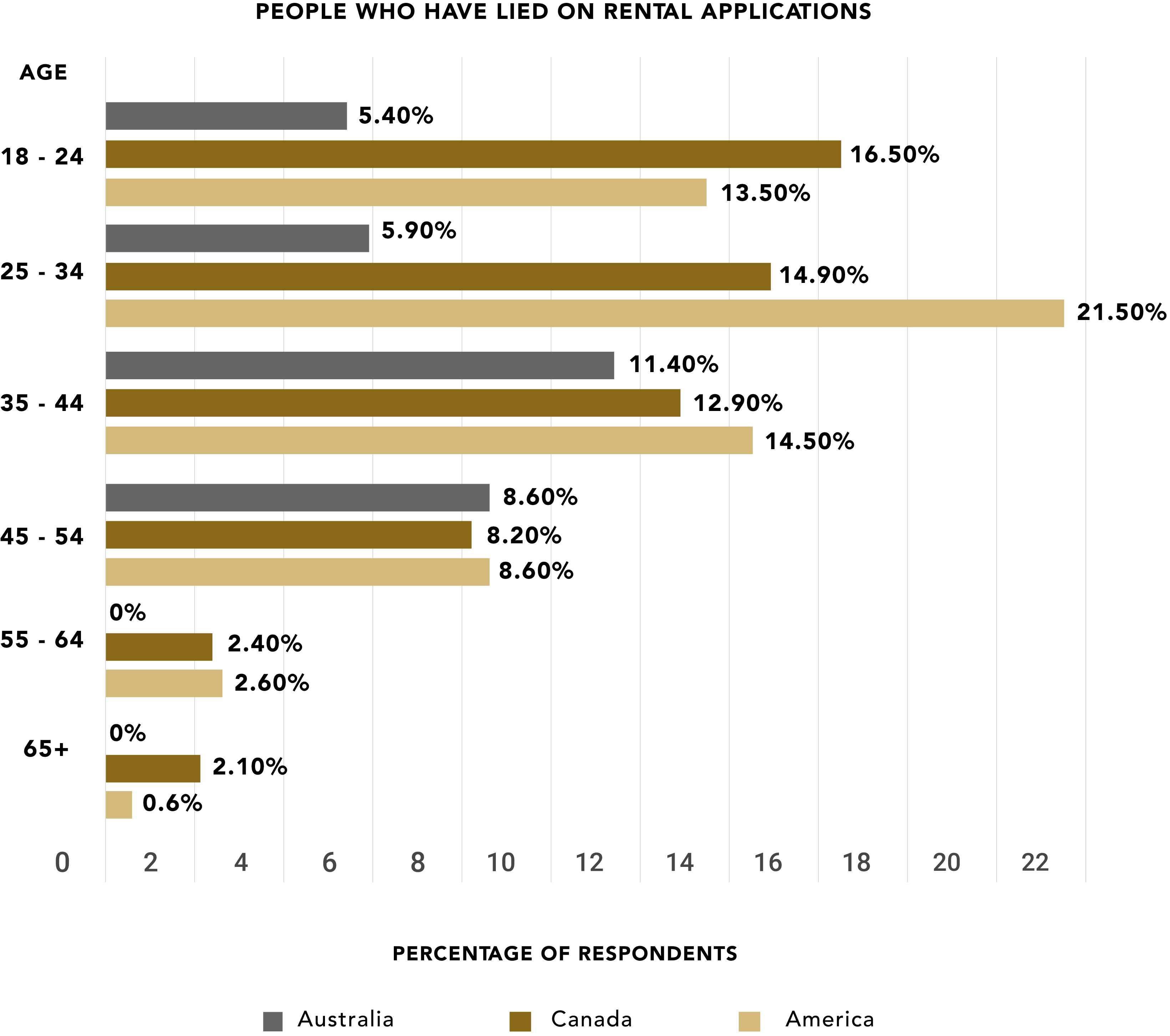 Making a good impression with references
Compare the Market's David Ruddiman spoke on why it's important to keep a good relationship with your landlords and property managers.
"Many people may think that their relationship with their landlord or property manager ends once they move out of a rental property, however, it's not always so clear cut," Mr Ruddiman said.
"In many cases, people will need to get a reference from their past landlord to submit new rental property applications that show they had been a good tenant, and one that paid on time.
"This recommendation can easily make or break your suitability, especially if damages were not reported, rent payments were missed, or the agreement was in some way breached."