Ranking 35 countries by household debt
The table below reveals the portion of net disposable income each household has in debt and orders it from highest household debt to lowest. These figures are averages and may not be indicative of what your debt looks like. OECD defines disposable income as the income of households (eg. wages and salaries), after considering the payment of taxes and social contributions (if applicable).
If, for example, you're a household in Australia with a combined net disposable income of $100,000, this data suggests your debt is around $210,070.¹ Seems high? Remember that this could include your mortgage, investor debt, loans and credit card debt.
Here's how the rest of the world fares: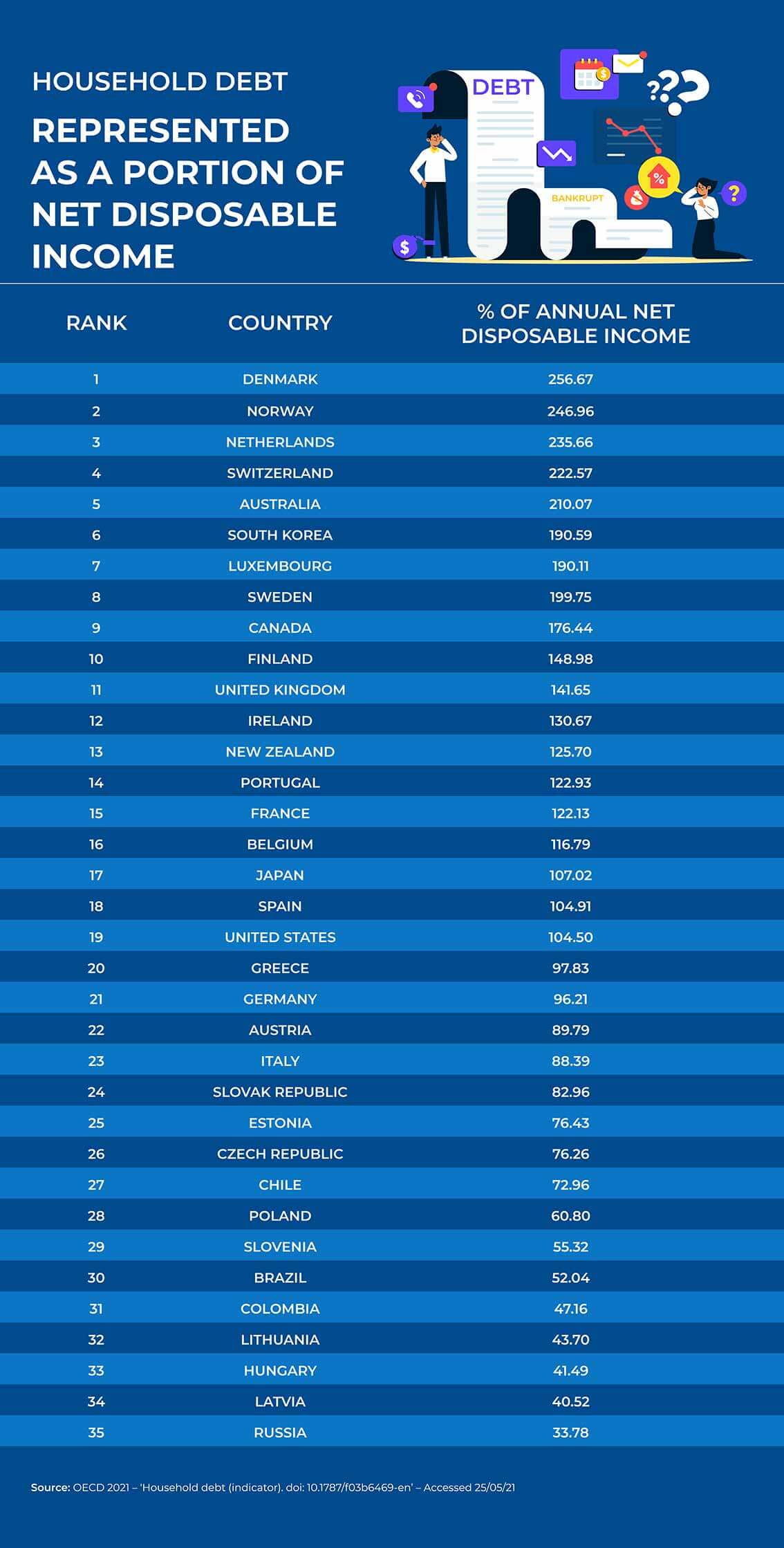 A closer look at the data
Most households spend significantly more than they earn
Of the 35 countries analysed, 19 had debt totalling more than net disposable income.¹ What's interesting to note is that these countries are all considered to have advanced economies. Historically, rising household debt in advanced economies has been relative to rising household income, but in recent years, property prices have outpaced incomes.² And given that mortgages are likely to make up a high portion of a household's liabilities, there's sense to be made of these debts.
Expensive cities can contribute to high household debts
In news that's unlikely to shock, at the top of the household debt list are expensive countries to both live in and visit. Given that Denmark is ranked the country with the highest household debt,¹ it comes as no surprise that Denmark's capital, Copenhagen, was listed as the 25th most expensive city to live in, in 2020.³ Switzerland's capital, Zurich, ranks as the fourth-most expensive city to live in against 209 others,³ and it's also fourth-ranking for highest household debt.¹ Cost of living takes into account factors such as rent/mortgage, other housing costs, transport, groceries and more.
Eastern Europe has some of the world's lowest household debt
As revealed by the OECD, countries within eastern Europe were revealed to have the least amount of household debt.¹ A possible explanation for this could be that mortgages are relatively uncommon in this part of the world. In Russia, Latvia, Hungary and Lithuania, 81.6% to 89.9% of the population owned their home outright in 2018, compared to 60.5% to 81.3% in Denmark, Norway and the Netherlands.⁴
All currency conversions completed on 25 May 2021.