Admit it: how many times have you started to innocently watch a couple of videos on TikTok, only to look up from your screen and realise hours have passed? Probably more times than you care to remember!
But don't worry, you're not alone. The great thing about TikTok is it's a huge source of inspiration for so many things, including interior design – in fact, the hashtag #interiordesign has a massive 32 billion views.
If you're planning on refinancing a home loan so you can renovate and redecorate to add value and need to know what's trending right now, the experts at Compare the Market have got the deets on the most popular interior design trends.
By analysing the top interior design trends on TikTok and then using Google Trends to see search interest across the USA and Australia, we have uncovered the top interior design trends in these countries, right now.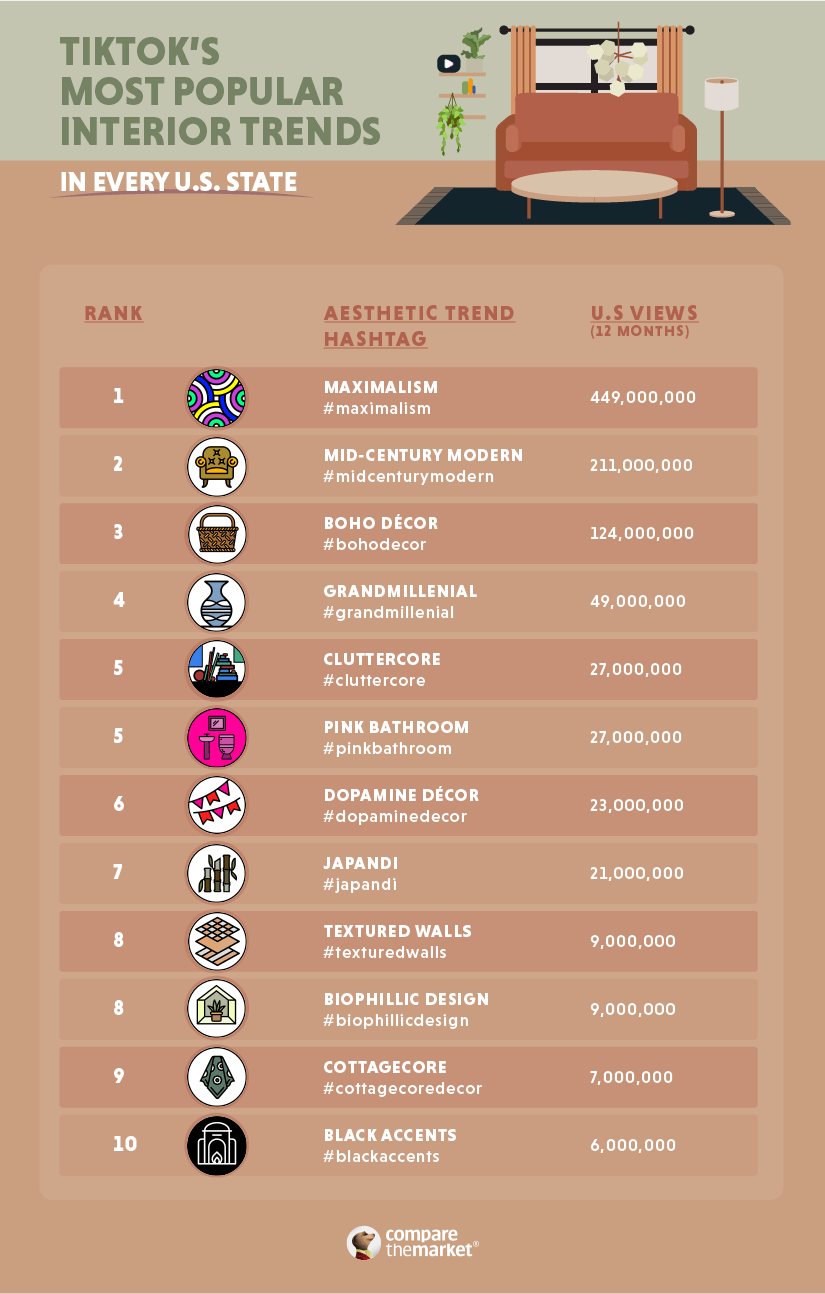 The most popular TikTok interior design trends in the US
From cottagecore to coastal grandmother, maximalism to minimalism: which design trends are most popular across the US right now?
1. Maximalism
With 449,000,000 TikTok views in the US over the last 12 months, more really is more with the maximalism interior design trend. However, don't just think you can pile a load of objects into a room to achieve the look: it's all about careful curation.
With this trend particularly popular in Colorado, Maryland, Massachusetts, and Washington; clash colours, patterns, and textures, as you mix and match elaborate wallpapers with embroidered furnishings and textured cushions.
2. Mid-century modern
The mid-century modern trend comes in second place, with an impressive 211,000,000 views over the last 12 months in the USA. Reminiscent of the post-WWII era, this trend is all about simple yet sturdy wooden furniture, featuring clean lines that were a world away from the ornate detailing of earlier design trends.
For the state of Iowa, this is the most popular interior design trend, alongside cottagecore.
3. Boho décor
Another trend that incorporates the mixture of colours and textures, boho is the third most popular interior design trend on TikTok for Americans, at 124,000,000 searches over the last 12 months.
The key difference between boho and maximalism, is that the colours used are more muted, earthier tones; which you can pair with artfully placed plants scattered throughout your home, to invite the outdoors in.
When we look at this from a state-specific angle, it's Kentucky and West Virginia where the boho trend is the most popular.
4. Grandmillennial
Grandmillennial makes it into fourth place for Americans, with 49,000,000 searches on TikTok in a 12-month period.
Also referred to as 'granny-chic', this trend is all about incorporating nostalgia and comfort into your living space – essentially, like you're walking into your grandparent's house, but with a stylish edge.
Typical features of this style include chintzy china plates, floral upholstery and curtains, and ruffled bedding; with the style a favourite in both Alabama and South Carolina.
5. Cluttercore & pink bathroom
Cluttercore & Pink bathroom come in joint fifth place, each with 27,000,000 TikTok views amongst the US.
As the name 'cluttercore' would suggest, this trend encourages you to fill your home with the things you love. Yes, it might mean your living space is a little cluttered, but as long as it makes you happy, that's okay!
Think overflowing bookshelves, gallery walls, and knickknacks lining every available coffee table and windowsill. This is organised chaos at its finest; and has a distinctly more vintage vibe than neighbouring design style, maximalism.
Cluttercore is particularly popular in Pennsylvania, Virginia, and Wisconsin, with each state naming it it's favourite interior design trend.
Pink bathrooms round off our top five, with Barbie definitely seeing this trend continue to soar in popularity. Whether you're more baby, blush, or bright pink, the shade is completely up to you.
Inject as little or as much pink as you'd like: from pink herringbone tiles through to pink towels and accents, the beauty of this trend is that you can style it as you wish; with this trend top in both Mississippi and New Jersey.
However, it's not just these trends that are kicking off in popularity across the US – there are so many different décor styles that are having their moment.
Some of these include dark academia, which channels moody libraries and soft lighting, through a combination of rich tones and textures; and came top across eight different states, including Kansas, Nevada, New Mexico, and Washington.
The coastal grandmother look is hugely popular in both Rhode Island and South Carolina: simply channel a rich, stylish woman who lives a life of luxury in Cape Cod, and you can start to envision the trend!
A few other trends that have been popularised across states include biophilic designs (incorporating nature), statement ceilings, Y2K décor, and black accents.