The most popular destinations for relocating to in every country
If you could pack your bags and go live anywhere else in the world, where would you go?
It's never been easier to relocate and live abroad thanks to digital technology that helps us keep in touch, and the rise of remote working following the COVID-19 pandemic.
Living abroad can be very appealing. It gives you a chance to see the world, experiencing different sights, sounds, cultures, weather – and possibly the chance to advance your career or reinvent yourself and try something completely new.
So, which countries do people want to move to most, and have there been any changes over time? To find the answer, the Australian home loan experts at Compare the Market have analysed Google search data for almost every country on earth (178 to be exact).
Here is what we discovered.
Top three most desired countries to relocate to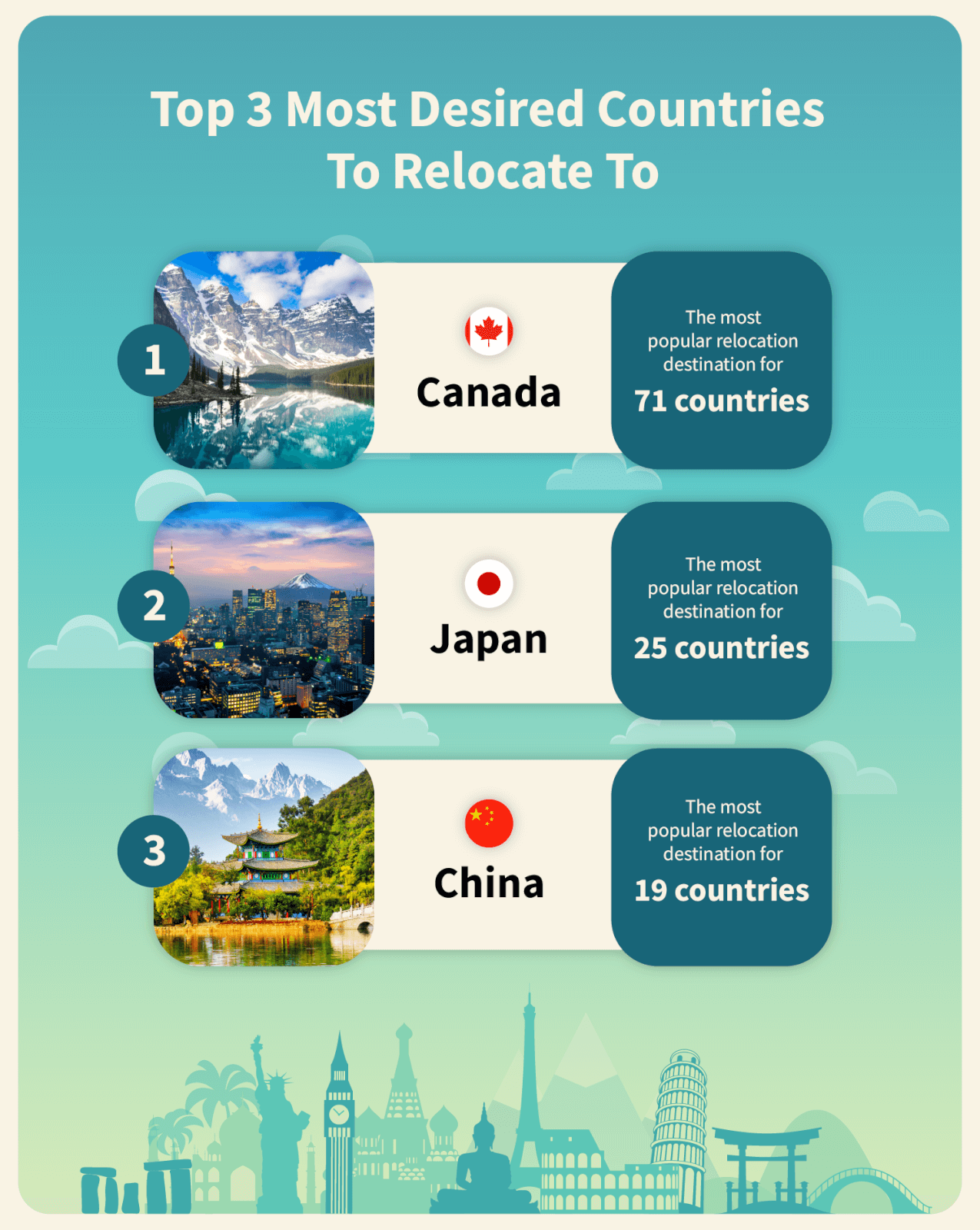 Canada: the most popular relocation destination for 71 countries
Maintaining the top spot from last year is Canada, which is the most popular destination for 71 different countries, representing a huge portion of all the nations we analysed.
It's not hard to see why, given the stunning vistas of Canada and the nation's reputation as being a country full of happy, friendly and kind people.
Japan: the most popular relocation destination for 25 countries
Also retaining its place as the second-most popular relocation destination is Japan. It was the most popular country in 25 nations out of 178 countries.
For years, Japan has been considered one of the safest countries in the world, as well as a nation on the forefront of technological innovation. Combined with its rich history and culture, it's not surprising to see Japan perform so well.
China: the most popular relocation destination for 19 countries
A country that had not made the top three last year has now moved into third place, with 19 countries nominating China as their preferred location to move to.
Like Japan, China has a deep history and rich culture to immerse yourself in, while it also has several beautiful natural landscapes to enjoy if you feel like some sightseeing and adventure. China is also an economic powerhouse and a major trade centre of the world, making it an appealing location for those looking for work.