Ireland saw the biggest drop in household debt but also a big increase in financial assets
Looking at the chart below, Ireland had the biggest drop in the average household debt (measured as a percentage of disposable income). From 2019 to 2021, the average debt decreased by 19%, while the average household financial assets per capita (measured in USD) increased by 17%.
Other countries that saw a big decrease in household debt while financial assets per capita grew were Latvia and Slovenia. Latvia had a 7% decrease in debt and a 22% increase in financial assets, while Slovenia saw a 5% debt decrease and a 19% increase in financial assets per capita.
While all countries saw an increase in financial assets, most countries also saw debt levels increase. Mexico had the biggest increase at 17%, followed by Slovakia at 14% and Hungary and South Korea at 10%.
Spain and Australia saw no change in debt levels, but did see a growth in financial assets – 7% for Spain and 17% for Australia.
The countries with the biggest increases in the value of their financial assets (regardless of how debt levels changed) were Lithuania at 35%, Denmark at 30% and the United States at 26%.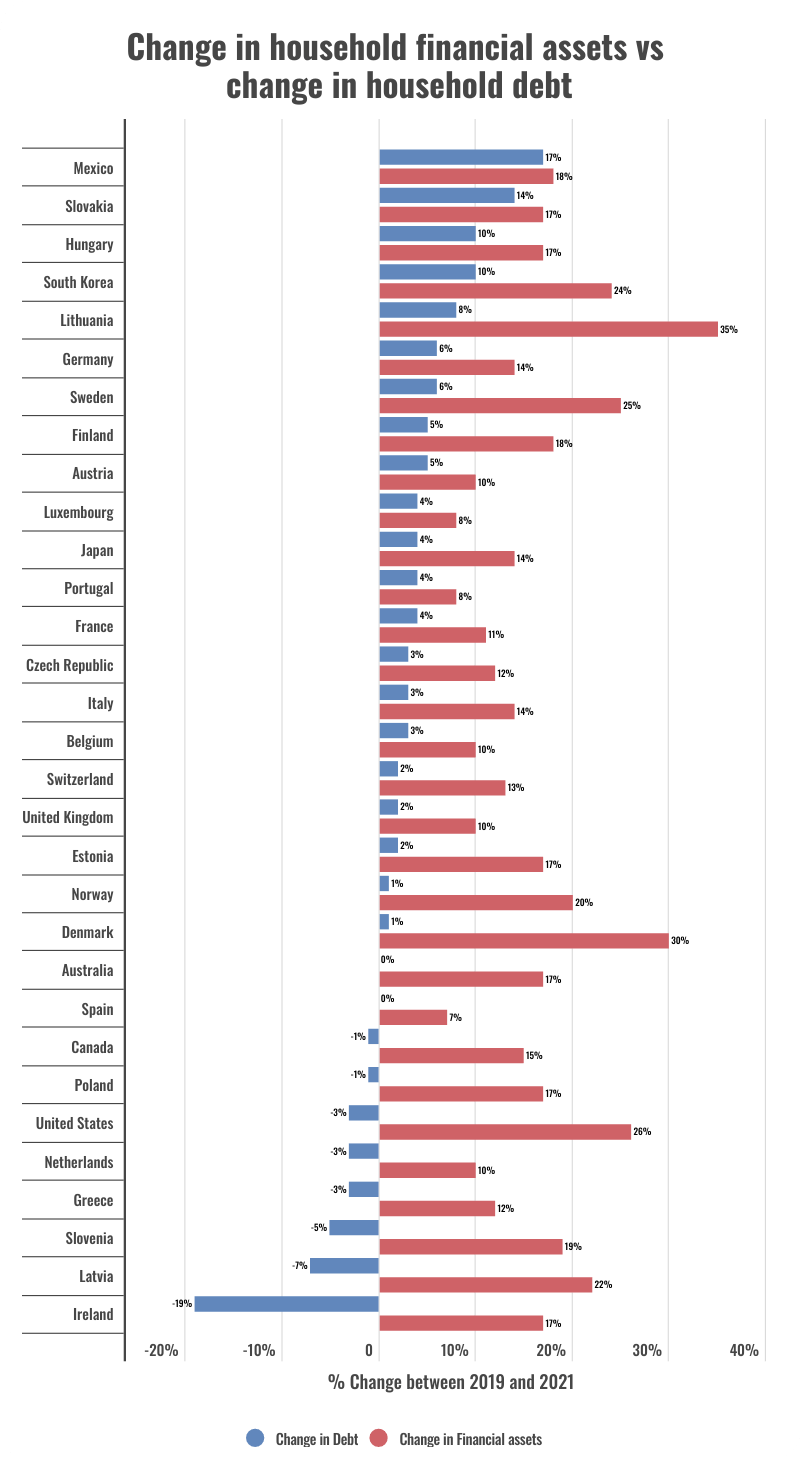 Sources: Household debt and Household financial assets. OECD Data. 2023.
So, which country performed the best?
Based on the graph above, you could say Ireland saw the best positive change in this time period, as their average debt levels per household had the biggest decrease while financial assets per capita increased 17%. Or you could argue that Lithuania came off best as their average assets per capita increase was the biggest, with a difference of 27% between financial asset increases and debt increases.
Using an equally weighted indexation formula however, we get a very different ranking.
Latvia comes out on top when debt and financial asset increases are weighed together
By ranking each country's debt and financial asset changes to each other and giving the country two scores out of 10, we can average these two measures together to provide a single index score.
In this simplified ranking, Latvia has the best score of 9/10. This is because the nation had a higher increase in financial assets per capita than Ireland, while still having a big drop in debt levels – especially compared to other countries with bigger increases to financial assets.
Latvia was followed by the USA who scored 8.8/10 and Slovenia at 8.5/10. Like Latvia, both of these countries had positive increases to monetary assets per household while seeing the average debt levels decrease.
At the bottom end of the rankings was Luxembourg with a score of 1.7/10. Luxembourg saw some of the smallest growth in financial assets at 8%, while debt increased at 4%, which was a common increase for several nations.
Portugal was second from the bottom with a score of 2.2/10. They did slightly better because the raw data saw Portugal have a slightly lower increase than debt – Portugal's was 4% and Luxembourg's was 4.4%, but it was rounded to 4% in our index.
Austria also scored 2.2/10 due to low growth in financial assets only twice that of the growth in debt. Hungary was in a similar position scoring 2.8/10 with financial assets per household increasing 17% while debt levels increased 10%.