What would you sacrifice to buy a home?
You don't have to be in the housing market to know that it can be difficult to own a home, even with a mortgage. Jokes about Millennials not being able to afford a mortgage due to spending all their money on smashed avocado toast glosses over the fact that younger generations are falling behind in terms of home ownership.
As noted by the Australian Institute of Health and Welfare's (AIHW) housing data, home ownership has decreased across all generations (except Generation Z, who are not represented in the data). Those aged 25-29 had the lowest rate of home ownership at 36% in 2021, down from 43% in 2001. Australians aged 30-34 have the next-lowest rate of home ownership at 50%, which has also been declining since 2001 when it was 57%.1
There are several key reasons why this is the case: older generations have been around longer and have had more time to build savings and get into the market; plus housing prices and building costs have soared, made only worse by natural disasters and the COVID-19 pandemic – all across the world.
Faced with these grim realities, it seems home ownership is an increasing uphill struggle for prospective home buyers who may have some tough choices to make if they want to acquire their own home.
To get a better idea of what people are willing to sacrifice to get a house, home loan experts Compare the Market surveyed 3,000 Australian, Canadian and American adults to see what they would give up or bear if it helped them to get into the housing market.

A clear trend across all three countries surveyed was that those aged between 18-44 were more likely to want to buy a home in the next five years, but those aged 45 and above were not. Given that the data shows that a higher portion of respondents in their older years already have a house and have paid off their mortgage, this isn't surprising.
Australia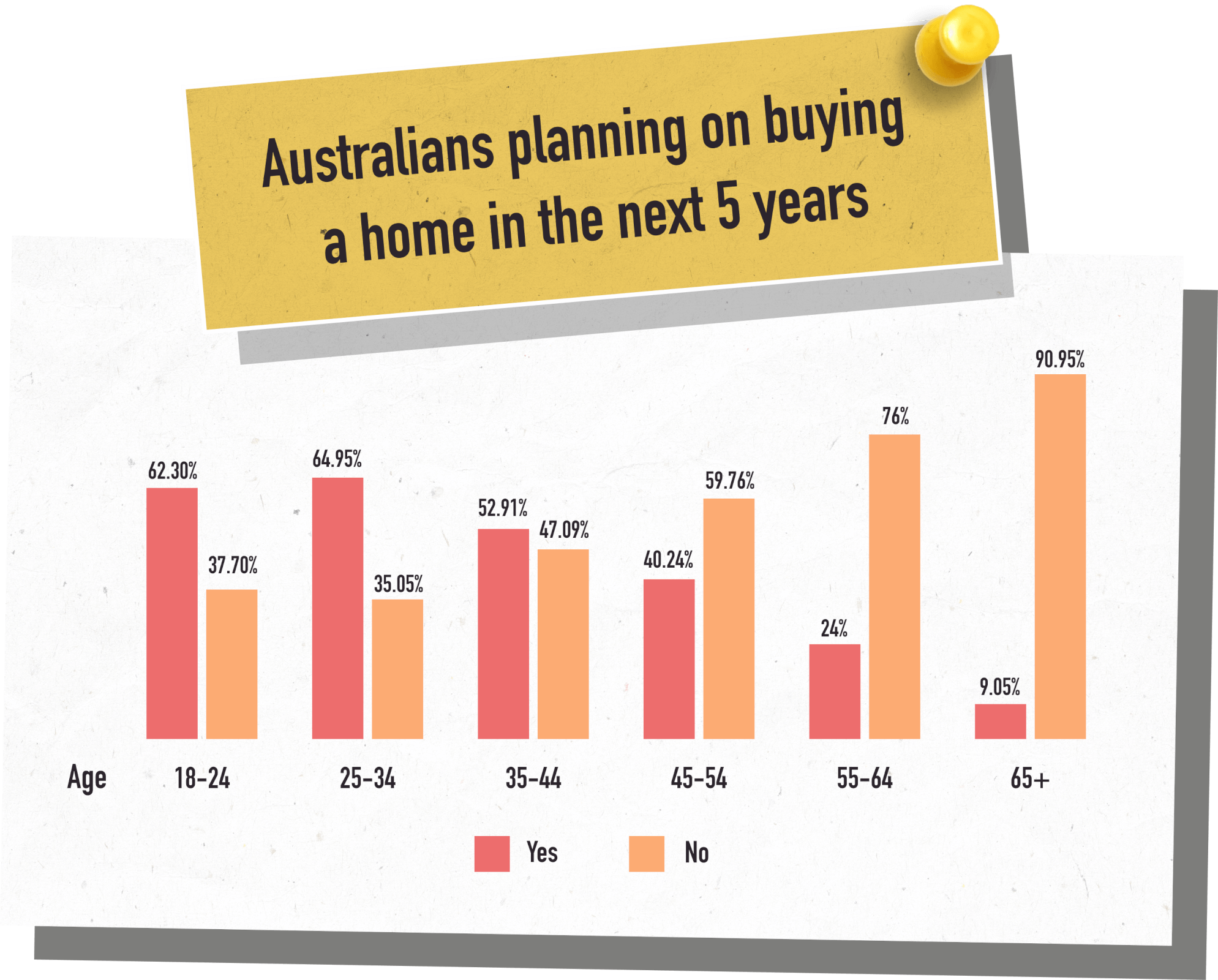 Canada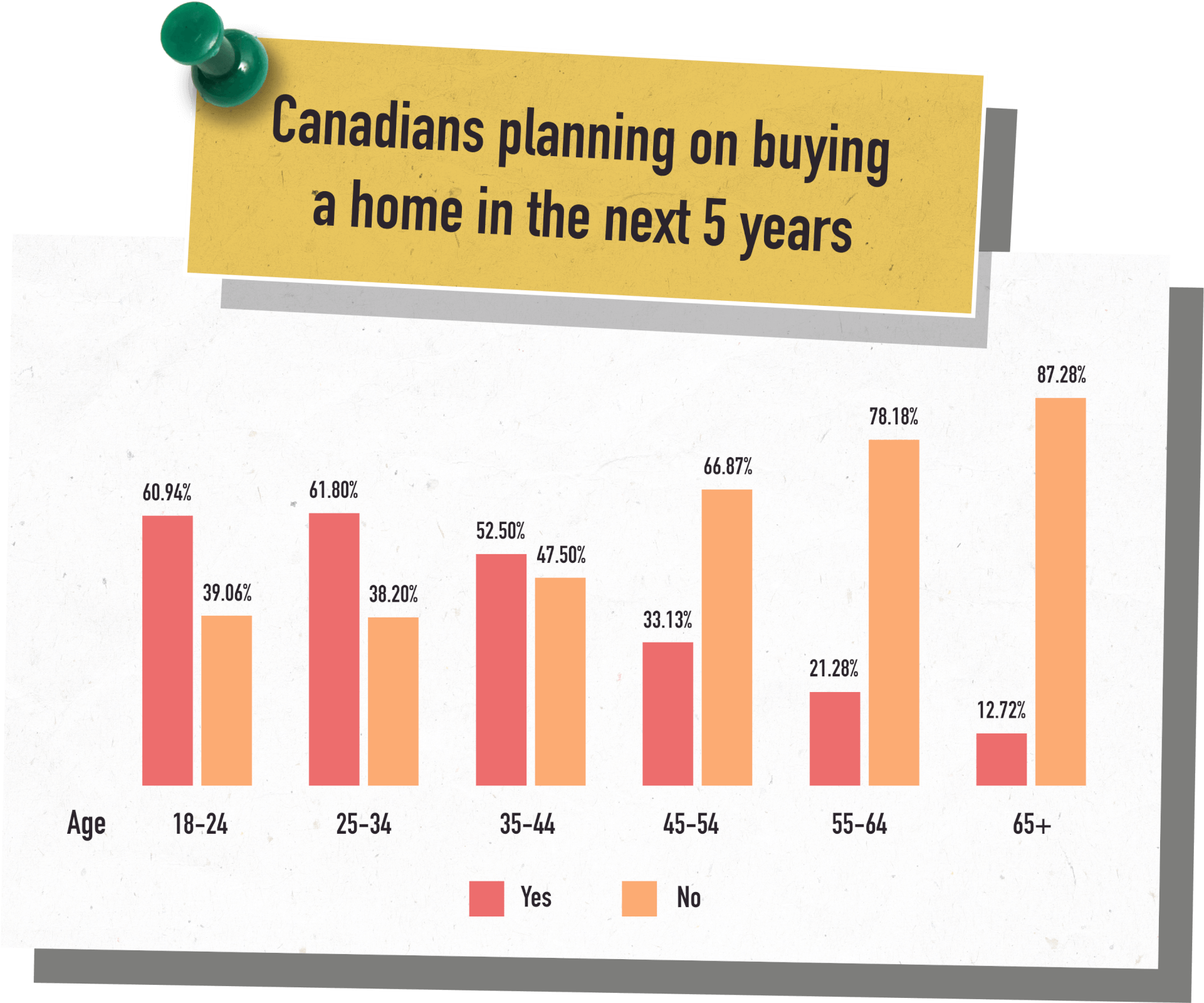 America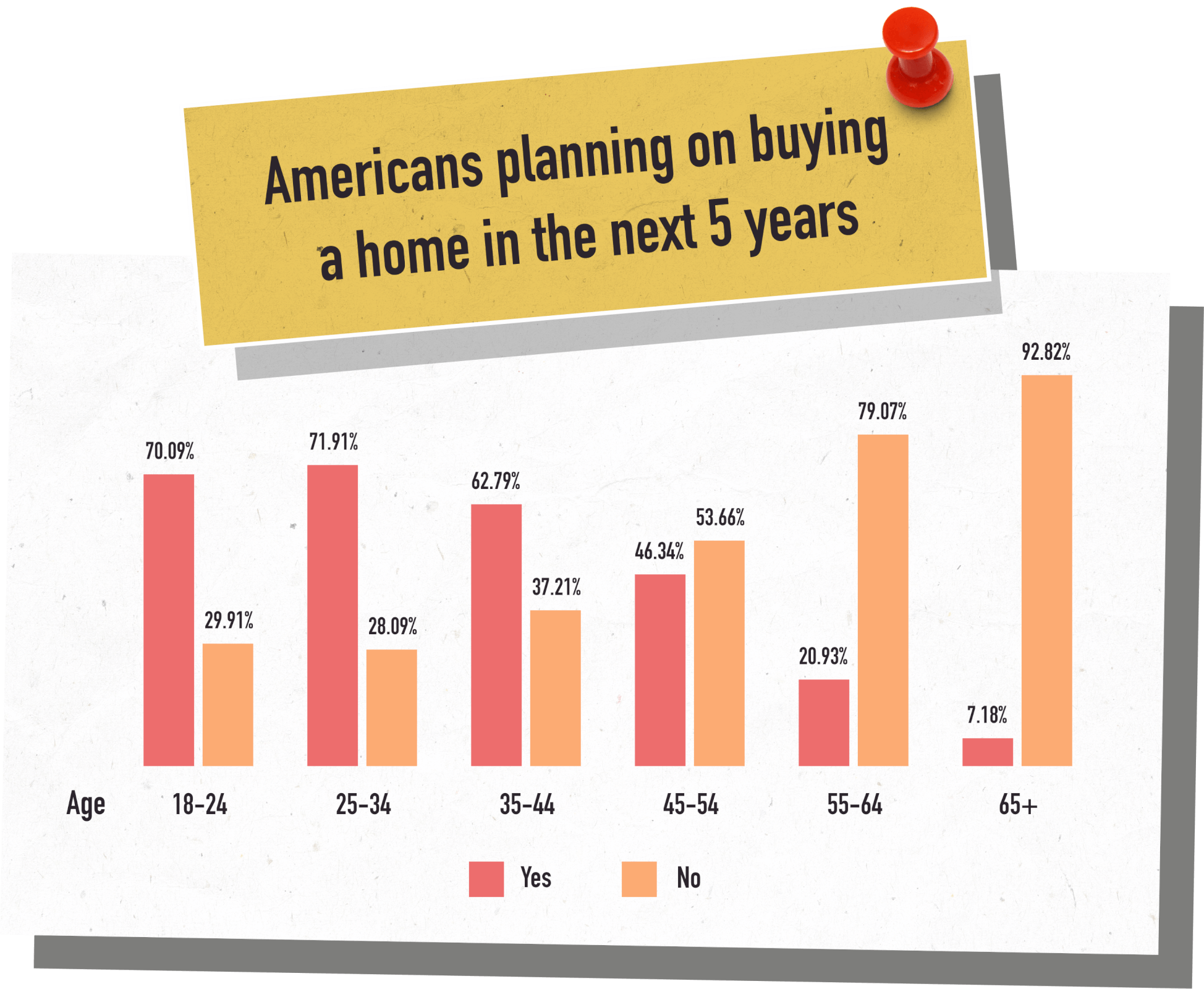 When those surveyed described their current living situation, Canada had the highest amount of younger people who already owned a home with a mortgage, with 32% of 18-24-year-olds, 40% of 25-34-year-olds and 41% of 35-44-year-olds saying they had a house with a home loan. In America these proportions were much lower, with just 25% of those aged 18-34, and 23% of 35-44-year-olds having a mortgage.
Interestingly, in Australia those 18-24 with a mortgage were the lowest of all three nations at 17%, but this figure jumped up to 43% of 25-34-year-olds and 53% of those aged 35-44.

One of the most common sacrifices people aged 18-44 were willing to make (or did make if they had already purchased a house) was to delay travel plans. This was the most popular in Australia for those aged 18-24, 25-34 and 35-44, while it was the number one method for Americans aged 25-34 and Canadians aged 35-44.
Other common tough choices included working an extra job or side-gig, delaying a significant life event such as marriage or having children, trying to reduce bills and sacrificing elements of a social life (like going out or dining with friends).
Australia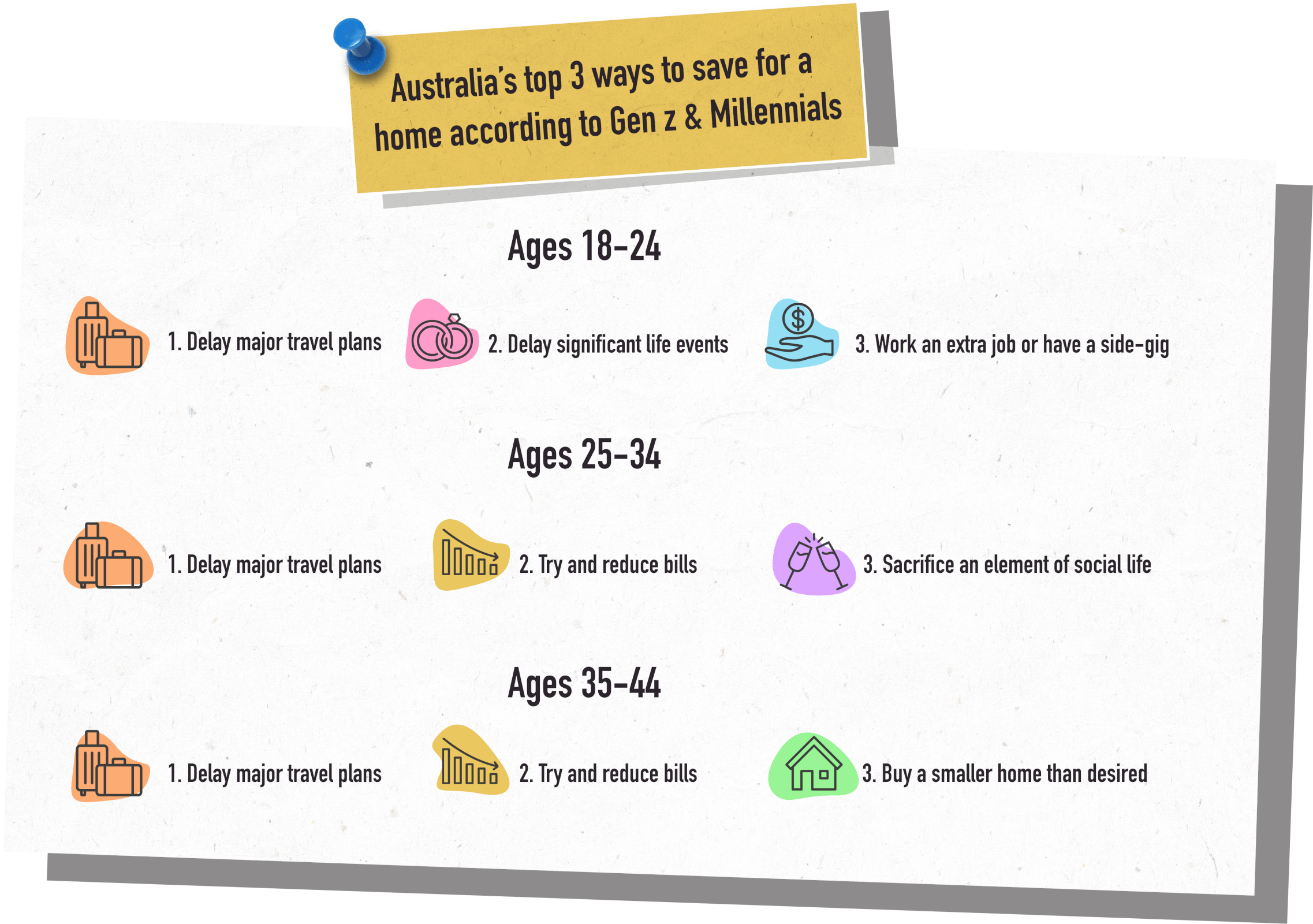 Canada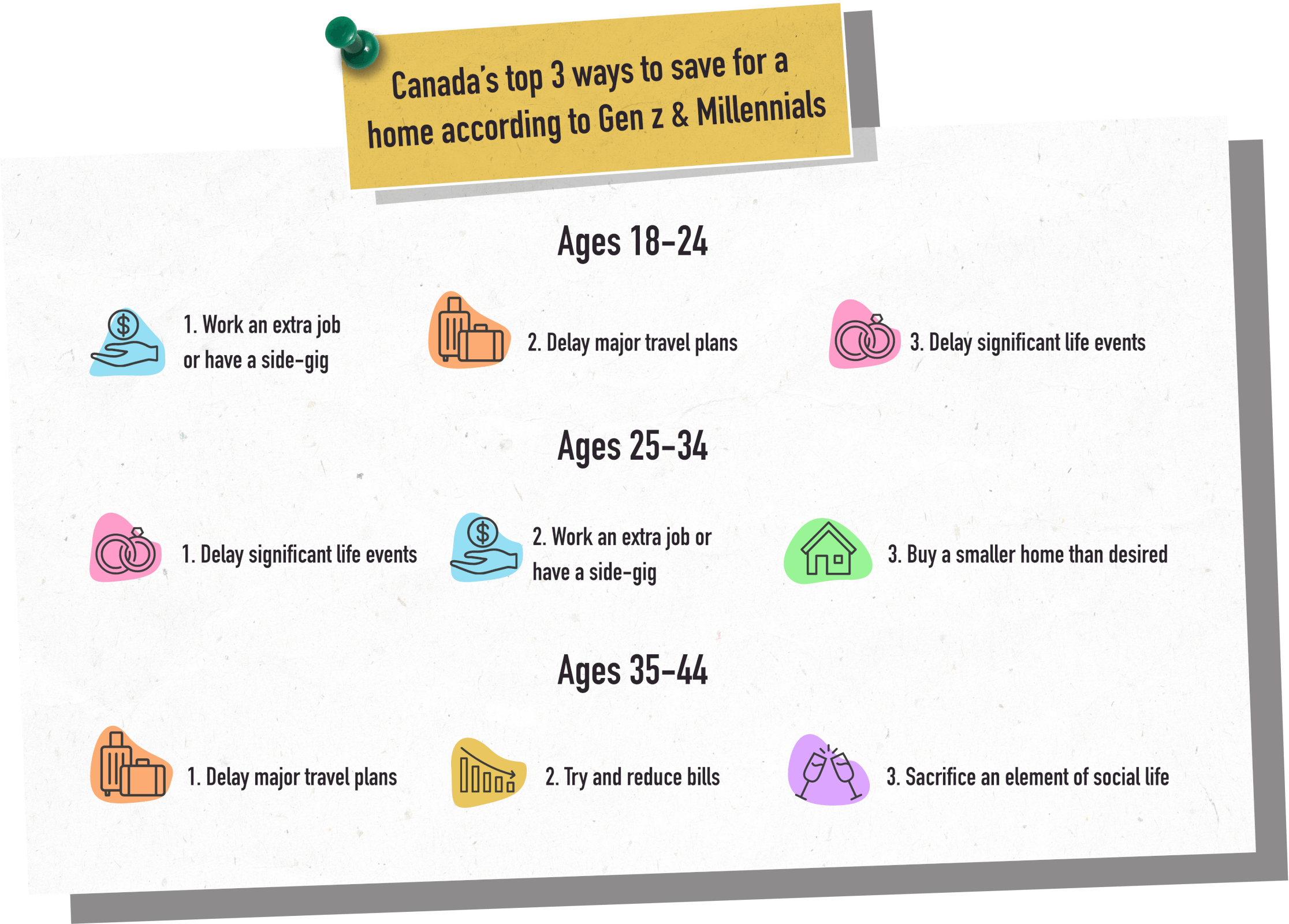 America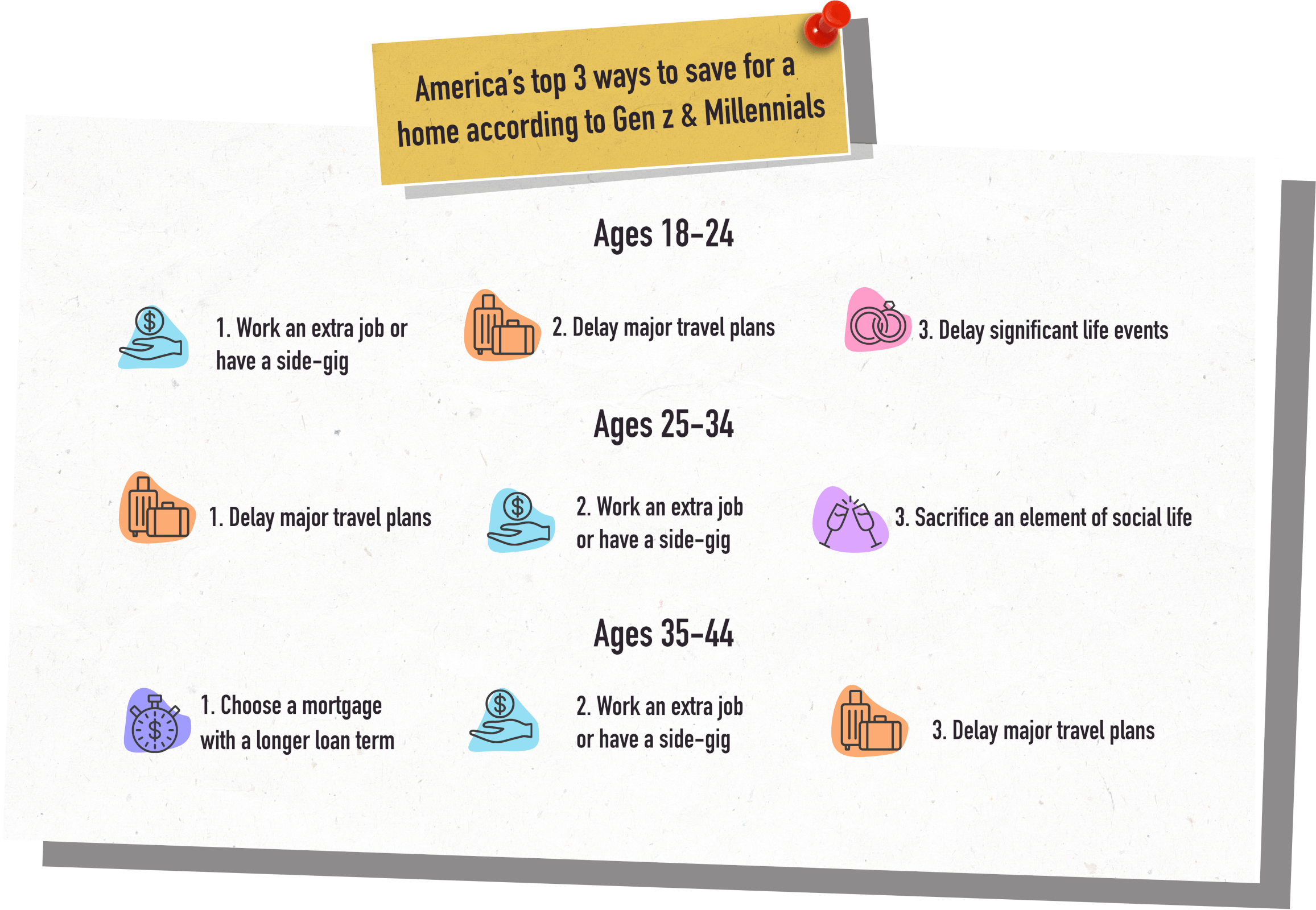 Homeowners in the USA who made sacrifices for their home first tried to reduce bills, with longer mortgages and delaying travel plans their next choice. Renters, on the other hand, are more likely to work more than one job or have a side gig, with reducing bills their second-most popular saving technique, followed by delaying travel plans.
In Australia, there was almost no change in preference for different saving methods, where both renters and homeowners indicated that delaying major travel plans was their go-to choice.
Canadian homeowners and renters both listed travel plan delays as their most common way to save for a home.

Australian men and women both delay travel plans as their most preferred savings method for a home. Following that, Australian men would work more than one job while Australian women would try to save by cutting down on bills. Canadian men and women would also delay travel plans, followed by working more than one job. They differed on their third most-preferred way to save – Canadian men would rather reduce bills where Canadian women would prefer to buy a smaller home than desired.
Similarly to Canada, American men and women both agree on their preferred and second-most preferred sacrifices for a mortgage. Working more than one job was number one, followed by travel plans. Men and women in the USA differed on their third choice. Men would choose a mortgage wither a longer loan term while women would try to reduce bills.
All ages agree: Lying on your mortgage application is the least-preferred way to try and get a house
While the various age groups don't always agree on their most preferred way to save money for a home loan, they do all agree on one thing – don't lie on your mortgage application.
Across all age groups in all countries surveyed, being dishonest on a mortgage application in the hopes of getting better odds for an approval was barely considered as an option, with only a handful of respondents saying they would do it.
When it came to the most common means of securing a home by age-group, almost all Australians except those 65 and above would delay travel plans. In Canada and the USA, there was much more disparity between the different age groups.
The most popular method for each age-group is displayed below.
Australia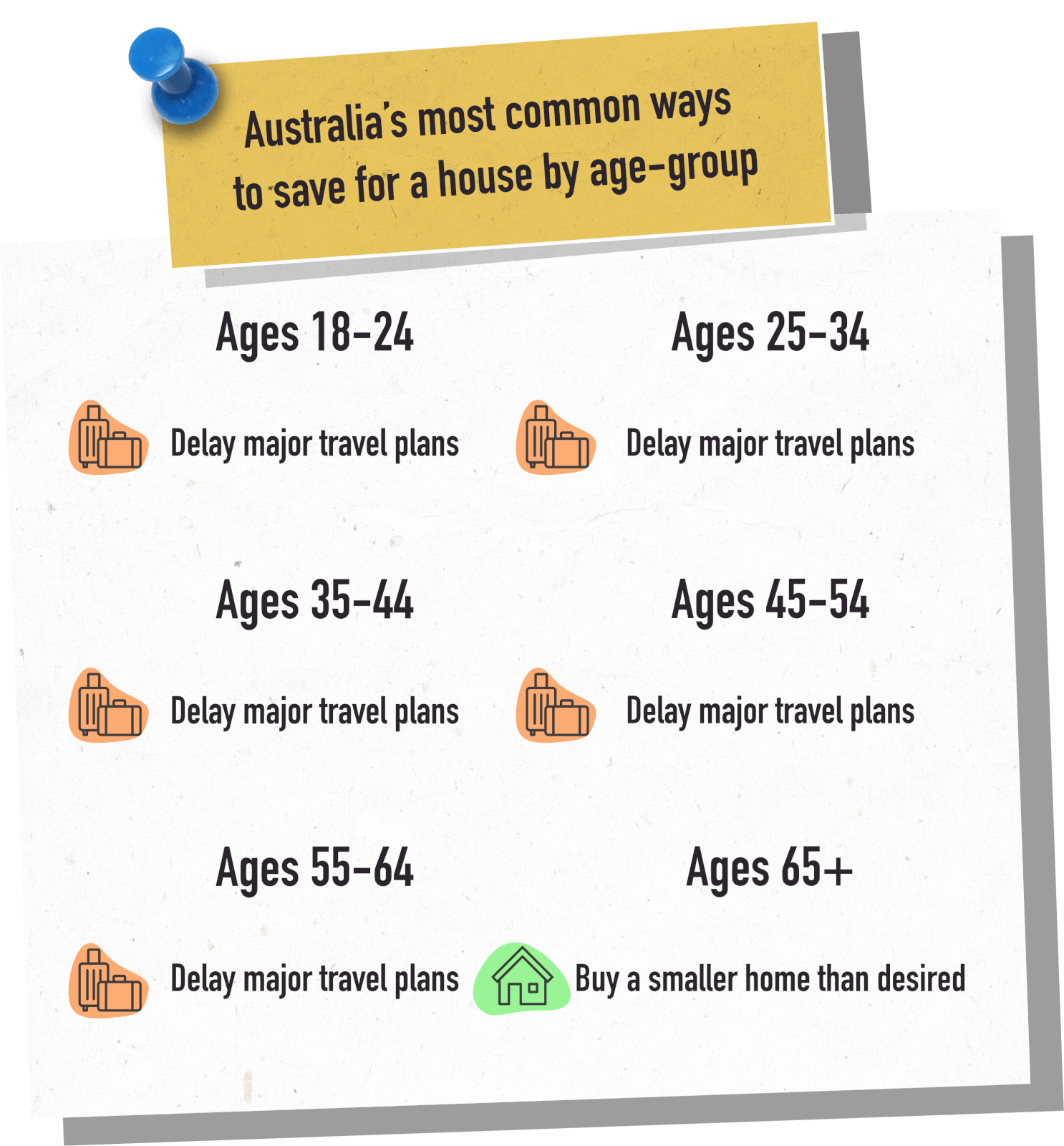 Canada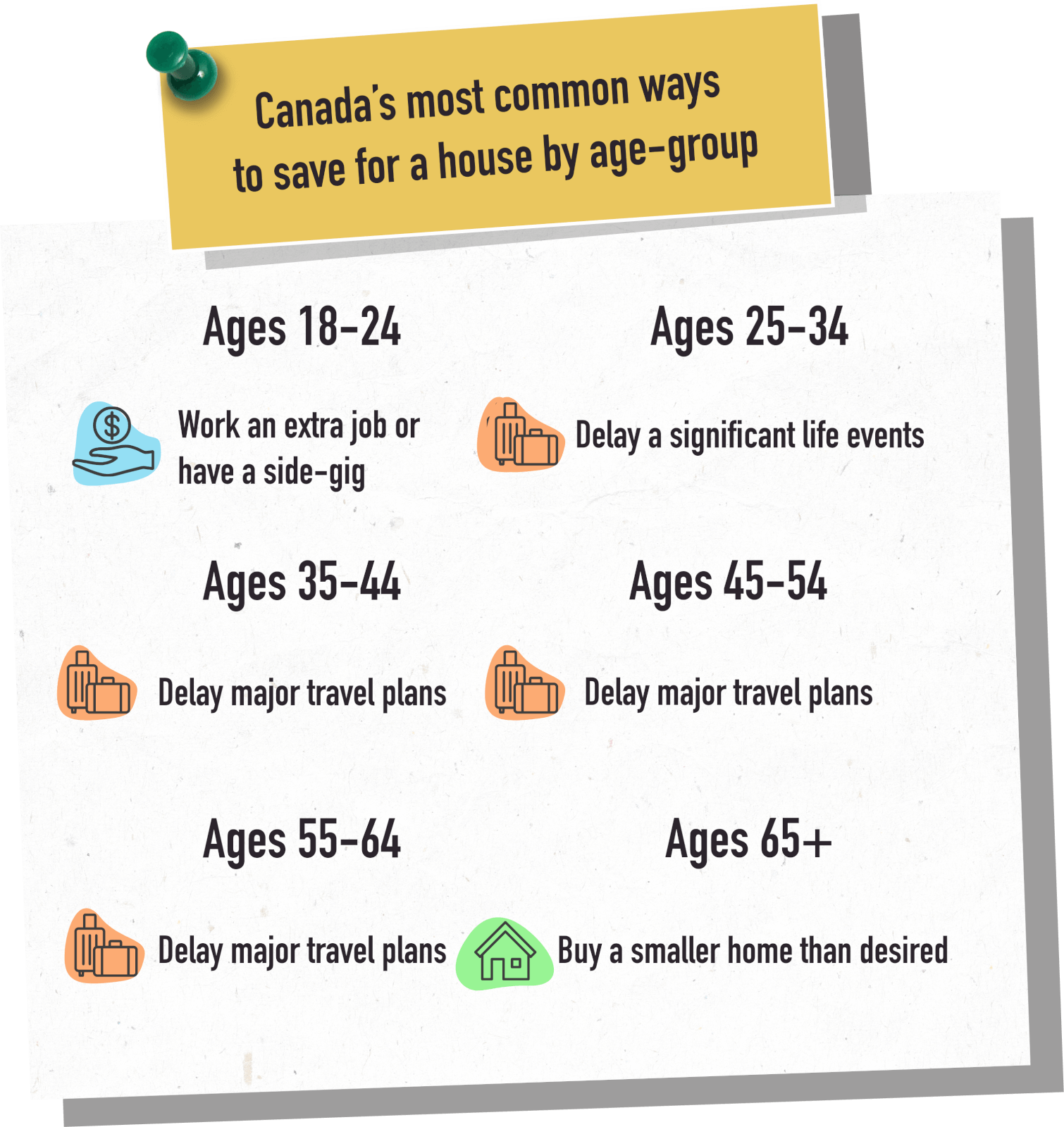 America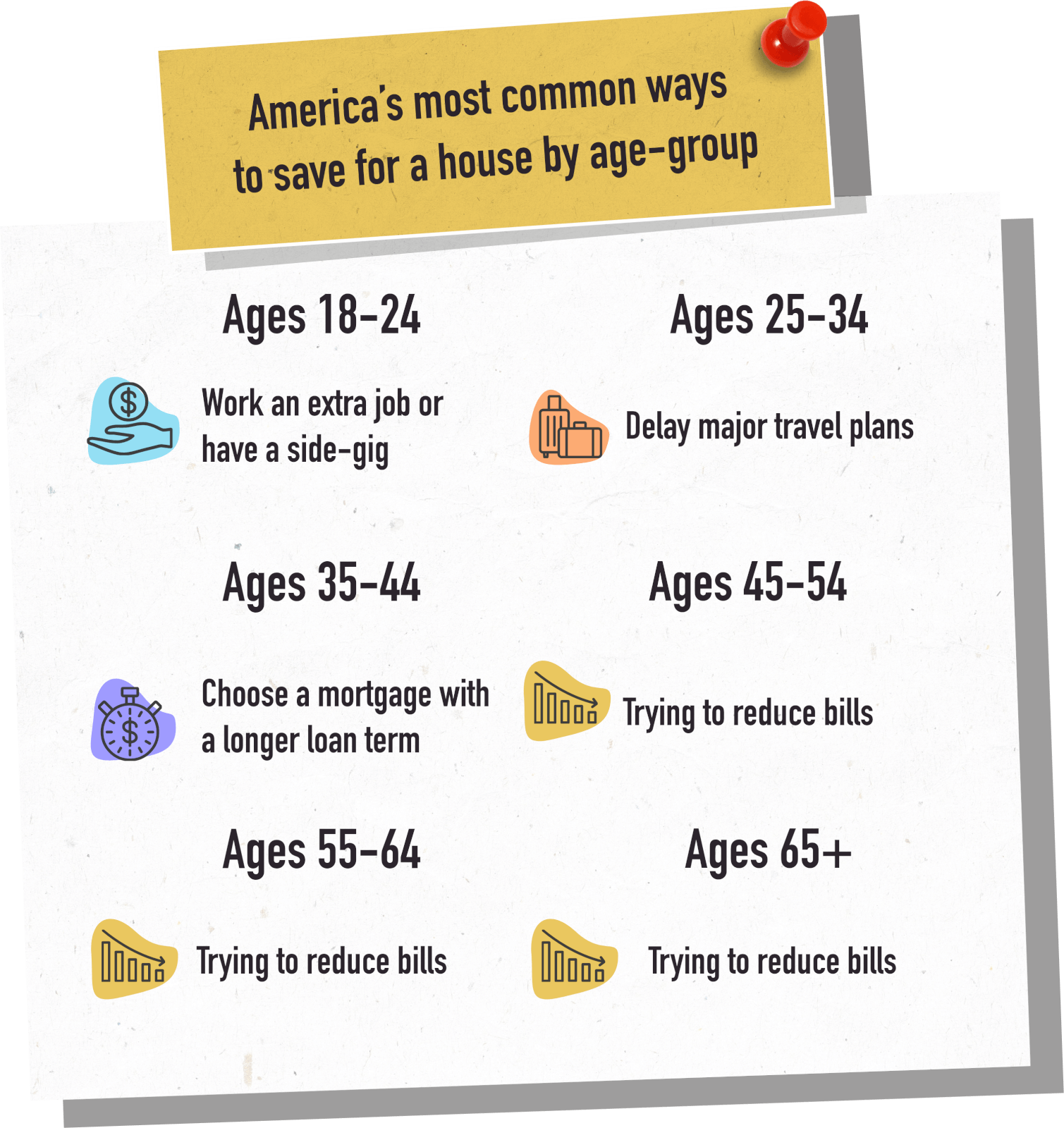 As the home ownership dream appears increasingly elusive for prospective home buyers, its clear sacrifices will have to be made, regardless of age. The question is, how much?
The small sacrifice that can make it easier to find a home loan
Just a few minutes comparing home loans can help you weigh up available options including interest rates, fees and features. Finding a loan with a lower interest rate can save you money over the course of the loan and make loan repayments that much more affordable. That way, you may not need to sacrifice quite as much to get into the market.
Compare the Market commissioned Pure Profile to survey 1,006 Australian, 1010 Canadian and 1,012 American adults in October 2022.
Sources:
1 Home ownership: Home ownership by age group. Australian Institute of Health and Welfare, Australian Government. 2022.