With climate change a hot topic, more and more companies and countries are looking at ways they can switch fossil fuels for renewable energy sources, including solar, wind, waves, and geothermal.
According to Statista,1 it's predicted that the market for renewable energy will reach over US$2 trillion by 2030, and in 2022, US$495 billion was invested in renewable energy, which was an increase of 17% year-on-year.2
With the USA one of the powerhouses in leading the way for renewable energy sources, the energy experts at Compare the Market wanted to uncover some of the greenest companies that operate in the region. To do this, we looked at three key factors: annual green power usage (kWh), the percentage of total electricity use that's green power, and their target year for achieving net zero.
So, read on to discover the greenest companies in the US, the brands that have already reached their net zero target, and some of the initiatives these companies have already put in place.

1. Switch, LTD
In first place is technology and telecom company, Switch, which uses solar power as a key resource. 100% of its total electricity use reportedly comes from green power, and they're officially net zero, making them the greenest company on our list.
2. salesforce.com
Like Switch, salesforce.com claim to have met their net zero commitment target, with 73% of their total electricity use generated by green power – specifically solar and wind. This equates to an annual green power usage of 543,792,117 kWh. That's the same as running electricity in more than 51,000 US homes for an entire year!3
3. Google LLC
In third place is Google, with their annual green power usage the highest on our list, at 9,100,267,846 kWh (equivalent to almost 856,000 US homes annually3). 105% of their total electricity use reportedly comes from green power (solar and wind), and they anticipate being net zero by 2030. Google's green power electricity use exceeds 100% as they purchase/offset more electricity than they consume.
4. Apple Inc
Another iconic global brand, Apple is the fourth-greenest US company, declaring that 104% of its total electricity use coming from green power, and it's well on its way to becoming carbon neutral by 2030. Apple uses a variety of green power resources, including biogas, small-hydro, solar, and wind.
5. Microsoft Corporation
Rounding off our top five is the Microsoft Corporation, with a reported 100% of the total electricity use powered by green energy, and they have a net zero commitment target of 2030. Not only that, but Microsoft has the second-highest usage of green power annually, at 8,324,914,969 kWh (or 783,000 homes3).
The technology and telecom industry dominates the top 20 list, with nine companies in total, including Equinix Inc, T-Mobile, Cisco Systems, Inc, and Iron Mountain Information Management, LLC.
However, there are also a couple of transportation brands, including Dallas Fort Worth International Airport, which uses solar and wind power, and Massachusetts Bay Transportation Authority; in addition to companies within the industrial goods, retail, education, food and beverage, and consumer product sectors.
The companies committed to net zero targets
If you're wondering what 'net zero' actually means, then you're not alone! A term that's mentioned a lot, put simply, it refers to the amount of greenhouse gas a company creates, and the amount that it removes from the atmosphere. If a company takes away more greenhouse gases than it generates, then it means it's reached net zero.
Becoming net zero has never been more important, with it being one key way of tackling climate change – and having huge corporations committed and onboard really helps with the cause.
Switch, salesforce.com, and The Boeing Company have all reportedly achieved their target of becoming net zero, and the University of California has a target of achieving it by 2025, which is five years less than most of the companies that feature on our list.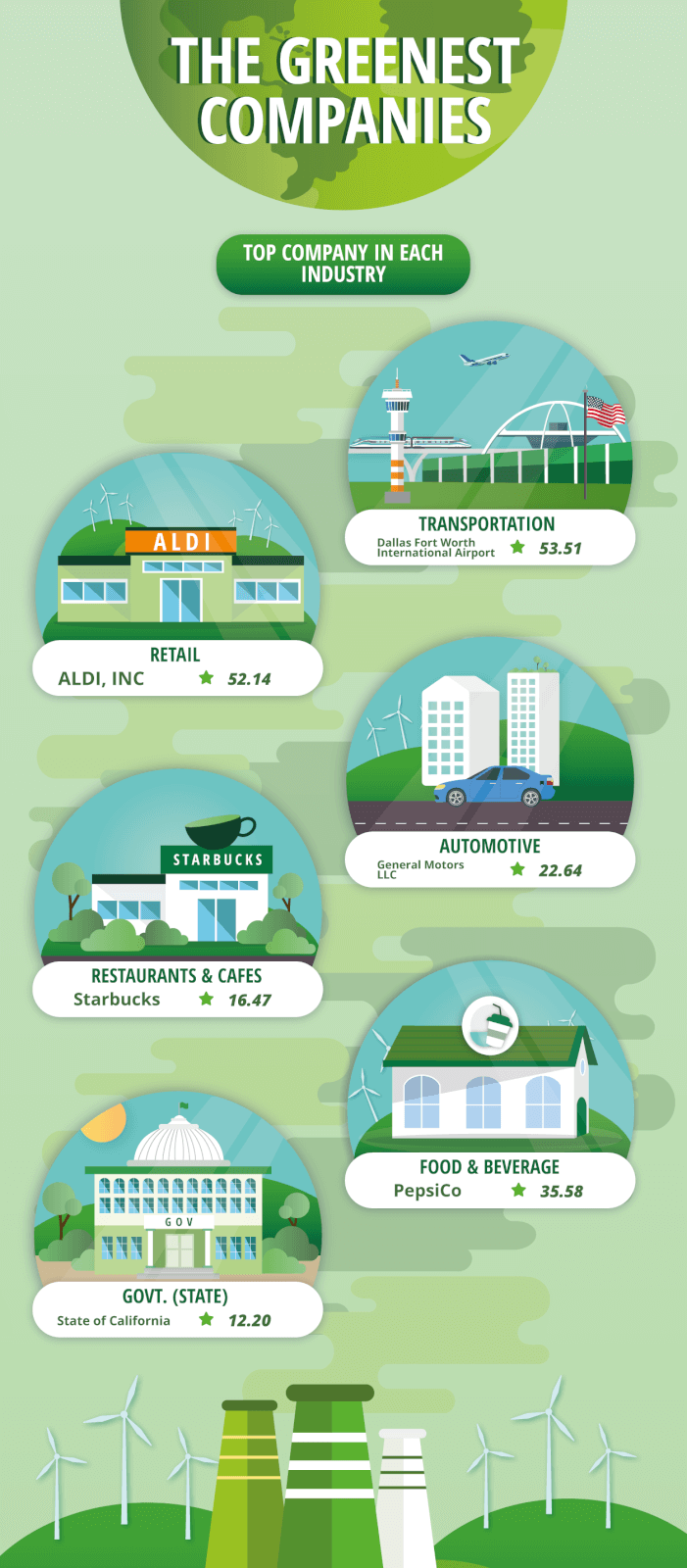 The industry leaders that are committed to tackling climate change
It's great to see that such huge companies are committed to making a change, but how exactly are they doing it?
One example is Dallas Fort Worth Airport, who've partnered with both Air North Texas to improve air quality and spread public awareness of how to do so, and Take Care of Texas, which aims to better conserve energy and water, and reduce emissions.4
PepsiCo – one of the largest food and beverage companies in the world – has pledged to become net zero by 2040 (including their franchise and third-party operations); and one of the ways they're doing this is by building new wind and solar installations at their distribution centres.5
Another company committed to tackling climate change is General Motors, who spend around $20 million every year on energy efficiency projects, which they expect will create an additional 1,200 jobs in Michigan.6
But cleaner electricity practises are not happening in every company. Unfortunately, while some do engage in good practices, there are still many that don't. That's how we, as consumers, can counteract this with our own electricity usage.
Meredith O'Brien, Head of Energy at Compare the Market Australia states: "We've known for many years now, that drastic action has to be taken to help tackle climate change; and whilst big companies can have a significant impact on this, individual consumers can also make a big difference."
"Installing and making good use of solar panels on a home, washing your clothes on a cold cycle setting, utilising LED light bulbs and hanging clothes out to dry rather than using a drying machine are all ways to make a difference. Engaging in these sorts of practises can not only help to combat climate change and counteract the carbon footprint of big companies, but it can also contribute to lower electricity and gas bills."
"You can also compare electricity providers to see whether there is an option in your area to switch to a provider offering a green energy plan – that way, you can support ongoing investment into renewable energy production."
If you are based in Australia and would like to view some available electricity and gas plans in your area, you can view Compare the Market's energy comparison service here.