A climate movement yields dividends
Celebrities Leonardo DiCaprio and Natalie Portman are advocates, Desmond Tutu compares it to the divestment and sanctions against South Africa during apartheid, and the world's biggest investor, Blackrock, has even promised to get on board.
It's a decade since the birth of the fossil fuels "divestment" movement.
The opposite of "investment", divestment means selling assets. Here it means getting rid of investments in fossil fuel companies, with the aim of curbing climate change.
The movement kicked off in earnest in late-2011, when students at Pennsylvania's Swarthmore College, on the US East Coast, called on their university's endowment to "immediately divest" from coal.1 It quickly mushroomed.
By the end of 2012, campaigns calling for administrations to exit their coal, gas and oil investments had sprouted on the campuses of dozens of colleges across the US.2 Among them were those of the prestigious Harvard University, Stanford University and Massachusetts Institute of Technology (MIT).
The high profile of those colleges – and that they collectively manage tens of billions in "endowments" – drew international attention to the student campaigns.
By 2013, Oxford University research found it was the fastest growing divestment movement in history, faster than campaigns that targeted apartheid, tobacco and armaments.3 By 2015, according to US not-for-profit DivestInvest, which has been tracking the sector from the start, 436 institutions representing US$2.6 trillion(tr) had pledged fossil fuel divestment.4
There are currently, according to DivestInvest, over 1,300 institutions across 49 countries – collectively holding a massive US$14.1 trillion in assets – that have pledged fossil fuel divestment in some form.5
"Ditching fossil fuels from one's portfolio has moved swiftly from a 'radical' stance taken by a handful of smaller institutions purely on moral grounds, to a mainstream consideration for some of the world's largest investors," the group says.
But has any of it made any actual difference? In a word: Yes. But it's a little complicated.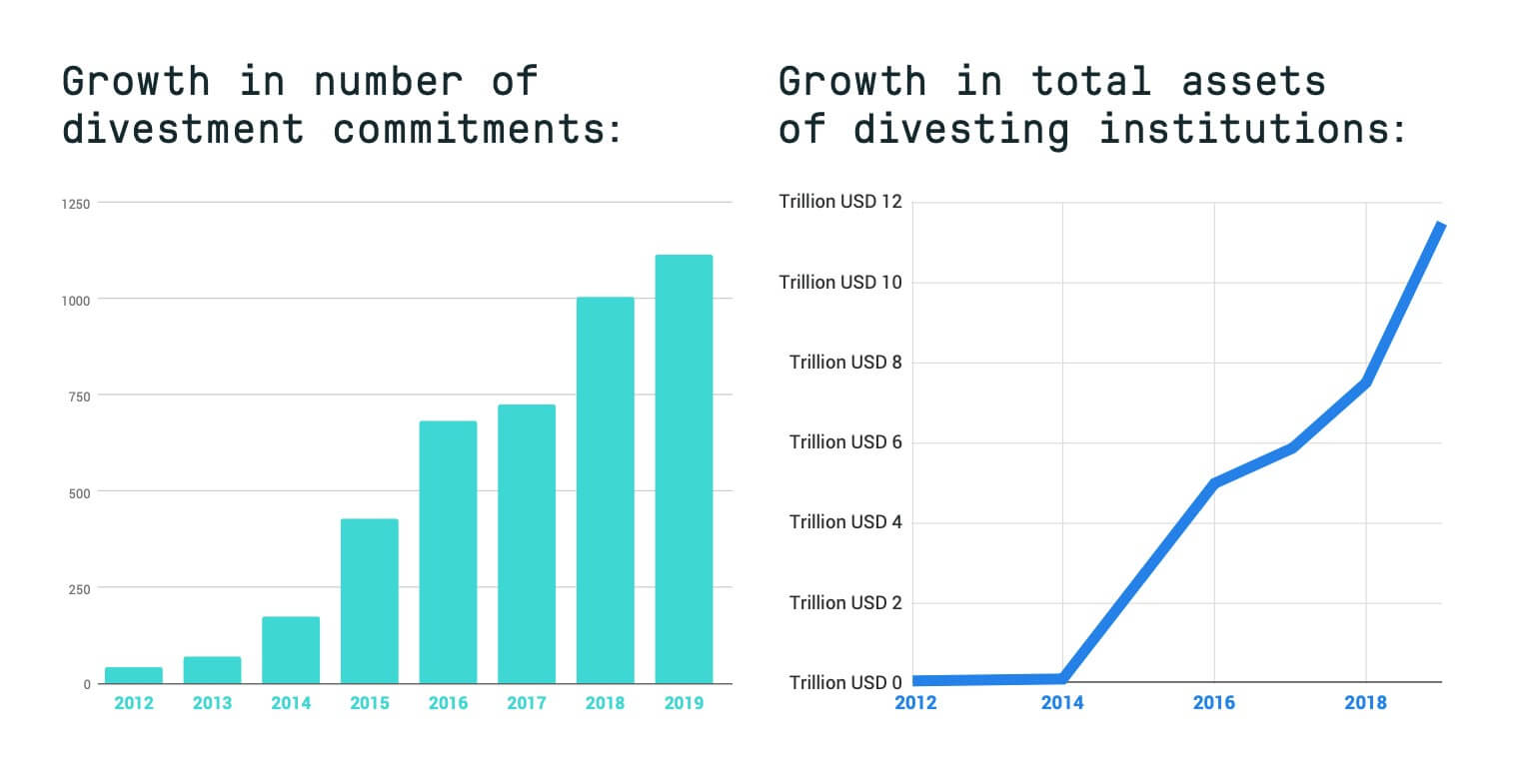 Global fossil fuel divestment commitments. Source: DivestInvest5
Environmental enhancement
In January 2021, the highly regarded Journal of Economic Geography published a ground-breaking study conducted by a team of five researchers from a string of the world's top universities, including the UK's Oxford University and University College Dublin.6
It's the first study into whether the fossil fuel divestment movement has been successful in its goal to decrease the amount of new capital raised by fossil fuel companies.
The issue is important because whether average temperatures are kept from rising by more than 1.5C or 2C – and so whether humans are spared from the worst effects of global warming – hinges on how much oil, gas and coal is extracted and burned in the coming years.7
The researchers analysed 19,057 fundraising transactions involving oil and gas (though not coal) companies based in 33 countries between 2000 and 2015. It used data from so far back as 2000, to account for fundraising by fossil fuels both before and after the divestment movement began.
They compared the oil and gas fundraising against the level of fossil fuel divestment commitments made by institutions in each of the 33 countries.
The study makes allowances for a wide range of factors, including a country's wealth, its remaining fossil fuel deposits, its level of renewable energy generation, and how pro-environmental or pro-fossil fuel it is (measured by the stringency of its environmental laws on one hand, and on the other, the level of subsidies it provides to fossil fuel companies).
Led by Dr Theodor Cojoianu of Queens University Belfast, the researchers found the more divestment pledges in a country, the less capital flowed to its oil and gas companies.
"In the years in which countries witness a stronger fossil fuel divestment movement…the oil and gas sectors fundraise less compared to its historical average," the study found.
And how effective the movement was in a country was dependent on that country's broader environmental stance. Pledges were "enhanced" in countries with "more stringent environmental policies" – for example much of Scandinavia and Europe – but "diminished" in countries which "heavily subsidise fossil fuels", the researchers found.
The UK – where environmental policies are relatively stringent – has been one of the movement's biggest success stories, Cojoianu's team finds in a related study.8
There, oil and gas companies raised an average of $16.5bn every year between 2000 and 2015. Yet for every $1bn increase in divestment pledges from UK institutions, the researchers found there was a substantial $350m decrease in fundraising by the UK's oil and gas companies.
How effective divestment pledges are also depends on who's making them.