Most people feel having a low carbon footprint is 'somewhat important' – but not 'extremely important'
Having a low carbon footprint means that your home, lifestyle and actions have a minimal impact in terms of carbon-dioxide emissions, which contribute to climate change. Our survey asked respondents "how important is it to have a low carbon footprint, where possible?"
Americans were the most concerned about low carbon footprints, with 19.5% and 28.4% of respondents choosing these responses respectively. For Canadians, 16.7% said a minimal carbon footprint is extremely important, and 26.5% said it was fairly important. Australians had the smallest group who said it was extremely important (14.8%), but slightly more Australians than Canadians said it was fairly important (27.5% of Australians).
On the other hand, however, Australians were the most likely of the three countries to say it was not at all important, with 8.2% of Australians choosing this response compared to 7.8% of Americans and 6.5% of Canadians. Australians were also the most likely to say it was only somewhat important, with more than one-in-four choosing that response (26.6%). Almost 26% of Canadians said as much, while only 18.3% of American respondents opted for that response.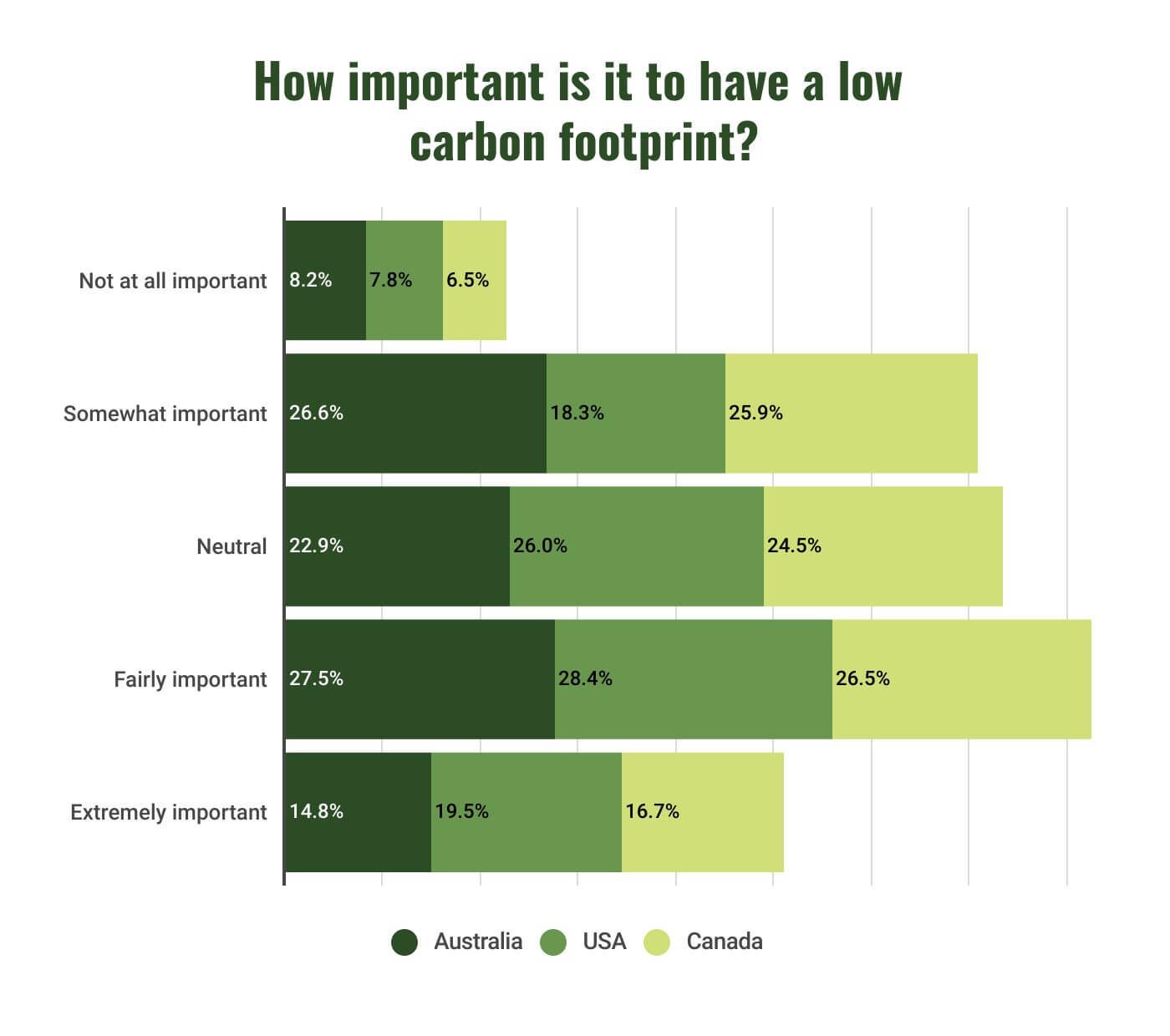 Green energy intentions split in each country
When asked whether they currently had a green energy plan or used green energy in any way (such as utilising solar panels), the most common response across all three countries was "no, but a green energy plan is something I'm considering".
Canadians were the most likely to be considering the use of green energy, followed by Australians and then Americans (46.2% compared to 35% and 33.1% respectively).
However, the second-most popular response was "no, I don't plan on going green." This was slightly more common among Australians, with 22.8% selecting this response, compared to 21.6% of Americans and 21.3% of Canadians.
Australians were the most likely to be utilising green energy such as solar panels at their home (16.2% of respondents), while USA respondents were the most likely to be using a green energy plan. Canadians were the least likely to be using green energy and the least likely to have a 'green' energy plan, or both (8.9%, 4.3% and 6.1% for each answer).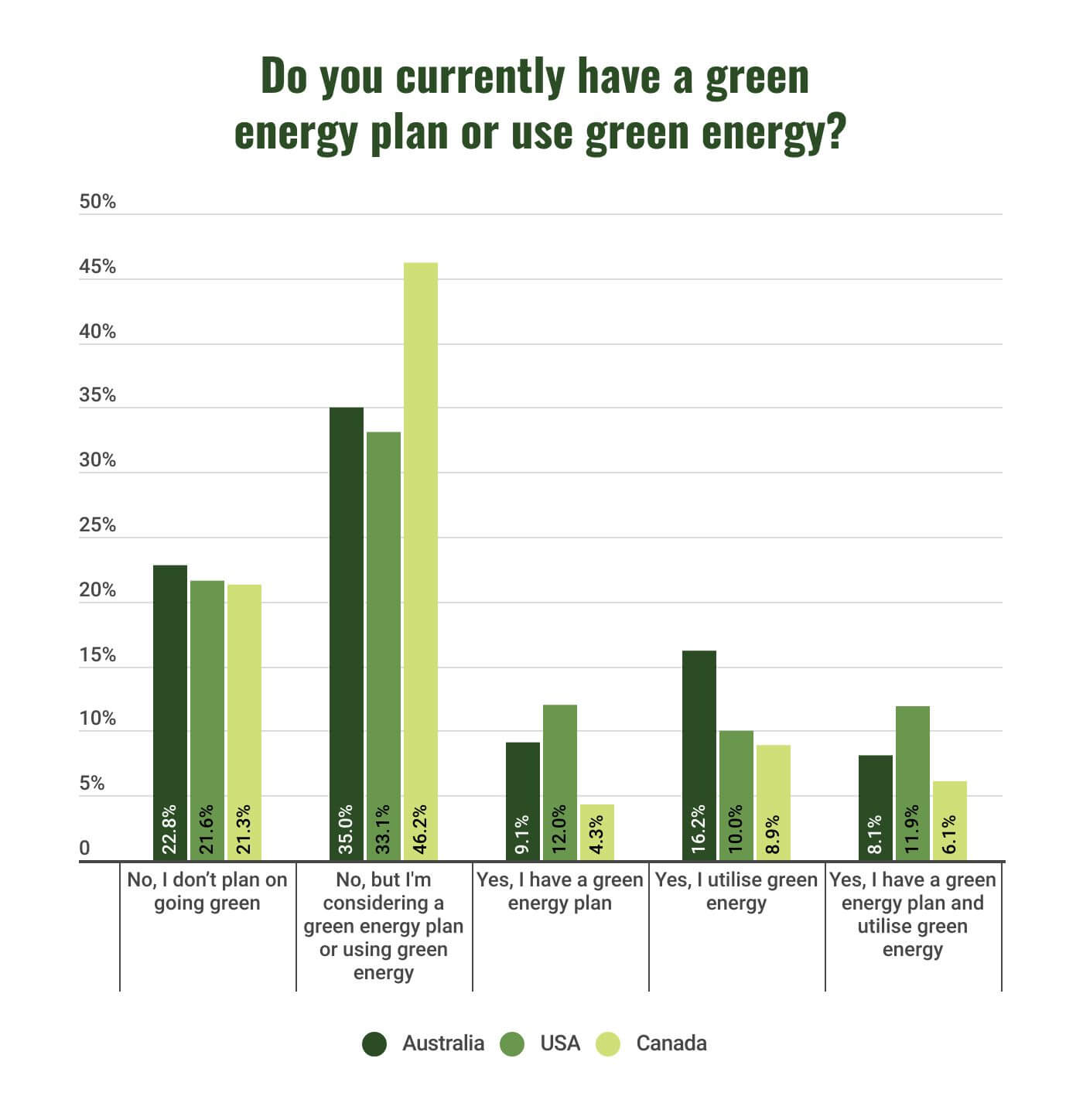 N.B. This chart excludes 'not applicable' responses, which was an option for respondents in the survey.
What does 'green' power actually mean?
"A lot of people think that the term 'green' energy refers to things like solar power or hydro power, but 'green' energy has been used to refer to power that supports ongoing investment into renewable energy production," Meredith O'Brien, Head of Energy at Compare the Market, explains.
"In Australia this is done through the GreenPower program, which is a government accreditation program that ensures the electricity use of customers that are on a certified GreenPower plan has a matching amount of renewable electricity added to the grid," says O'Brien.
"This way, your energy usage would help fund renewable energy projects and help limit your overall impact on the environment, even if your electricity still comes from coal power."
When asked what they thought the term 'green energy' means, most respondents said it was renewable energy, or "energy that's good for the environment". For those who realised the above, most were American, with 17.9% of USA respondents choosing the correct response.