Now is your chance to win a safari!
Plus, we are giving away 10 meerkat trips to the Sunshine Coast
Complete a quote on any product to enter. Offer ends June 30. T&Cs apply.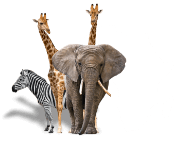 What type of credit card are you looking for?
Our credit card comparison is simple
Compare. The best way to find the right credit card is to compare your options. You can use our service to track down a card that suits your spending habits.
Review. Check all the features and benefits for each card. Whether you're looking for a low-rate option or a premium card, we offer great products for every type of customer.
Apply. Found a card that looks ideal to you? Click the 'Go to Provider' button and we'll securely transfer you over to the provider.
Need help finding the right credit card?