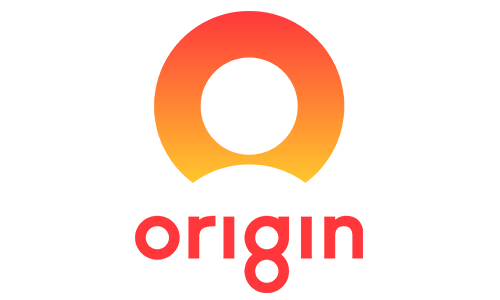 About Origin Energy:
Founded in 2000, Origin Energy is a publicly-listed Australian energy generation and retailing company, servicing approximately 4.2 million residential and business customers.
Origin Energy's vision is for a cleaner, smarter, customer-centric energy future. As Australia's largest green energy retailer, they provide GreenPower, Origin Go Zero Electricity, Origin Go Zero Gas and Origin Go Zero LPG.
Services offered
Origin Energy offers both residential and business plans for Queensland, New South Wales, ACT, Victoria, South Australia and Western Australia. Their energy plans may include options for electricity and electric vehicle charging.*
Energy plans
Origin Energy's residential electricity and gas plans include*:
Flexible billing and payment options
Guaranteed rates
Discounts and benefit periods
Rewards Programs
With Origin Energy, you also have the option to get solar or go green with both electricity and gas.
*Products may not be available in every state or territory. Information current as of 14 October 2020.
Why choose Origin Energy?
Origin Energy is Australia's leading integrated energy company with a rich heritage in energy exploration, generation and retailing.
With a variety of plans, renewable energy options and discounts, Origin Energy maximises the options available to their customers in a fashion that's simple and easy to navigate. Other reasons why Aussies choose Origin Energy are:
Option to get a fixed price for 12 months
Variety of guaranteed discounts and offers
Option to reduce your carbon footprint with Solar, GreenPower, Origin Go Zero Electricity, Origin Go Zero Natural Gas and Origin Go Zero LPG.
Flexible payment options, including direct debit, BPAY, credit card, Centrepay and by post
Origin Spike – a rewards program that pays Origin Energy customers for saving energy and reducing the load on the electricity grid.
Products and services may not be available in all states or territories. Information current as of 14 October 2020.
Support your community by choosing Origin Energy
Origin Energy understands that their customers are concerned about not just value for money and great service, but also their carbon footprint and the world around them. That's why they've committed to giving back to the community.
In 2018, Workplace Giving Australia recognised Origin Energy for spending 8,000 hours supporting disadvantaged and vulnerable students in developing countries as well as other community organisations including:
Beacon Foundation
The Smith Family
Solar Buddy
Helping Hands
The Big Issue
Foodbank
OzHarvest
Habitat for Humanity
Conservation Volunteers.
Workplace Giving Awards awarded the Origin Foundation's Give Time volunteering program the Gold Award for their work.