We currently do not offer travel insurance policies from World2Cover through our comparison service. See the full list of brands we compare for more information.
World2Cover travel insurance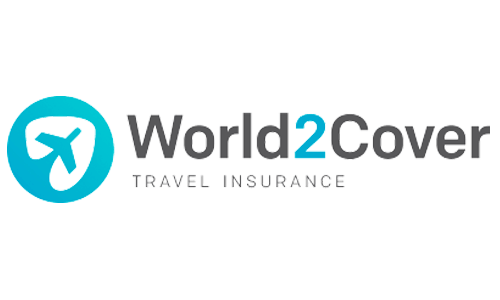 World2Cover travel insurance is for Australians who have the 'world 2 cover' and need a great-value travel cover to boot.
World2Cover travel insurance at a glance
unlimited overseas medical and hospital cover *
children and grandchildren under 25 covered for free *
option to reduce your excess to nil
new for old replacement of luggage
winter sport and ski cover
24/7 worldwide emergency assistance
* Terms and Conditions and Exclusions apply.
About World2Cover
World2Cover was established in Australian in 2015 and is part of the Tokio Marine Group, one of the oldest general insurance companies in the world. Today, the company operates in over 40 countries and employs thousands of people globally.
World2Cover follows a global philosophy of being a 'good company', comprising of three fundamental pillars:
looking beyond profit,
delivering on their commitments, and
empowering their people.
World2Cover aims to give its customers the highest level of customer service without the red tape and offers multiple travel insurance plans to suit different travel and budget needs.
What does World2Cover travel insurance cover?
Cover varies depending on your level cover and can include:
Additional Expenses
Cancellation Fees and Lost Deposits (except Last Minute )
Overseas Emergency Medical Assistance
Luggage and Personal Effects
Personal Liability
Rental Vehicle Excess
You can also add to your policy:
Snow Sports Cover
Specified Luggage to cover your valuables (comprehensive and annual multi-trip only)
Why choose World2Cover Travel Insurance?
Comprehensive. This is a top-level policy offering unlimited coverage for overseas medical
emergencies, trip cancellations, lost deposits and emergency expenses. You may also be covered (up to a maximum amount) for:
loss of luggage or personal belongings,
theft of cash,
sick or injured pets and kennel/cattery fees,
hijacking,
rental car excess,
loss of income,
legal liability,
accidental death or disability,
special events and more.
Essentials. This is a mid-range policy providing unlimited cover for overseas medical emergency costs. It also covers up to a limited amount for loss of luggage or personal effects, theft of cash, cancellation fees, lost deposits, emergency expenses, as well as rental vehicle excess, legal liability, loss of income and accidental death or disability.
Domestic. This policy offers coverage for cancellations, loss of deposits, luggage or personal belongings, emergency expenses, rental car excess, loss of income as well as legal liability, accidental death or disability; all for travel within Australia.
Ski and winter sports. This is an extra protection you can add to your existing travel insurance plan (excluding basic cover) offering coverage for unexpected events relating to snow and winter sports including piste closures, bad weather and avalanches, loss or theft of ski packs and hire equipment, etc.
World2Cover offers singles and family cover options for all travel insurance plans.
Persons over the age the 75 will not be covered under any policy.
For more information on what specific policies cover, read the Product Disclosure Statement (PDS).
Frequently asked questions
Is World2Cover travel insurance worth it?
If you're looking for 'no fuss, no muss' travel insurance, World2Cover offers several easy to understand policies for different budgets and trips. Whether you're travelling alone, with a friend or as a family, travel insurance is designed to give you peace of mind that, if things do go wrong, you'll at least be safe financially.
How do I make a claim with World2Cover?
You can lodge a claim with World2Cover online by registering on the 'how to claim' portal using the email you supplied to buy your policy. You will then receive an email with instructions on how to set up a password, and you'll be able to fill out a claim form once you're logged in. You can also claim over the phone, via email or by mail.Once submitted, your claim will be assessed within 10 business days. World2Cover will notify you in case you need to submit any further information/documentation for your claim. All claims should be submitted within 30 days of your return to Australia.
Do I have to pay an excess?
A standard excess applies to World2Cover travel insurance plans, but your total excess will ultimately depend on your level of cover and the benefit(s) you're claiming. You can opt to pay an additional premium amount to remove any excess on your claims. Your total excess owed is shown on your Certificate of Insurance (COI).
Does World2Cover insure pre-existing conditions?
Yes. World2Cover provides cover for some pre-existing medical conditions, including pregnancy, although restrictions may apply. In some circumstances, World2Cover may ask that you complete an online medical assessment to assess whether you can be insured for certain pre-existing medical conditions.
Who do I contact for emergency assistance while overseas?
In case of emergency or if you need urgent assistance, you can call World2Cover's 24/7 emergency assistance helpline (reverse charge from overseas).
You may be asked to provide the following information:
your policy number,
a contact number,
your current location,
the nature of your emergency, and
the details of the incident.
Looking for travel insurance?
You can find a travel insurance policy that suits your needs and budget in just minutes with our free comparison tool. We can help you compare a range of comprehensive, mid-range and basic cover options from reputed Australian brands, including World2Cover. This way, you can start your trip on the right foot with great-value travel insurance.