"When people need to undergo treatment, they want to rely on their doctors to clearly explain their options and often go with whichever specialist they are referred to by their GP. But doing so could mean they are unaware of alternate options and left with greater out-of-pocket costs than they need to," Mr Fleming said.
"It's crucial GPs provide patients with multiple referral options, or acknowledge that alternatives could be available, and that specialists discuss any costs including their out-of-pocket expenses. We also want to see health funds do more to raise awareness and support their members in identifying the specialists that participate in their no gap agreements.
"This is about helping Australians make better-informed decisions about their treatment and costs they are going to incur. There remains a huge amount of confusion about the options available for patients and means many of us are not finding the most cost-effective care."
Asked whether they spoke with their health fund about the specialists they have agreements with, 34% of respondents said no because they didn't realise they could, while 28% said no because they didn't think it was worth it.
Just under one in four respondents (23%) said they did call their health fund and were given a list of specialists, and 5% called but couldn't get the information they wanted. The remaining 10% couldn't remember what they did.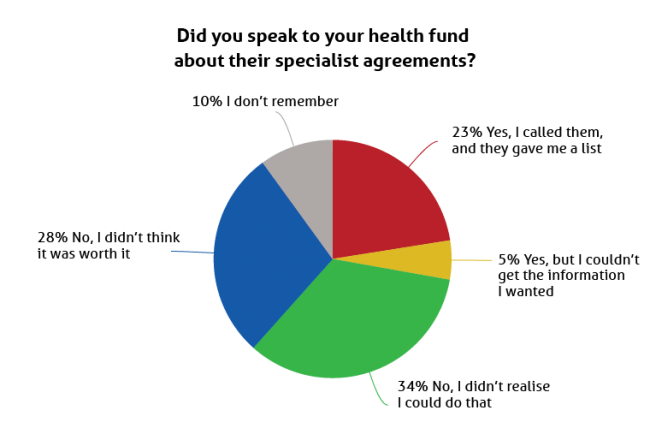 Asked whether they were informed of the total costs before treatment, 58% of survey respondents said yes, they were given an itemised breakdown of costs, but one in five (20%) said no, they were only given a bill after their treatment. Fifteen per cent were given details about their costs but had to specifically ask for it, while 7% were not sure what happened.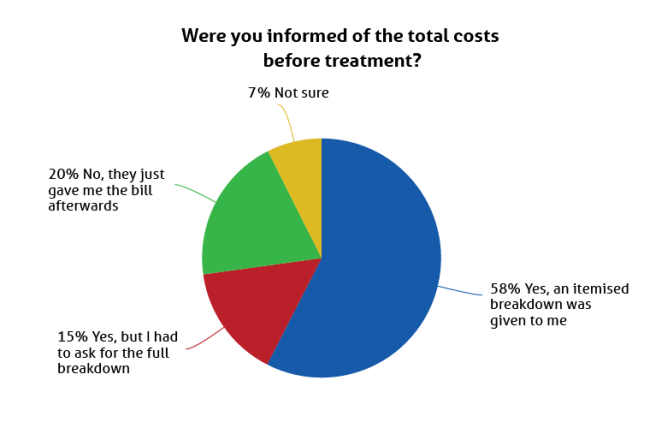 In addition, about one in five of those questioned (19%) did not understand how much of their costs would be paid by Medicare or their private health insurance before receiving treatment. Seventy per cent said they understood the breakdown, while 11% were not sure.
In the end, one in four respondents (25%) said they had to pay more than expected. Sixty-seven per cent said the costs were about what they expected and 8% were not sure how to respond.
The vast majority of respondents (92%) either hadn't used or weren't aware of the government's Medical Cost Finder tool to find out what people pay for other treatment.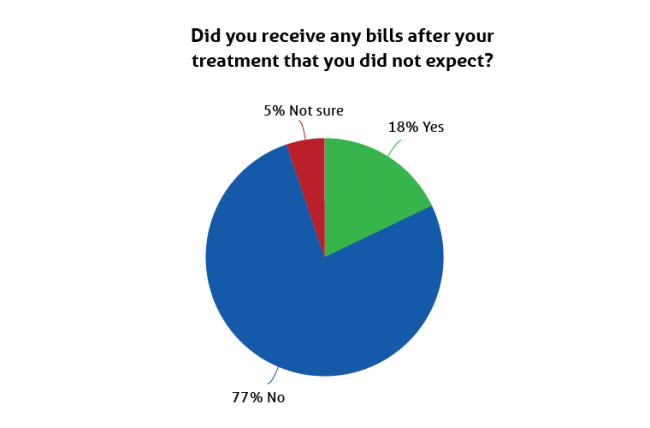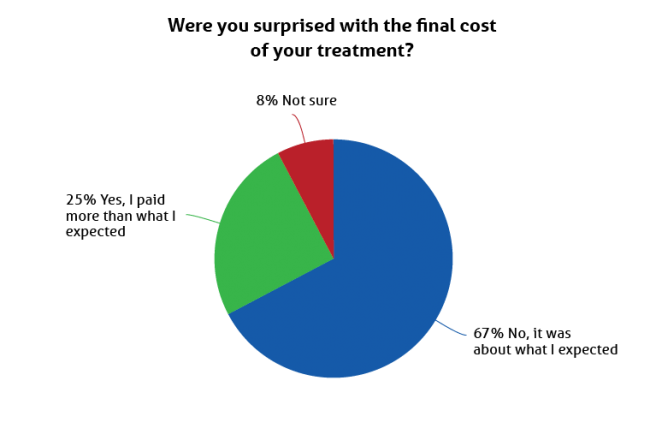 Mr Fleming said the findings highlight a major problem preventing Australians seeing the true value of good health insurance.
"Health insurance is about enabling choice in health services and making sure that patients have a say in where and when they receive treatment. Families can spend thousands on health cover every year and, without knowing, still face greater out-of-pocket expenses than necessary," he said.
"The truth is people have more choice than they realise. Knowing this could mean the difference between no out-of-pocket costs and families suffering unnecessary financial stress at a time when their minds should just be focussed on their treatment and getting better.
"People look for better deals when they go to buy a car or hire a tradesperson. They should also feel empowered to seek out better options when it comes to their health and medical treatment so they can make informed decisions about their care."
---
Compare the Market commissioned PureProfile to survey 2,005 Australian adults who have made a claim on hospital cover in the last five years. Survey conducted August 2021. Full results available on request.