A broken-down car is never ideal, whether it's a mildly inconvenient flat tyre or a disastrous engine fault.
Either way, it's a situation that can be stressful enough without you having to worry about what to do. That's why we've compiled this short, simple guide to help you understand what you need to do when your car breaks down.
How to pre-empt and prepare for a breakdown
There are several ways you can prepare for a breakdown before you leave:
Each time you get your car serviced, make sure your car's fuel, tyre pressure and oil are all checked. This is particularly important if you're going on a long drive in the future.¹
Store a high-visibility vest and torch in your vehicle in case you break down at night or in a dark location.
Make sure mobiles are charged and download the Emergency+ app, which uses your phone's GPS function to help emergency services locate you.2
Add emergency and roadside assistance numbers to your phone.
What to do if your car breaks down
Important note: If there is an emergency (e.g. if a breakdown results in a  traffic accident that causes yourself or others to be injured), you need to call 000 and ask for emergency services.
Turn on your hazard lights
When you start to notice trouble with your car, turning on your hazard lights will indicate to other drivers that there's a problem and to be cautious.²
Pull your vehicle over
You must pull off the road as soon as it's safe to do so.³ Whether it's in an emergency lane along a highway or as far to the left as possible on other roads, it's crucial to keep you and other drivers safe.
Be careful when exiting your car
Leave your vehicle from the passenger side (away from the road) and try to stay far from the passing traffic.2 If there's a road barrier, move behind it.
If it's unsafe to exit your car, stay inside and leave your seatbelt fastened. Make sure any passengers also keep their belts on.
Phone for assistance
Call for roadside assistance from your car insurance provider.2 If you don't have roadside assistance through your insurance, your state/territory's transport department may have a breakdown number you can call for help.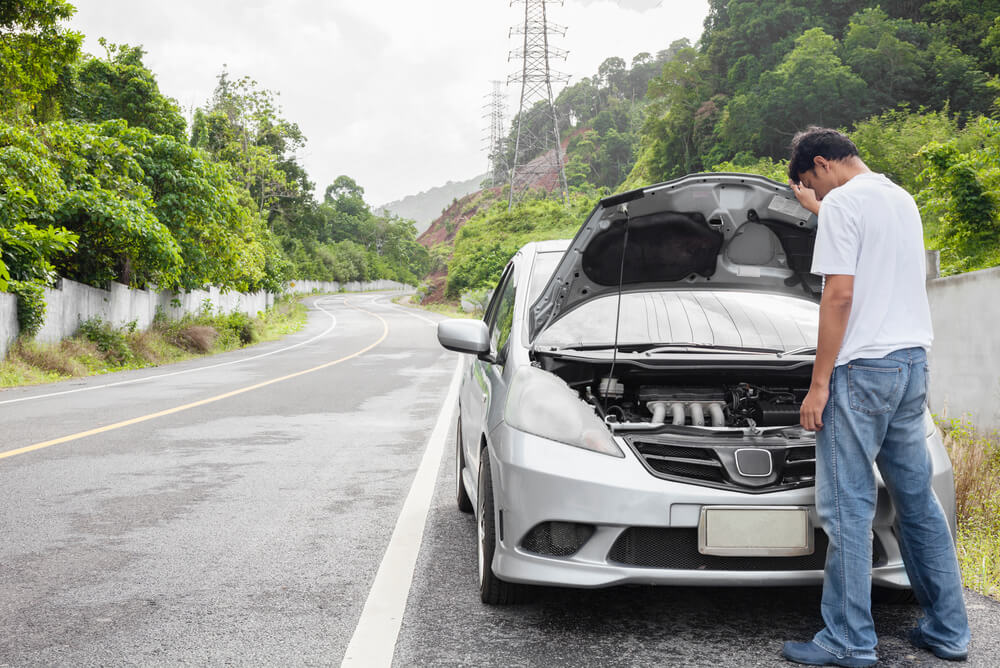 Some tips if your car breaks down…
On a motorway. If possible, you should try to exit the highway as soon as you notice something wrong with your vehicle or, if you can't exit, pull over on the side of the road as far from traffic as you can.2
In a tunnel. Try to leave the tunnel as soon as you safely can.⁴ If you can't, you should pull over into a breakdown bay or the side of the lane, away from the traffic. You should also turn your hazard lights on and remain in your vehicle while waiting for an incident response unit to reach you. You can also use the nearest tunnel emergency phone to call the tunnel's control room.
With passengers. If it's safe to leave the car, make sure everyone – the driver and any passengers – get out from the passenger side, away from the traffic.2 Otherwise, remain in the vehicle and ensure you and all your passengers have their seat belts on.
Without access to a phone. If you can't call for help (either from your phone or if it's unsafe to walk to one), make sure you stay with your car.2 Wait for help, but don't walk along highways or motorways if that's where you're stuck.
At night. As well as activating your hazard lights, you should put your parking lights on if your car breaks down at night.1 If you decide to get out of your vehicle, it's doubly important to get out from the side away from traffic.
Ensure you're covered when your car breaks down
While your car insurance may not actually cover a broken-down vehicle, there are other ways it can help you in these situations.
For example, your provider may cover (depending on your policy) the cost of emergency transport or accommodation if you're stranded because your car broke down. Roadside assistance is another option and is sometimes available as an optional extra on some car insurance policies.
Remember to always read the Product Disclosure Statement (PDS) of any insurance product before purchasing. The PDS will include the full details of the inclusions, exclusions, terms and conditions of your cover.
Want to see which providers offer these inclusions? Simply get a quote through our car insurance comparison service! Our service is fast, easy to use and helps you compare from a range of policies all in one place.