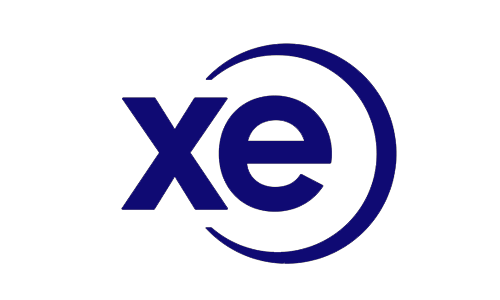 XE is part of Euronet Worldwide and is a global leader in electronic payment services. XE do not charge transaction fees for money transfers or receiving fees on foreign exchange transactions.
Why choose XE?
Competitive exchange rates and no transfer fees
Fast, easy and secure transfers
Live market quotes
Keep track of your transaction in real time
24/7 online access
Trades over 60 currencies in more than 170 countries
About XE
XE was founded in 1993, originally as Xenon Laboratories Incorporated, and officially launched its universal currency converter on their website in 1995.
According to XE, the company is one of the world's largest currency converter sites and provider of international money transfers. XE serves over 285 million customers worldwide each year.
How does XE's money transfer service work?
International money transfers offer a fast and easy way to send money to family or friends abroad. These transfers work by simply sending payments electronically from one bank account to another international bank account. International money transfer companies typically offer competitive currency exchange rates.
Transferring money with XE is simple. You can set up an account in minutes, submit documentation and book your transaction all on the same online platform.
Sign up. First things first: you'll need to set up an account online with your details, including your driver's license number or passport number. It only takes a few minutes and is free.
Get a quote. Receive an estimate of fees on your transaction by entering your transfer amount, the currency you want it in and where you want to send it, into the XE currency converter calculator.
Send your payment. Confirm your currency, the amount you'd like to transfer and its final destination, then send your agreed payment to XE from your bank account.
Track your payment. Keep track of your transaction's progress 24/7 online. You'll also receive email and SMS notifications to keep you up-to-date on where your funds are.
Be aware that charges may be deducted from your payment if it's re-routed to an intermediary or third-party bank before arriving in the recipient's account.
Sending money overseas comes with several considerations, such as exchange rates and upfront or hidden costs, so it pays, sometimes literally, to do your research and shop around.
Frequently asked questions
Is it safe to transfer money with XE?
XE has regulated approval in every country of operation, including from the Financial Crimes Enforcement Network (FinCEN) in the US and the Financial Conduct Authority (FCA) in the UK.
XE also holds an Australian Financial Services Licence (AFSL No. 240914) issued by the Australian Securities and Investments Commission (ASIC).
How much money can I send with XE?
XE has no minimum transfer limit; however, there is a USD$500,000 (or currency equivalent) maximum limit for online transactions only.
What rates will I get with XE?
You will receive live currency exchange market rates with XE, which can fluctuate right up to confirmation of your transaction. Once your transaction is complete, your exchange rate will be fixed.
Rates shown on the XE website information hub are mid-market rates, which are calculated from the mid-point between 'buy' and 'sell' rates from global currency markets. These are informational only, and are not fixed rates.
What payment methods does XE accept?
All transactions must be settled via bank transfer. You can make a payment with online or mobile banking or by telephone banking. You can also send funds to XE using BPAY to transfer Australian dollars.
What types of transfers can you make with XE?
XE offers various products and services, including:
personal transfers, which allow an individual to transfer money from a personal bank account to another bank account overseas
business transfers, allowing any businesses to move funds internationally for trading purposes
market orders, where you can make an order to buy or sell a currency when the market hits a certain rate
forward contracts, which let you lock in an exchange for a future transfer within 12 months.
How long does an XE transfer take?
Generally, international money transfers with XE can take 24 hours or more. Be aware that XE will only start your money transfer once the funds have been received from your bank account.
Looking to make an international money transfer?
Thanks to our free comparison tool, we can help you find money transfer providers that offer competitive exchange rates, transfer times and fees in seconds.  Compare our international money transfer providers, including XE, to find a great deal on your next transfer.