More Aussies are under financial stress than ever, with 36% of us struggling to pay our bills at some point.1 Yet, over three quarters (79%) of Australian households have at least one untapped cash source in their home- their spare bedroom.2
If you're a homeowner or live-in landlord, you could earn some extra coin by renting a room in your house. 'Making bank' from the unoccupied space in your house could go a long way towards general living expenses, mortgage repayments, or to save for a rainy day.
We explain why this could be a smart choice for regular Aussies, as well as how you can set things up; regardless of whether you're making the decision to rent, or to lease.
Why rent out a room?
Renting out a room in your home could earn you a passive income of up to $ or more throughout the year.
General Manager for Flatmates.com.au, Simon Hope, said share housing was a fantastic option for both renters and landlords alike.
"For landlords, we've seen an uptake in mum and dad landlords sharing their investment properties and young couples renting out their spare room to help pay off their mortgage," he said.
"For millennials entering the property ownership market, having this option can be the difference between being able to afford the mortgage on a one or two-bedroom home."
For renters, share housing can be an option to split living costs and share responsibilities while also meeting new people.
"Renters are always going to be attracted to the benefits that come with sharing a house. Bills and rent are cheaper, as are streaming services like Netflix if they create a household account," said Simon.
5 Steps for landlords renting out a room
1.      Run a background check on any potential housemates
If you're going to open your home to a boarder, you'll want to make sure they're trustworthy and won't default on their rent. It's imperative you interview them in person and check their credit history. You may also want to call their references for a background check and stalk their social media channels to get a feel of their personality.
2.      Get a written rental agreement
Get your housemate or anyone renting out one of your rooms to sign a rental agreement (which is more flexible than a tenancy agreement) that outlines their obligations (and yours) and any agreed terms for the duration of the tenancy. Make sure to include provisions like:
the rent amount and payment date,
how utility bills will be calculated and paid,
how your bond will be refunded
3.      Know your landlord rights and responsibilities
Your home may still be considered an investment property (which means you may technically be considered a landlord) even if you're only renting out a single room to a housemate or tenant. As such, it's important to be aware of your rights and responsibilities when renting your property, even partly.
Check your state government's website for details:
4.      Set some rules and guidelines for the house
It's best to lay down a few ground rules with any new housemate before they move in to make sure there's no ambiguity around what's expected of all parties. This can be things like rental payments, splitting bills, cleaning duties, fridge space, use of common areas etc.
5.      Review your home insurance
Does your home insurance cover you for damages or losses caused by tenants or other people living in your property that are not family? Do you have landlords insurance?  Check your policy's Product Disclosure Statement (PDS) for inclusions and exclusions or call your insurer directly to check out what changes you need to make to your policy to receive adequate coverage for your home and contents.
5 Tips for tenants renting a room
If you're deciding to rent a room yourself, you should be aware of a few things before you sign on the dotted line.
1.      Know your tenant rights and responsibilities
Do you know the time frames for the completion of repairs or maintenance after lodging a request with your landlord? Or the minimum notice for an inspection? It's crucial you understand your legislated rights as a tenant. Each state will have its own governing body for rentals where you can access tenancy information, dispute resolution, bond management services, etc.
2.      Don't settle for any property
Set some criteria around what you're looking for in a home. Do you need to be close to public transport? Do you want a bedroom with an en-suite? Work out exactly what you want, not only in the property but also in the type of housemate you want to live with, before you begin your property search. This will save you time by narrowing down your options.
3.      Do a thorough inspection of your room and premises
One in 10 people didn't view their share house prior to moving in, according to survey data from Flatmates.com.au.3 Don't bypass this crucial step in your search for new digs. You should ask to view any properties you may be interested in to make sure what's being advertised online matches your expectation and that there are no red flags. If the person who's advertising the listing denies your request for an inspection before agreement or payment, it could be a scam.
4.      Keep records of every transaction
It can be hard to keep track of late rent payments or unpaid utility bills when living in a share house. To avoid any quarrels with your housemate(s) about who paid what and when, you should keep a record of all your transactions and receipts for rent, bills, bond or other deposits. That way, you can always prove you've made your due contribution.
5.      Purchase contents insurance
Whether you live in shared accommodation or are renting a room from a friend, it's important to protect your contents from loss or damage caused by insured events like fire, theft and storm. We can help you compare policies with our free home and contents insurance comparison tool.
Before you consider turning your home into a share house or renting a room in one, you'll want to make sure you have the right type of insurance.
Does home insurance cover share housing?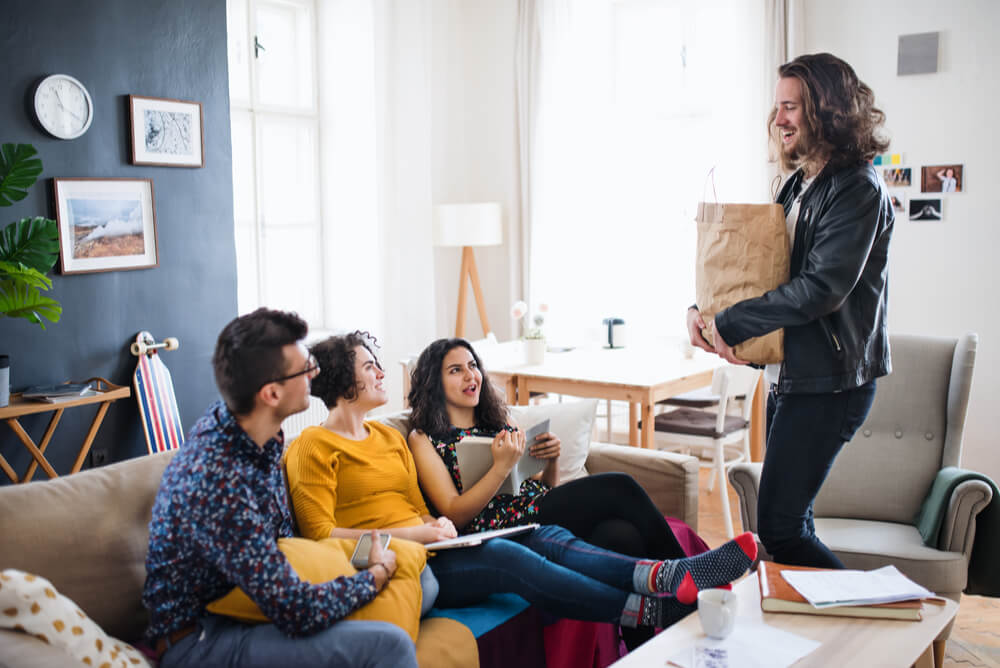 If you're a homeowner or live-in landlord renting a room
Standard home and contents insurance generally won't cover damage to your property or belongings caused by flatmates, a person you're leasing a room to, or anyone living at your residence that isn't family.
If you're making an income from renting out a part of your home, you may be considered a landlord for tax and insurance purposes. In that case, you may need landlord insurance to protect your property against loss or damage (accidental or deliberate) caused by tenants or housemates. You would also need contents insurance to cover your belongings from theft or damage.
If you're planning to open your home as a share house on sites like Airbnb, or Stayz you may need a specialised short-term home and contents insurance policy. It's vital to check their policy PDS documents to read over what they offer. You may need to contact them to discuss any questions you have about their specialised insurance.
If you're a tenant renting a room
If you live in a share house or flat, you can cover your own belongings with contents insurance. If you're a student renting a room in shared university accommodation, you could be automatically covered for your contents under your university's halls of residence cover.
There may be a few conditions to be aware of, including:
that you should be able to lock the door to your room
that any belongings left elsewhere in your share house or that you take out with you may not be covered (unless you buy specific cover for this, known as personal effects insurance)
What are the tax implications for renting out a room?
If you're earning a rental income from a housemate, or anyone living with you, you will need to declare it on your tax return under Item 21 (Rental Schedule).4
The good news is that while your rental income is taxable, you may be able to claim some tax deductions for rental expenses like repairs and maintenance costs, council rates, and more. See rental expenses you can claim now and costs you can claim over several years.
You may only be entitled to claim expenses associated with leasing out the part of your home you rent out if you're only renting out a single room or part of your home. This means that you may have to divide up rental expenses based on the floor-area solely occupied by your tenant(s), with costs based on their access to common areas.
Moreover, if you've used any part of your home to earn an income you may not be fully exempt from capital gains tax (CGT) if you decided to sell your property. In most cases, you could be liable to pay some CGT based on the proportion of the property that was rented.5