What is PCOS?
PCOS is a common hormonal medical condition affecting 8-13% of women of reproductive age.1 This condition causes the development of multiple cysts on the ovarian follicles, preventing them from releasing eggs.
While the exact cause of PCOS is unknown, it has been linked to insulin resistance, low-grade inflammation, excess androgen (a reproductive hormone) and genetic factors.2 PCOS can also lead to an increased risk of health problems such as heart disease, endometrial cancer, type 2 diabetes and high cholesterol.3
How is PCOS diagnosed?
Getting a PCOS diagnosis can be quite difficult, as the syndrome has a wide range of symptoms, and you may not display them all.5 You'll most likely need a blood test or an ultrasound before you can get a diagnosis from your healthcare provider.
The primary symptoms of PCOS include:
Hormonal imbalance. This may present as excess hair growth (hirsutism) or hair loss, acne or oily skin and more.
Irregular menstrual cycles. Such as absent or irregular periods.
Polycystic ovaries. Usually detected through an ultrasound, polycystic ovaries are typically larger than average-sized ovaries with small cysts around their edge.
If you or someone you know is concerned that they might have PCOS, it's a good idea to talk to your GP. They can evaluate your family history, chart out menstruations and more. Following this consultation, PCOS can be diagnosed with a blood test to check hormone levels and an ultrasound to look for cysts.
Once you've got a diagnosis, the next step is management.
How does health insurance help with PCOS treatments?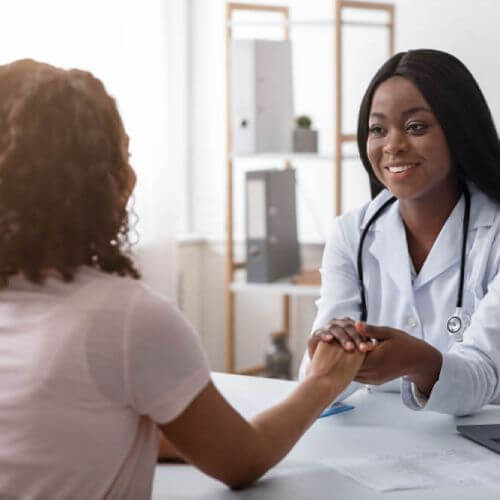 When it comes to treating the symptoms and seeking help, your GP can guide you on what might best suit your particular situation. Private health insurance is just another tool that might present more options for managing your condition.
Extras policy cover
PCOS symptoms have been known to increase in severity among those suffering from obesity. In fact, when overweight, weight loss of just 5-10% can have significant health benefits for those with PCOS.1 With an extras cover policy, you may be able to get more affordable access to dieticians and gym memberships. Getting on top of this early can make a big difference to your experience with PCOS, as weight gain is both a symptom of PCOS and a major influence in the severity of its other symptoms.
Furthermore, Medicare administers the Pharmaceutical Benefits Scheme (PBS) to subsidise the cost of various of important medications. For instance, medications like the oral contraceptive pill, Clomiphene and Metformin are all used in the treatment of PCOS symptoms, and most are listed on the PBS.4
However, your doctor may recommend certain medications that aren't listed on the PBS. In this case, an extras policy may cover some of the cost of these medications. This could include hormones to ensure a regular period or to help you conceive a child.4
Some women may find it difficult to cope with PCOS, so an extras policy may help cover the cost of an appointment with a psychologist for mental health support. If you're struggling with PCOS, you should discuss this with your GP to determine the best course of action for your situation.
Hospital policy cover
If you require day surgery to examine or treat your PCOS, private hospital insurance could help cover your costs as a private inpatient, avoid public waiting lists and let you choose your own available specialists.
Women looking to conceive might be more comfortable receiving treatment as an inpatient in a private hospital to manage their pregnancy alongside their PCOS. When you're treated privately, you can choose your own available doctor when you're treated as an inpatient, one who you're confident is familiar with your condition.
Some women who are suffering from severe PCOS and don't want children might consider having their ovaries removed (at their doctor's advice). Such surgery falls under the clinical category called gynaecology, which is a minimum inclusion  on Bronze, Silver and Gold tier hospital policies.
Is PCOS considered a pre-existing condition?
It's possible that PCOS will be considered a pre-existing condition by your health insurance provider. However, this won't affect your ability to join a hospital insurance policy or increase your premiums. If you're deemed to have a pre-existing condition, it will only affect the waiting period you need to serve before you can claim on treatment relating to your condition.
A pre-existing condition is an ailment, illness or condition which, in the opinion of a medical practitioner appointed by your insurer, existed any time during the six months prior to taking out hospital cover or upgrading to a higher level of hospital cover. When upgrading to a higher level of cover, any waiting periods you have already served will be recognised by your new fund. You will, however, be required to wait for any new or upgraded services and benefits.
Can you still get pregnant with PCOS?
Some women with PCOS worry that they'll have trouble – or won't be able to – conceive children. While PCOS can lead to infertility, in most cases women with PCOS can have healthy, successful pregnancies with the help of lifestyle changes and infertility treatment.5
If you're struggling with PCOS, you should speak with a GP about possible conception options because these may vary depending on your health status (and that of your partner).
The following interventions may help some women fall pregnant:
Medication. A doctor may recommend tablets to help with ovulation.
Surgery. There's also a range of surgical procedures available that can increase your chances of falling pregnant. Provided you're treated as an inpatient for a medically necessary procedure with an MBS item number, a hospital insurance policy could pay towards your treatment provided you hold an adequate level of cover and have served any relevant waiting periods. These procedures are usually included on higher levels of cover (e.g. Gold or some Silver plus policies)
IVF. In-vitro fertilisations can be expensive, but many have success through this avenue. Hospital insurance policies that include cover for assisted reproductive services may pay a benefit towards IVF and other fertility treatments if you're treated as an inpatient.
You will also need cover for pregnancy and birth related services if you want to take advantage of private hospital insurance benefits for the pregnancy and birth itself, such as choosing your own available doctor when you're treated as an inpatient and having access to a private hospital room (subject to availability). Keep in mind the waiting periods for pregnancy and birth, though, as you may need to think about getting a private health insurance policy 12 months before giving birth.
Our guide to health insurance for pregnancies may help answer your questions about how to cut costs for these services.