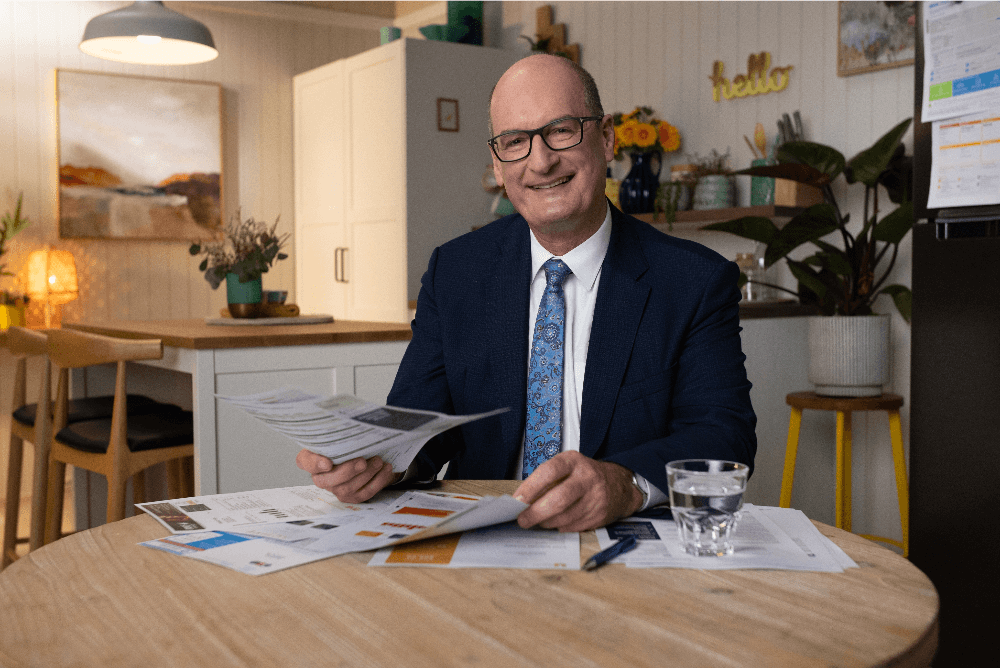 The following is David Koch's personal views, as published in his 'Your Money Digest' newsletter.
Hi everyone,
The drums are certainly beating for another interest rate rise at November's Reserve Bank board meeting. The higher than expected September quarter CPI figure shifted the odds in favour of an increase and this week's strong retail sales figures seemed to also support a move up.
The decision by the US central bank, The Federal Reserve, to keep its official interest rates on hold was unexpected and could ease the global pressure on the RBA to move up again.
Retail trade rose 0.9 per cent in September which was triple the expectation of 0.3 per cent. Over the year to September retail trade is up 2 per cent… in the year to August it was up 1.6 per cent.
On the surface that's a big jump and seems to show consumers are back out spending up big. That's what the RBA does not want because it fuels inflation. But remember there are 500,000 new customers (migrants) over the last year which is inflating the figures and means individual consumers aren't partying as hard as the figures may show. More on that in a minute.
Back to the actual figures, and food retailing rose by 1 per cent after two months of declines … but eating out was flat.
Spending at department stores (+1.7 per cent), household goods retailing (+1.5 per cent) and other retailing (+1.3 per cent) were where consumers spent the most. Clothing & footwear saw a small 0.3 per cent rise because of a warmer than usual start to spring weather.
The ABS also noted that the release of the new iPhone and Queensland's Climate Smart Energy Savers Rebate program helped boost spending. The increase in other retailing reflected a temporary boost in spending at pharmacies, owing to the "introduction of 60‑day prescriptions and an associated initial shift forward of income from Pharmaceutical Benefits Scheme medicines".
According to CommSec, price increases and population growth are masking the underlying weakness. Retail spending in per capita terms is still weak.
AMP chief economist, Shane Oliver, says "real" retail sales (taking into account price increases through inflation) are down 2.1 per cent for the year and when you take into account the population increase per capita, retail sales are down 5 per cent for the year.
So, yes, the headline retail sales are up strongly but taking account of inflation and population growth, Australian consumers remain in the bunker. I'm sure the RBA will account for that.
The other fascinating trend in the retail figures is the shift away from smaller retailers to the big end of town over the last 30 years.
But over the last couple of years that gap looks to be narrowing. I wonder if that's because smaller retailers have become savvier in digital marketing to grow sales and customers?
Housing values continue to rise but at a slower rate
CoreLogic's national Home Value Index (HVI) rose a further 0.9 per cent in October… accelerating from a 0.7 per cent rise in September. Since a low in January, the national HVI has increased 7.6 per cent which is within 0.5 per cent of the record set in April last year.
But an increase in listings and rising interest rates are slowing the rate of appreciation. The three months ending June 2023 saw capital city home values rise by 3.7 per cent. Since then, the growth trend has drifted back to 2.6 per cent over the three months to October.
Monthly dwelling values rose across each of the capital cities except Darwin (-0.1 per cent), with Perth (1.6 per cent), Brisbane (1.4 per cent) and Adelaide (1.3 per cent) continuing to outperform the other capitals.
Three capitals have seen dwelling values rise by more than 10 per cent over the first 10 months of the year, led by Sydney (10.9 per cent), Perth (10.8 per cent) and Brisbane (10.2 per cent).
So is spring the best time to sell property?
Given the strong October rise in housing values, is this just further confirmation that this is always the best time of year to sell a property? The sun is out, gardens look great, sellers and buyers come out and there is a rush to finalise sales before the summer break.
But I was fascinated by a report from Ray White chief economist, Nerida Conisbee, that spring selling season could be a myth.
Ray White analysis shows that summer is the period in which prices rise the most. Having a look at price growth by season over the past 10 years has shown that prices on average increase by 1.8 per cent, marginally higher than spring at 1.7 per cent. Autumn price growth is lowest at 1.2 per cent while winter comes in at 1.5 per cent.
Many of the suburbs that do best over summer are not surprising. Beachside Flinders on the Mornington Peninsula is a strong performer. Similarly, Cottesloe is Perth's most expensive beachside suburb and would get great exposure during summer.
This beachside trend becomes even more apparent in regional areas. Summer is also Byron Bay's peak season, Noosa Heads in Queensland and Goolwa in South Australia would be similar.
While beachside areas dominate the strong performers in summer, there were some surprises. Terrey Hills in Sydney is relatively close to the beach but would be considered more an urban rural area with large homes on large blocks. Canberra has no beaches but Deakin is one of its most desirable suburbs, even during the quieter summer months.
The housing shortage is set to get worse … a lot worse
I've been going on about this for a while, but if you think there's a housing shortage now, you ain't seen nothing yet. The shortage is going to get a lot, lot worse.
The reason is there is simply not enough new houses coming through the pipeline.
Building approvals for September fell another 4.6 per cent which was much weaker than expected. Just 13,144 building approvals were made … that's a 10-year low.
Because of the big immigration program, the Federal Government wants 20,000 properties a month completed from next July to house the influx of new migrants. As you know, the time from building approval to completed property is usually 2-3 years.
So the current 13-14,000 a month being approved is nowhere near what is needed. The result? A housing shortage which is going to get a lot worse.
Property prices will continue to rise and the rental shortage will go from bad to worse.
In September approvals rose strongly in Qld (+34.6 per cent) owing to a large jump in multi‑unit dwellings. Approvals were also higher in Tas (+18.3 per cent) and SA (+5.1 per cent). But NSW was down 10.5 per cent (which is traditionally the first stop for most migrants), Victoria down by 8.9 per cent and WA down by 11 per cent.
In trend terms over the year, all states and territories are lower. NT (‑40.6%), NSW (‑27.2%), ACT (‑27.1%) and Qld (‑18.0%) are currently the weakest jurisdictions on this measure.
We have a record number of properties being built right now because of the many building approvals back during the pandemic when state governments forced local councils to fast-track approvals to keep people in jobs. As this graph shows.
But from now on, completions fall of a cliff and look likely to stay that way for years.
Aussies focusing on getting better at managing and saving their money
The financial squeeze on most Australian families from higher interest rates and inflation is leading to a great focus on managing the household budget better.
New research from Compare the Market has found that saving money is the top New Year's resolution for Australians ahead of the new year… which is only the end of next month.
Almost half of Aussies surveyed said they intended to save more money in the new year… up 7.1% in the last 12 months. The cost-of-living crisis seems to be hitting Gen Z the hardest, with three-quarters (76 per cent) saying they wanted to stash away more cash in 2024. By contrast, just 24.8 per cent of Baby Boomers, 46.4 per cent of Gen Xers and 68.2 per cent of Millennials listed saving as a top resolution.
With an ongoing energy crisis, higher fuel prices, rising rents and mortgage repayments going up for many, it makes sense that many Aussies want to see their piggy bank grow in 2024.
We've been hit with higher prices across the board and unfortunately, it looks like we could still feel this pain well into 2024. Some Aussies have seen their savings go backwards as they try to keep on top of rising prices and that's the last thing we want to see.
Another top resolution for Aussies in 2024 will be living a healthier lifestyle, with 43.3 per cent of those surveyed admitting that they want to work out, eat healthier and improve their wellbeing. An additional 8.9 per cent said they wanted to cut back on smoking or drinking alcohol.
We've all heard the 'New Year, New Me' catchphrase and around two in five Australians say they want 2024 to be the year they focus on their health. Those with health insurance may not realise they could benefit their health by utilising the services and treatments available to them through their extras policy. Things like lifestyle programs, exercise physiology, remedial massage and dietician services may be included, so check your policy documentation and be sure to utilise everything you're entitled to.
Cutting back or ditching smoking, alcohol or vaping may improve your health and help the hip pocket. If you spent $60 on these habits each week and gave up completely, that'd be an extra $3,120 in your pocket a year.
The research also revealed that more than one in four Australians have the resolution to go on a holiday, 13.7 per cent of people say they want to be more environmentally conscious and 11.7 per cent hope to get a new job.
It also found that Australians are making resolutions around:
Buying a new home (10 per cent)
Purchasing a new car (9.2 per cent)
Finding love (9.1 per cent)
Getting a pet (2.4 per cent)
For those looking to grow their savings in 2024, here are some little things you could do without giving up the things you love. These are money habits you can adopt in 2024:
Shop around. Whether you're at the grocery store, wondering what to do with your insurance renewal, filling up the car, or organising your utilities, make sure you always do your research ahead of time and get the best deal possible. Comparing prices should be at the top of your 2024 to-do list.
Never just accept a renewal or price hike. When it comes to energy and insurance, compare your options. If you've been with the same retailer or provider for some time, ensure you're still on the best possible deal with them. Perhaps you could save by switching to another plan or policy.
Maximise savings through rewards programs and apps. Major supermarkets allow you to "boost" within apps to maximise your ability to earn points, which can be redeemed for store credit. Similarly, check if there are any discounts or savings available for signing up for a store or restaurant's perks program and remember to flash your app or card whenever you make a purchase.
Find the hidden rewards. Insurers, energy retailers, roadside assistance programs and more may offer exclusive deals and discounts, simply for being a member. Check if there are any discounts available and utilise them where you can.
Make the most of rebates and discounts. You may be entitled to an array of rebates, concessions, discounts and more if you're a concession card holder, student, or even if you hold a Seniors Card. Check with individual retailers to see if you're entitled to any discounted rates or rebates.
Did you find this article interesting or helpful?