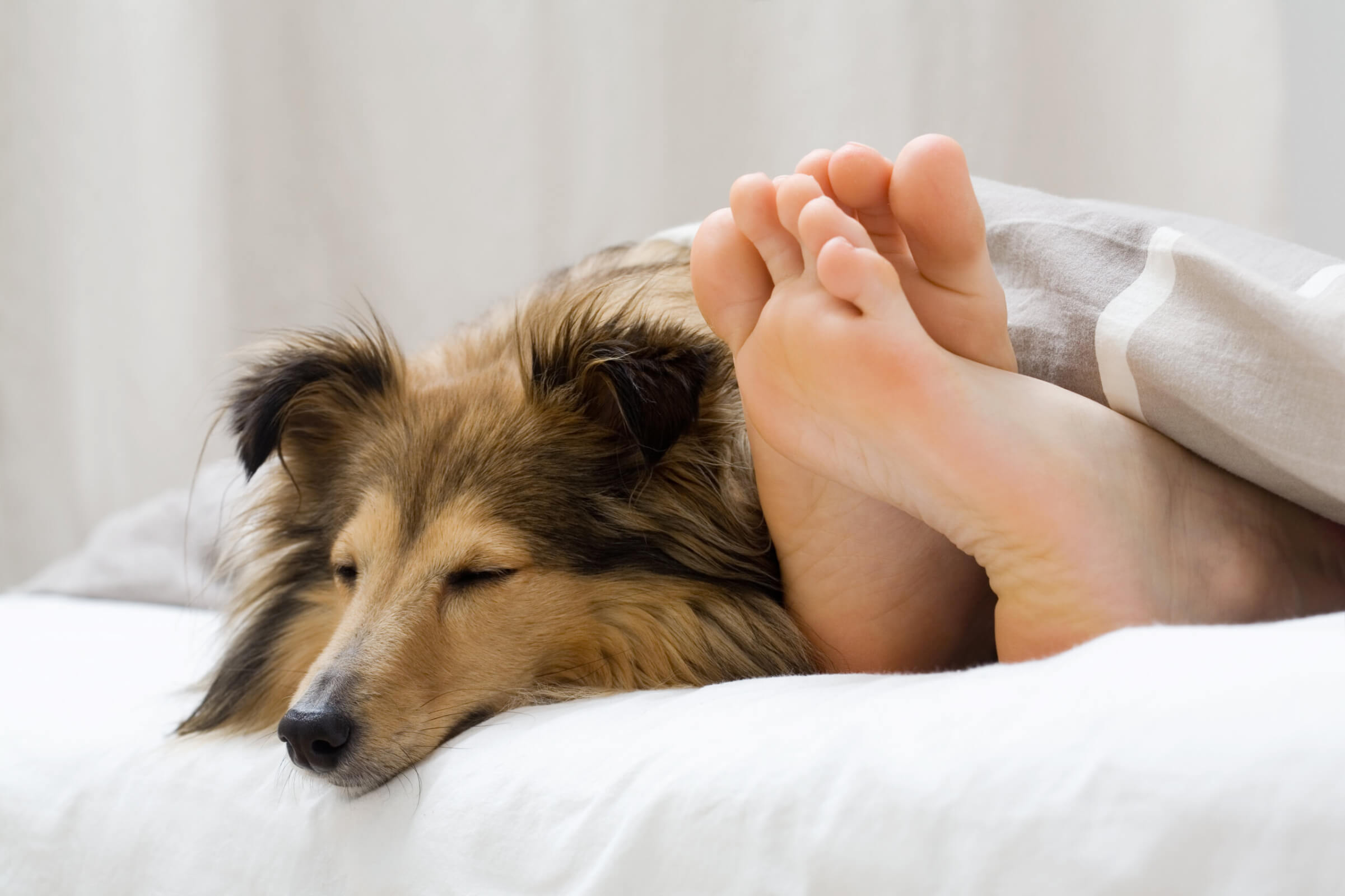 They say dogs are man's best friend, but alarming new research from Compare the Market has revealed how far Aussie pet lovers will go to show affection for their cats and dogs.
From secret smooches on the mouth to dodging social outings and even compromising where they live, the latest study shows that the love for our pets can hold no bounds.
In what is sure to cause arguments for couples across the country, an alarming 41.4% of Australian pet owners admit to letting their pet sleep with them to show affection*. A further 15.2% buy their pets Christmas presents, while 3.2% let their pets kiss them on the mouth as a sign of love.
Not only do pets rule over the hearts of their owners, but they also rule over our lifestyles, with research finding that 35.1% of pet owners' living situation was influenced by their choice of pet.
Additionally, almost a third (32.3%) of pet owners have admitted to putting off a holiday so they won't have to leave their pet behind. A fifth of pet owners disclosed that they have used their pet as a get-out-of-a-social-event card.
| | |
| --- | --- |
| How having a pet has impacted people's lifestyle | % of respondents |
| Impacts living situation (location, type of property, etc) | 35.1% |
| Puts off holidays to not leave pet(s) behind | 32.3% |
| Used pet(s) to get out of social situations | 20.1% |
| Taken leave from work to spend time with pet(s) | 15.0% |
| Only goes on holidays if pet(s) can come | 12.8% |
| Doesn't socialise/go out as much due to pet(s) | 12.0% |
| Chosen pet(s) over partner or family members | 4.6% |
| Put off having children to prioritise pet(s) | 4.3% |
| Only work at jobs that allow pet(s) to come into work or WFH to spend more time with pet(s) | 4.2% |
And while the survey data show just how much pet owners are willing to sacrifice for their pets, it's surprising to see that almost a quarter of pet owners have not taken their pet for an annual check-up in the past year.
Compare the Market's General Manager of General Insurance and pet insurance expert, Adrian Taylor, spoke about other ways people can look after their pets.
"Pets have now become another member of the family, with our research showing just how much time, effort and money people are willing to spend on their pets. Yet, unlike taking ourselves or children to the GP for annual check-ups, there's a sizeable amount of pet owners who neglect to make sure that their pet is in tip-top shape," Mr Taylor said.
"These annual visits can be extremely crucial in finding any ailments early, which, if left untreated, could fester into severe diseases or pain for your pet. Getting treatment for these illnesses or injuries may also cost a lot more to treat at the later stage than if it was caught early on.
"To ensure that your pet has a great quality of life, it's better to treat your pet early for any ailments or injuries. Some levels of pet insurance may help cover a part of the overall cost for these treatments.
"There are a lot of different insurance policies out there with different levels of cover, which is why it's important to compare policies to find out what's best for you and your pampered pet."
"In some instances, you may be able to add on routine care as an optional extra which may cover a partial fee or the full amount of a routine check-up or vaccinations for your pet."
Adrian Taylor's top tips for people considering pet insurance:
Be sure to read the Product Disclosure Statement (PDS) to understand the limits of the cover you are looking to buy. There may be a difference in the levels of reimbursement depending on the level of cover you're looking at as well as between brands. A variety of products cover between 70% and 90% of vet bills, however, there are products that cover less and others that cover more. For most claims you will also need to contribute the policy excess.
Insure your pet when they are young. Your pet insurance premiums will be lower than if you were to insure your pet at a later stage, as the older they are more likely to have pre-existing conditions that could drive up the cost to be covered.
When reviewing your pet insurance options, also consider if there are any types of extras that you would like your policy to include. Depending on your level of cover, you may be able to add on extras such as dental cover, routine care or even behavioural training, though this may increase the premiums that you will need to pay.
-ENDS-
* Compare the Market surveyed 1,007 Australian pet owners aged 18 and over in April/May 2023
For interviews and more information, please contact:
Noémi Hadnagy | m: 0433 377 252 | e: [email protected]    
Compare the Market is a comparison service that takes the hard work out of shopping around. We make it Simples for Australians to quickly and easily compare and buy insurance, energy, travel and home loans products from a range of providers. Our easy-to-use comparison tool helps you look for a range of products that may suit your needs and benefit your back pocket.
Did you find this article interesting or helpful?