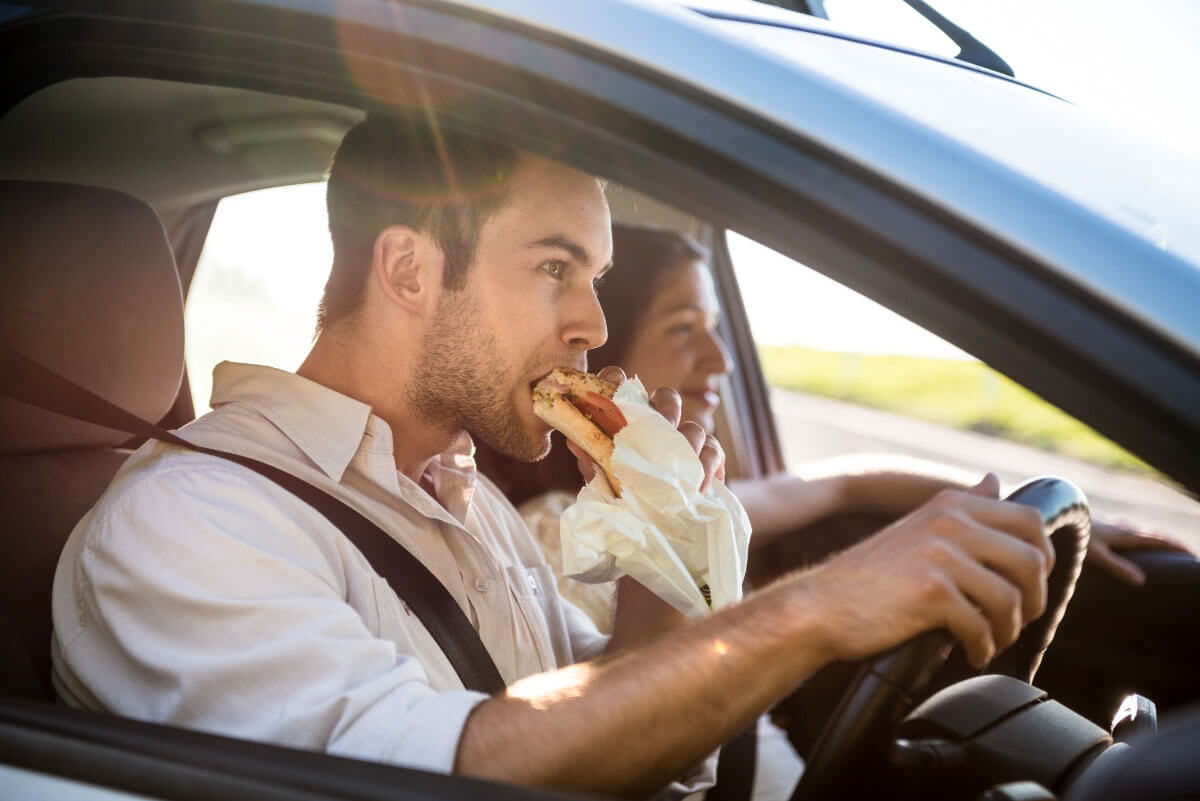 Australia's dangerous driving habits have been revealed and it now comes as no surprise why the land down under has recorded an 10.8% increase in road fatalities this January compared to January 2022.
Although not all of these driving habits are explicitly illegal, they could still land you a hefty fine for 'driving without due care'.
According to a recent Compare the Market survey, a shocking 60% of Australians have eaten food while behind the wheel.*
While snacking from behind the wheel isn't technically illegal, you could still be fined $575 and 3 demerit points in Queensland for not having proper control of your vehicle.
Therefore, a quick muesli bar might be okay, but cereal and noodles are probably out of the question.
The data also revealed a startling 31% confessed to using their phone while driving. The audacious act is not only illegal in all Australian states and territories, but you could also be fined over $1,000 and 4 demerit points in the Sunshine State.
Fines for using a phone while driving in Australia:
State or Territory
Penalty
QLD
Fine: $1033
Demerits: 4 points
NSW
Fine: $352

Demerits: 5 points

VIC
Fine: $545
Demerits: 4 points
ACT
Fine: $487 – $598
Demerits: 3 – 4 points
SA
Fine: $554
Demerits: 3 points
WA
Fine: $500 – $1,000
Demerits: 3 – 4 points
TAS
Fine: $346
Demerits: 3 points
NT
Fine: $500
Demerits: 3 points
Accurate as of 1/3/2023. Information sourced from each state and territory's Department of Transport.
Other habits of concern included smoking or vaping (17%), taking a photo or video (11.5%) and applying makeup (7.7%).
Smoking a dart from behind the wheel isn't necessarily illegal, but if you have a minor in the car, you can cop a whopping fine.
Compare the Market General Manager of General Insurance, Adrian Taylor warned that drivers should be cautious of these habits, as some of them could void their car insurance if caught in an accident.
"It's a well-known fact that using your mobile from behind the wheel is illegal, and yet so many people do it anyway," Mr Taylor said.
"If you have an accident and it's revealed that you were distracted by your mobile at the time, your insurer may not cover you.
"But with the advancements in smart technology there's no need to – touch your phone while driving -. Before you take off out of the car park, que your songs or map your destination.
"If you really need to touch your phone to check or do something, just pull over where it's safe. It's just not worth the fine, demerit points or causing an accident."
More than 10% of Aussies have had a car accident in the last year – that's roughly translated to 2.6 million Adult Australians.
"While the letter of the law doesn't explicitly say that doing your makeup or having a snack from behind the wheel is illegal, this is a distraction," Mr Taylor said.
"These seemingly harmless activities behind the wheel could impair your reflexes and cause you to be involved in an accident.
"For example, you might think you're an expert at applying your mascara on your way to work while driving in peak hour traffic.
"But if something happens in front of you, your reaction time is delayed, and you could get into an accident that might've been preventable."
To avoid getting nabbed, Mr Taylor advised drivers to avoid the dangerous driving habits altogether and focus on the road.
*Survey of 1,010 people, conducted in February 2023.
For more information, please contact:  
Natasha Innes | 0416 705 514 | [email protected]
Compare the Market is a comparison service that takes the hard work out of shopping around. We make it Simples for Australians to quickly and easily compare and buy insurance, energy, travel and personal finance products from a range of providers. Our easy-to-use comparison tool helps you look for a range of products that may suit your needs and benefit your back pocket.
Did you find this article interesting or helpful?