Australians sure do love their pets; so much so that we have one of the highest rates of pet ownership in the world.¹ In fact, there are around 29 million pets in Australia – that's more pets than people!
Cats are among our most popular choice for an animal companion, and it's no wonder why with their being cute, cuddly and hilarious to watch when chasing a laser pointer.
So, how much does a cat cost? If you're considering joining the legions of Australians who own a cat, here's what you need to know about what it might cost you.
How much does a cat cost to adopt or buy?
The first cost you'll need to know about is, of course, how much it is to buy, adopt or rescue your new cat.
The amount you'll pay for your cat will vary greatly though, depending on:
whether you adopt your cat from a rescue shelter or buy it from a shop or breeder;
which breed you choose;
whether vaccinations and desexing are included (more on those costs later); and
the age of the cat you've chosen.
However, according to Animal Medicines Australia (AMA), the average price paid for a cat in 2019 was $308.¹ The AMA further breaks down the average cost of a cat into price categories and the percentage of people who paid that price, which we've laid out for you here:
Amount paid for their cat
Percentage of cat owners
Nothing
48%
Up to $200
28%
$201-$500
15%
$501-$1,000
6%
Over $1,000
3%
Source: Animal Medicines Australia, Pets in Australia: A national survey of pets and people, 2019
The initial costs
Of course, there are more costs to consider when owning a cat than just the amount you'll need to pay to adopt or buy one. Once you've got your cat, you'll also need to look at microchipping, registration, vaccinations, desexing, and flea and worming treatments – to name just a few expenses!
Microchipping your cat
It's compulsory in each state and territory (except NT and WA) in Australia to microchip your cat, according to RSPCA Australia.² But even if it weren't, you should still microchip your moggie because this can help identify your beloved pet, should it go missing.
But, how much does a cat microchip cost? Well, that usually depends on where you take your cat to be microchipped. As such, this cost could vary a lot between cat owners across Australia.
However, the RSPCA advises that the approximate cost of microchipping your cat is $60.³
Registering your cat
Whether or not you'll need to register your cat with your local council depends on where you live; some councils will require registration (and therefore a fee), while others won't.
Since there are many councils around Australia, we've summed up the registration requirements for each of the state/territory capital cities.
Sydney, NSW
Cats must be registered with the City of Sydney before they are four months old.⁴ You can expect to pay the following registration fees:
$29 for a desexed animal from specific shelters (e.g. RSPCA)
$58 for a desexed animal, recognised breeders and animals for which desexing isn't recommended
$210 for a non-desexed animal
Pensioners may be eligible for free or subsidised registration fees. Depending on which above category applies to your cat, you'll need to supply documentation when registering it.
Melbourne, VIC
You can expect to pay a fee of $60 ($30 for concession) to register your cat with the City of Melbourne if your cat is:
desexed
more than 10 years old
used for breeding (conditions may apply)
registered with an approved organisation
has compliant obedience training
is kept for working stock⁵
Brisbane, QLD
Cats aren't required to be registered with Brisbane City Council, but you must apply for a permit if you wish to keep more than three cats.⁶
Perth, WA
All pet cats over the age of six months have to be registered with the City of Perth.⁷ You can choose between one year, three years or lifetime registration, and the cost of these are as follows:
$20 for one year
$42.50 for three years
$100 for lifetime
Pensioners may be eligible for concessional fees.
Adelaide, SA
Cats aren't required to be registered with the City of Adelaide.⁸
Hobart, TAS
Cats aren't required to be registered with the City of Hobart.⁹
ACT
Cats aren't required to be registered in the ACT.¹⁰
Darwin, NT
You'll need to register your cat with the City of Darwin if it's more than three months old or has been in Darwin for at least one month.¹¹ Registration periods can be annual, five years or lifetime, the costs of which are as follows:
undesexed cat – $121 (annual), $364 (five year), $607 (lifetime)
desexed cat – $11 (annual), $31 (five year), $51 (lifetime)
desexed cat (concession cardholders – $6 (annual), $16 (five year), $31 (lifetime)
entire cat (Cat Association Northern Territory – CANT – members) – $71 (annual)
desexed cat (CANT members) – $6 (annual)
Be sure to check your local council's registration requirements if you live outside these areas. You may also need to microchip your cat before you register it.
Your cat's healthcare needs
Equally as important as registering and microchipping your new cat is taking care of their immediate health needs; these will usually include vaccinations, desexing and flea and worming treatments.
There's no exact number that can be put on the cost of these healthcare essentials, but the RSPCA has outlined some ballpark figures.3
Vaccinations for a kitten
Desexing (both male and female)
Flea and worming treatments
$170 – $200
$115 – $300
$100
Source: Animal Medicines Australia, Pets in Australia: A national survey of pets and people, 2019
If you've adopted your cat from a shelter, you might find that its vaccinations, desexing and worming have already been done.¹²
The ongoing costs
Now that we've got all the initial, upfront costs out of the way, it's time to go into the ongoing costs of owning a cat, including food, litter and grooming.
Food is the most significant ongoing cost pet owners face, according to the AMA. In fact, Australians spent nearly four billion dollars on food for their pets in 2019 alone!¹ For cat owners, this averaged out as $491 spent on food for their furry friend.
Kitty litter is next on the list of items to buy for your cat. The RSPCA estimates that this could cost you upwards of $120 each year.3 And, if you choose to engage a professional grooming or clipping service for your feline companion, this costed an average of $45 in 2019.1
Furthermore, your cat may need its vaccinations and worming done each year after the initial round, so you'll need to factor those costs in as well.
Other expenses
We're not done yet! Like any pet, cats will also need accessories and items like toys, collars, beds, treats and carry cages. While cats may not be as fussy about these things as dogs, Australian cat owners still spent an average of $96 in 2019 on products and accessories for their purring pal.¹
The RSPCA further breaks down the approximate cost of these things.³
Carry cage and bed
Collar (with bell)
Toys and treats
Scratching post
$50 – $100
$15 – $50
$30 or more
$20 – $300
Source: RSPCA, Owning a pet: Costs
Pet insurance: Do I need it, and what does it cost?
One final cost you might want to consider is pet insurance. But why should you?
Your cat is no doubt a treasured and beloved member of your family, but they can get up to mischief. Sometimes, that mischief doesn't go to plan and accidents happen; your cat might get caught in something and injure themselves or eat the wrong thing and become ill.
These situations are distressing enough for both you and your cat without worrying about affording the vet bills, which can be expensive. Pet insurance can help to cover the cost of these bills and – depending on the type of pet insurance you choose – a variety of other vet treatments and pet-related expenses. Pet insurance policies vary so remember to read the Product Disclosure Statement (PDS) to know exactly what you are and aren't covered for.
As for how much cover might cost you, that will depend on things like your cat's age and breed, as well as the level of cover you choose.
If you'd like to know how much you could potentially pay for cat insurance, simply complete a quote through our pet insurance comparison service. Our service is free to use and is an easy way to compare all your options in one place.
Tips for reducing the cost of owning a cat
If you've found yourself doing frantic mental calculations on the expenses of cat ownership, just remember that all these costs we've talked about are averages and estimates, so your expenditure could be different.
We do also have some tips for you on how to reduce the amount you spend on your furry friend.
Adopt your cat
In many cases, adopting or rescuing your new cat from a shelter may be cheaper than buying it outright from a shop or a breeder. You'd also be giving a lonely cat a much-needed, loving home.
DIY grooming
Cats are already pretty much self-cleaning, and you can save a little bit more cash by grooming them yourself (although you'll need to get the wallet out for the brushes and clippers). Be careful with this tip though; you don't want to nick your kitty with the clippers!
Keep your cat in good health
By making sure your cat eats healthily, gets plenty of exercise and regular checkups, you can potentially avoid big bills for health issues later in its life.
Consider alternative toys and basic accessories
Cats are well-known for finding endless entertainment with bits of string, cardboard boxes and the like, so you might not need to splash out on the biggest and fanciest cat climbing structure. Each cat is different though, so find what works for them.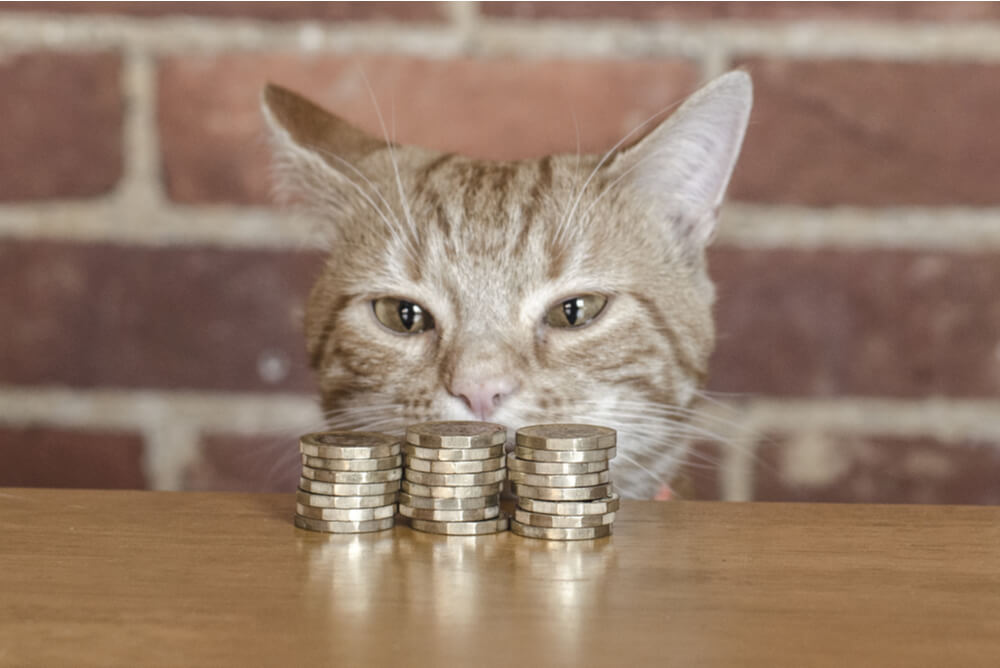 One final note
Cats, like all pets, are a commitment and deserve unconditional love and care. You should always be certain that owning a pet is the right thing for you before you bring one into your life; this includes making sure you can afford to take care of them properly.
If you're thinking of getting a cat, you can also read through our other cat and pet guides: