Can I make a claim on my policy when I'm not at fault?
If the at-fault party has insurance and you're able to gather their details, you should in most cases be covered in a not-at-fault accident, regardless of your own level of coverage. Just make an insurance claim with your provider as you would for other incidences listed on your policy.
Your insurance company and the other driver's insurance company will then sort out compensation. If the other driver doesn't have an appropriate level of insurance, you might not be covered unless you have a policy that covers accidental damage, like comprehensive or some Third Party Fire and Theft policies.
Generally, accidental damage to your vehicle is typically covered in comprehensive policies, whether you're at fault for the car insurance claim or not. Some Third Party Fire and Theft policies cover accidental damage to your vehicle if it was caused by an uninsured driver and you can provide their details.
Be sure to check over the Product Disclosure Statement (PDS) of your car insurance to see whether you're covered for accidental damage to your car in an accident.
Comparing your car insurance coverage with other policies can help you weigh up whether the level of cover you have is right for you. Switching to a comprehensive policy can provide greater peace of mind if you're worried about the cost of being in an accident.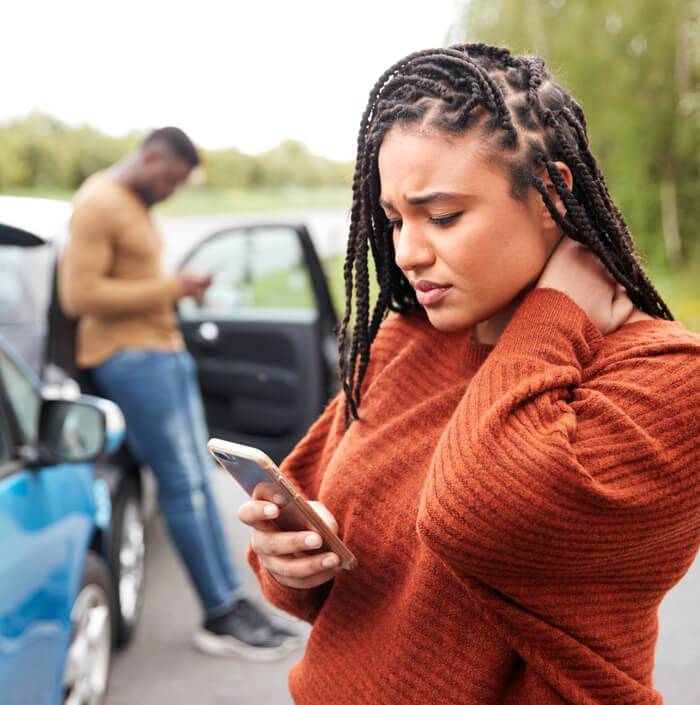 Tips for gathering evidence after an accident
Following an incident, once you've established everyone's safe, it's time to gather evidence to assist with your insurance claim. There are several things you should consider doing at this stage.
1. Take photos
With modern smartphones doubling as cameras, taking pictures of the crash scene has never been easier. Take photos of all vehicles involved. If you have a dash-cam, you can use the footage to help your claim, as this can show what happened, not just what the damage looks like.
2. Gather the other driver's details
Ask the driver if they can provide some details. This includes their name, phone number, licence details, address, their car's registration number, the make and model of their car, their car insurance provider and what car insurance policy they have.
3. Ask witnesses for a statement
If there are witnesses who saw what happened, you can ask them for a written or recorded statement and any dash-cam footage they have. You can also ask for their contact details, in case you need to talk to them later.
4. Write down what happened
While it's still fresh in your memory, make some notes about what happened for when you make your claim. Note the date, time and location of the incident.
Find great-value car insurance
Comparing car insurance policies can help you find out if you could be on a more competitive plan, in terms of cover and cost.
This might sound complicated or time-consuming, but it doesn't have to be.
Our handy comparison service makes finding great-value cover quick and easy – and could potentially save you money. Enter a few details into our free service and compare policies from some of Australia's largest insurers in only minutes.
If you see a quote you like, you can apply straight away – paying the same price as if you'd gone direct to the insurer. Simples!