Planning your garage sale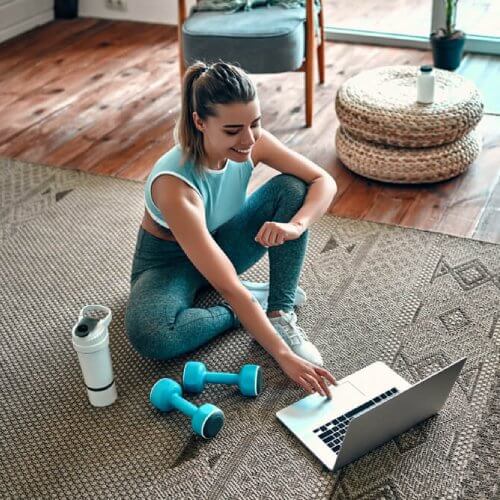 What to sell at a garage sale
Scouring your home for saleable items takes time so give yourself enough time to thoroughly sort through items and organise them. Even tiny items (like miscellaneous buttons, unused canning jars or partially used sewing thread) may have value to someone.
At this stage, it's all about figuring out what you actually want to sell. Get some storage tubs or cardboard boxes to organise your items and set them aside for when you'll have the sale.
Also, consider opting for a street-wide garage sale with your neighbours. Not only can you share any advertising costs, but you may also attract more bargain hunters.
Pick your date wisely
Pick a few tentative dates and have everything ready to go for the first one. Don't choose dates on long weekends when people are more likely to be away.
Aim for a day with good weather and check the forecast a week prior to your sale. If it looks like rain, you might want to postpone as you're unlikely to host a successful garage sale when it's wet. Don't pick a day that's boiling hot either; no one wants to trudge around garage sales on a 40°C day.
It can be beneficial to join a wider garage sale movement, and this can help with picking a date. For example, the Garage Sale Trail is a nationwide festival of garage sales hosted on specific weekends. Getting involved in something like this can make it easier to pick a date for your own sale, but the specific times might not suit everyone's needs.
How to advertise a garage sale
Your advertising will set the tone for your garage sale, so take the time to think about it carefully. When writing your flyers, use engaging and descriptive words to entice more people to attend. If you're selling old items, use terms like 'vintage' or 'retro' instead of 'used', or 'toys and collectibles' instead of just 'toys'.
For a successful garage sale, start by getting the word out yourself in your local community; they're more likely to be your customers than anyone living farther away. You can put up flyers on legally approved community noticeboards at shopping centres and the local post office, or you can ask local shop owners if they can post them on their windows. And, of course, letterbox drops in your neighbourhood can be a powerful tool for advertising.
As for where to advertise your garage sale, here are a couple of places that can boost awareness:
Print some flyers to do a letterbox drop in your local area.
Post flyers to community noticeboards (at post offices, shopping arcades and other local services).
Signage stuck to streetlamps around main roads and intersections in your local area (check with your local council on the legality).
Share images of your advertising on Facebook groups and other social media channels that may target your community audience, especially if you're part of a local community group. You could even target specific Facebook groups, like mothers' groups for baby items or outdoor enthusiasts for your old camping gear.
Take out an advert in the local paper.
Create a Facebook event and invite all your friends, then encourage them to invite all their friends.
List your event on as many garage sale websites as possible, and also advertise your sale on Gumtree.
You may want to check the Product Disclosure Statement (PDS) of your home and contents insurance policy just in case your insurer has stipulations on advertising your address.
Preparing for your garage sale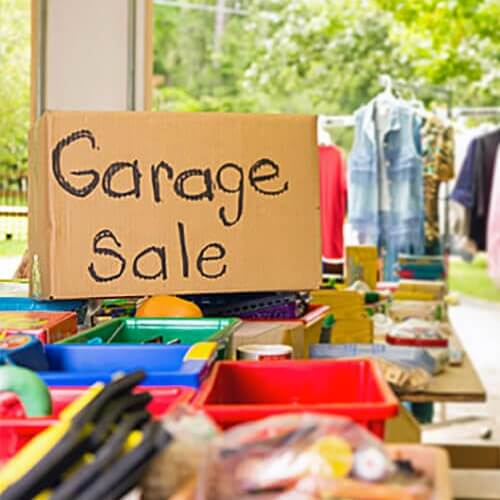 Organise your items for sale
Try to keep your items organised and tidy in the lead-up to sale day. If they're dusty, wipe them down with a damp cloth. Give clothes a quick wash and try to keep them as wrinkle-free as possible. If there are clothing items of higher value, consider ironing them and putting them on hangers to display.
Polish silverware and metals to help them shine and test any power tools or electrics to make sure they still work before your yard sale. People might only want a few things, but if these items are well-loved and looked after, they'll be more desirable for potential shoppers. Basically, just be as retail-savvy as you can.
Setting prices
When it comes to pricing your garage sale items, follow the 'Goldilocks Rule': not too high, not too low, but just right. It's easier said than done, but with the right pricing strategy, you can make your garage sale a success.
Do your research and head to other garage sales to see how things are priced. Hop online and compare prices for similar items on Facebook Marketplace, Gumtree and eBay.
There's a general rule that floats around garage sale pricing circles: price things at one-third of their 'buy new' price. This, of course, can't be applied to everything. For instance, your 20-year-old television may have cost $600 new, but you'll be lucky to even give it away at your garage sale.
Make a great layout
Take the time to consider your layout and look for ways to declutter. Consider where and how to place tables and items to best display them for sale, and give things space to make it easier for people to pick them up; don't put your items in boxes that buyers need to pick through. Make sure the spines of books are easily readable and lay small items out individually so that they can be seen.
Put your lower-price items and those in good condition at the front of your garage sale; this gives the impression to passers-by who notice an immediate bargain that they may get treasure for cheap if they scour through your items.
Create zones for different types of items, like clothing, toys, appliances, kitchen accessories, homewares and garden tools. That way, people can quickly and easily browse their areas of interest. Furthermore, make sure you leave enough space for people to move around; don't make them feel crowded into a small space. Your garage sale can spill into your driveway and front lawn to give a greater sense of space.
Have electricity available for buyers to test whether electrical appliances actually work. If you have a standalone mirror, set up a makeshift changing room with a curtain so people can try on any clothes for sale.
What to do on garage sale day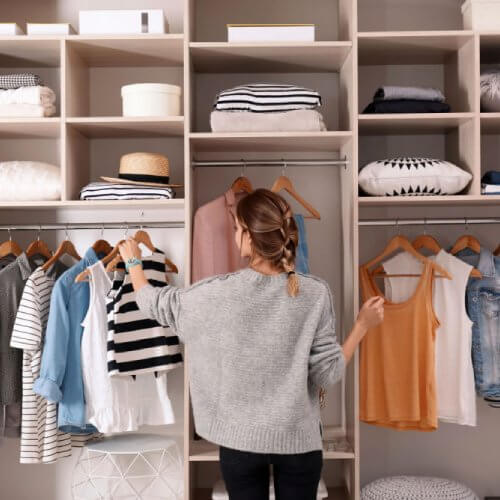 Create a nice atmosphere
Make your garage sale a fun place to be by offering low-priced snacks and drinks for sale (buy them in bulk and on special). You could even put on a playlist packed with popular, upbeat music. Decorate your garage sale with splashes of colour; for example, use colourful tablecloths instead of leaving trestles bare.
If it's hot and sunny, try and set up in the shade, or use a gazebo or marquee to create a more comfortable environment. In cold weather, lay out some rugs on the garage floor to help make it a cosy space.
Be ready early for the early bird visitors. Some people will plan to arrive early to beat any crowds.
Sell, sell, sell
To help encourage sales, use retail strategies like 'buy one, get one free' or a 10% discount for buying three or more of the same items. Offer twenty-minute blitz specials, like 25% off all kitchen items, and discount items heavily towards the end of the day.
You should always be prepared to haggle on prices, so give yourself a buffer on more valuable items. For example, if you want to sell a rocking chair for $50, price it at $70 instead; a customer might offer $35, but you may be able to negotiate them up towards $50.
Consider tables with blanket pricing, like 'all items $3'. You can also keep track of how much things cost without putting individual prices on them by placing coloured sticky dots that correspond to particular values in each item (e.g. red for $1, green for $3, blue for $5).
Of course, handwritten price tags connected with string can have a 'rustic' feel. It will take more time and effort but can help create a good look for your garage sale. You should also make clear the methods of payment you're accepting, like cash, credit cards, Paypal or Pay ID.
Service with a smile
Smiles get more sales. Be friendly, personable and approachable. Remember, these customers are taking your unloved, disused and unneeded items off to happy homes, so be excited that your 'junk' is finding new life.
Be willing to have a chat with people; welcome them when they arrive and ask them if there's anything they're looking for in particular. Strike up a conversation; not only will it help you meet people in your local community, but you can learn more about them and what they're after.
Offer refreshments like lollies to keep kids happy while parents browse, and cold water in jugs with paper cups available for people. You want them to spend longer at your garage sale, so keeping them happy and refreshed can help.
Stay mobile and wear your cash
Wear an apron with pockets or a cash bag on the day of your sale and walk around to make it easier for potential customers to buy items. Setting up a cash box is ok, but it's risky; thieves can easily and quickly grab your takings if your cash box is left unattended.
It can be hard to know how much float (spare change) to carry. Generally, it pays to have more coins and smaller denominations (like tens and fives) rather than larger ones.
You want to be able to give your customers their change quickly and efficiently. If you're not great at maths, carry a small calculator with you to make calculating change easier.