Online home loans explained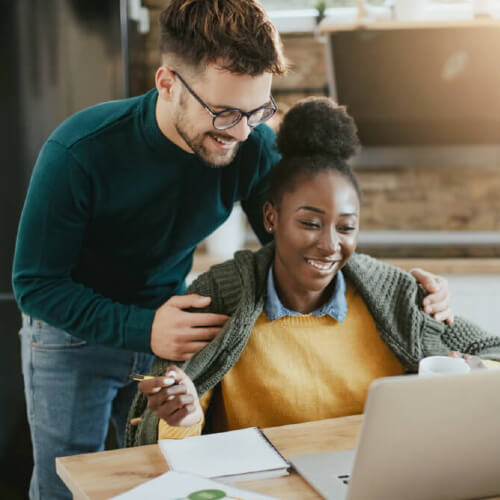 What is an online home loan?
An online home loan, as the name might suggest, is a home loan that can be applied for, opened and managed entirely online. That means you can compare loans, apply for one, upload your supporting documentation and even speak to a lending specialist without having to go into a branch.
While most (if not all) online lenders will generally let you speak to one of their specialists over the phone if you wish, the actual application and processing of the new home loan is almost exclusively completed online.
What types of home loans can you get online?
Depending on which lender you decide to go with, you can get many of the same types of home loans through an online lender that you can with more traditional lenders, including:
What makes online home loans different?
Their digital nature aside, online home loans generally don't differ too much from home loan products offered by traditional lenders. With an online loan, you still have to satisfy the lenders eligibility criteria, make your scheduled home loan repayments and pay fees, just like you would a regular loan.
Could an online home loan be right for me?
The answer to this question will depend on your specific circumstances as a borrower, as well as the type of loan and home you're after. As we've mentioned, online home loans can potentially offer more competitive interest rates and fees (along with speedier application times) than other, more traditional lenders.
The downside, however, is that they're not available to everyone, and you may encounter stricter lending criteria in search of a lower rate. For example, if you can't provide at least 20% deposit or equity, your loan-to-value ratio (LVR) may be too high for an online lender, and you may have to turn to a brick-and-mortar lender and pay lenders mortgage insurance (LMI) to boot.
Ultimately, you should compare a wide range of online home loans as well as conventional home loans from traditional lenders to get a good idea of what's out there.
Are online home loans safe?
A lender doesn't have to be one of the 'Big Four' to be trustworthy. Many of these lenders are owned or funded by bigger banks or institutions that carry an Authorised Deposit-taking Institution (ADI) license, which guarantees up to $250,000 of your money in the ultra-rare eventuality that a bank collapses.
Smaller lenders that aren't considered ADIs still must abide by Australia's stringent financial regulations, such as the National Credit Code, so you can rest assured there's no room for funny business just because a lender doesn't have an in-person presence.
How does the online home loan application process work?
The process of submitting an online application for a home loan generally doesn't differ that much from applying for a home loan in-branch at a conventional bank; the initial steps can even be as quick as a few minutes.
It's generally recommended you first get an online home loan pre-approval, so you'll first need to find the lender of your choice and ensure you have all your home loan application documents ready to go. This supporting documentation will generally need to include:
100 points of ID, including primary ID (e.g. a driver's license) and two forms of secondary ID (e.g. a Medicare card or passport)
Proof of your income, such as two or more recent payslips or an employment contract
A list of your assets and liabilities (like your home contents, vehicles, share portfolios, car loans and credit card debt)
Bank statements to substantiate your expenses
Any other documents you might need, such as a First Home Owner Grant application (for first home buyers).
Getting pre-approval from a lender before you buy a home can give you a good idea of what you can afford to buy. And be sure to always check the terms and conditions of any home loan product you're considering.
How to compare online home loans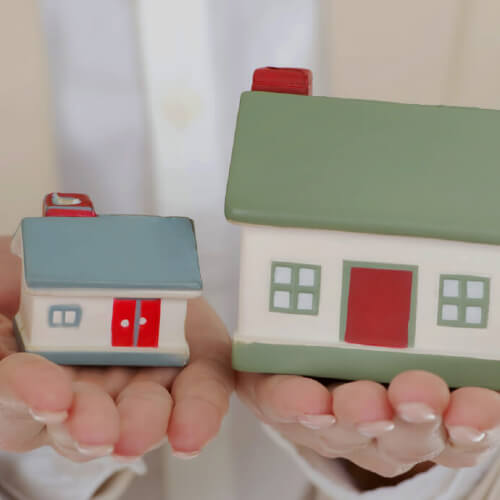 No matter which lender you go with, how you compare should be largely the same. Ask yourself:
Which has the lowest interest rate, and which type of home loan interest rate suits you – fixed or variable? Remember to check the different comparison rates on each home loan for an idea of its real cost versus the cost of the loan to you.
Does the loan charge high fees, or is it fee-free?
What flexible features does the loan offer?
How easily can you apply for the loan, and do you meet the lending criteria?
How quickly do you need finance approval? Is there a settlement timeframe clause you need to meet, and if so, will a brick-and-mortar lender be able to process your loan application within said timeframe?
When comparing online lenders, you should also check out reviews from other customers to see how they perform. Remember not to get sucked in by flashy advertising!
What are the pros of online home loans?
Lower interest rates
One of the primary benefits of online home loans is the low interest rates they can potentially offer. Thanks to their relative lack of overheads (e.g. rent on a retail space, branch staff salaries), these lenders may possibly be better positioned to offer lower interest rates than their more traditional, brick-and-mortar competitors. These lower interest rates can mean lower monthly repayments, and this in turn could let you make additional repayments towards your home loan and potentially pay it off earlier.
Of course, there's no guarantee that any given online lender will offer lower interest rates; but by thoroughly comparing the home loans on offer from a range of both online and brick-and-mortar lenders, you'll be able to make a more informed decision about which one could be right for you. Whether you want a fixed or a variable interest rate, comparing your options is particularly crucial if you're looking for a low rate.
Lower fees
Another potential benefit that homebuyers stand to reap from going with an online lender is lower fees. Online lenders may have lower fees for the same reasons they have lower interest rates – they can afford to charge less on their home loans because their operational costs are lower than their brick-and-mortar competitors.
This may result in lower upfront (e.g. application fees and valuation costs) and regular costs (e.g. loan account maintenance and any other ongoing fees). However, it's not a sure thing by any means. Always compare your options and determine for yourself how online home loans stack up against the competition in the context of your financial circumstances.
Faster approval times
Because they operate 100% online (and often with innovative processes and technology not utilised by traditional lenders), many online lenders claim that they can pre-approve a home loan in hours or even minutes. This can potentially apply to any customer, whether they're buying a new home, their next home or an investment property, or even if they want to refinance their existing loan.
Even if an online lender can't narrow it down that quickly, they'll usually specify whether they can offer same-day approval or not.
However, you should still keep in mind that home loan pre-approval and final approval are different to settlement, which is the final transfer of the property into your name. Going from an initial home loan pre-approval to the final settlement can still potentially take weeks, even with the speediest of digital lenders.
What are the cons of online home loans?
Some specific types of borrowers may miss out
While they might sit on flashy-looking webpages and promise you low rates and huge savings, a major drawback to online home loans is how narrow their scope can be when it comes to who they suit. Each lender has their own eligibility criteria they use to determine whether to approve new customers for a loan. This can include:
Certain household income thresholds
The location – some areas or postcodes (e.g. rural areas) are often excluded from eligibility, as they're generally perceived to make for riskier lending
Specific property value thresholds
Certain loan terms (e.g. they may only let you choose a 30-year term) and loan amounts
Your employment and credit history.
That ultra-low interest rate might look appealing but be sure to first enquire with the online lender in question to see if they're likely to approve you for a loan based on your circumstances.
They may not offer a wide range of home loans
One drawback of being a leaner and meaner lending machine is that the average digital lender might not have the resources to offer a full suite of home loans. Conversely, the bigger banks have hundreds, if not thousands, of staff along with the resources required to develop a wide range of products and bring them to market.
While you could easily find owner-occupier, investment and refinancing home loans on offer from digital lenders, they're less likely to offer other loan types, like construction loans, line of credit loans or debt consolidation loans. Contract workers and self-employed individuals may also have a harder time getting a home loan online.
Some might prefer in-person banking
Physical, in-person banking is still a valuable option for many people. Sometimes speaking to a real person who's sitting right in front of you can make it easier to solve problems than trying to do so online. For example, some older Australians may struggle with technology, and subsequently tend to prefer to do their banking in person.
Many people may simply prefer to discuss something as significant and potentially complex as a home loan face-to-face with a specialist or broker, purely for the comfort factor. Even better, a specialist or broker should be able to speak to the pros and cons of a given online home loan, and help you develop a more confident understanding of these products in an in-person, face-to-face context.
Even if you have no problem navigating a website or app, you may decide that you don't want to give up the ability to bank in-person. And in that case, an online home loan may not be right for you.