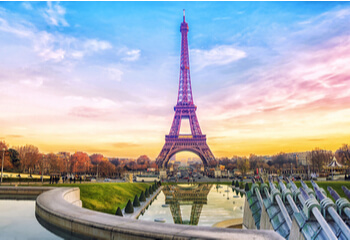 Paris is known as the city of love and lights, but your dream holiday to the French capital could turn into a nightmare, with a bed bug infestation causing chaos across the city. And with the Olympics on the horizon and a number of world-class events like Paris Fashion Week and the Rugby World Cup already underway, experts are warning that the nasty creepy-crawlies may not be covered by your travel insurance policy.
Paris city officials have warned that 'no one is safe' from bed bugs right now, meaning there's a  chance you'll come across the critters if you're catching a subway ride to the Louvre, watching a French classic at the cinema or even checking in to your hotel.If you have a trip on the horizon, Compare the Market's General Manager for General Insurance and travel insurance expert, Adrian Taylor, said it's important to understand what is and isn't covered by your travel insurance policy when it comes to bed bugs.
"They're creepy and they're crawly and unlike many events when travelling, bed bugs usually aren't covered by your travel insurance policy," Mr Taylor said."In most cases, your policy won't cover you for additional expenses or cancellation costs relating to a bed bug infestation. This means that you could be left out of pocket if you choose to change a hotel, cancel a booking or wash your clothes or belongings due to a bed bug outbreak.
"However, if there's a local directive from the responsible government or local authority directly affecting the area where your pre-booked accommodation is located and you're forced to move from pre-booked accommodation to continue your trip, some policies will cover you up to the amount specified in your policy schedule."According to Mr Taylor, medical expenses incurred due to bed bugs may be covered by your policy, but it's unlikely that the costs would outweigh the excess that you'd need to pay.
"If you are bitten by bed bugs and suffer an allergic reaction that lands you in hospital, your travel insurance may also cover the medical expenses related to your hospital stay," Mr Taylor said. Additionally, if the place you have booked cancels on you, travel insurance may also be able to step in for an alternate accommodation."
"However, people should refer to their travel insurance Product Disclosure Statement before heading off to understand what is and isn't covered by their policy. And if they have any questions, it's best to contact their insurer for more details.
"With so many other countries now on high alert, like the United Kingdom, travellers planning to visit Europe in the next few months should be on high alert, as this outbreak could spread to other cities and countries fast.
"Bed bugs aside, it's paramount to take out travel insurance as soon as you book your trip, as it can cover you for a variety of things like lost of stolen luggage, cancelled flights and more."
Mr Taylor said there were still things travellers could do to mitigate the risk of bed bugs turning their holiday into a horror show.
"It's regretful to see this outbreak come about, especially as so many people are likely to go over to Paris for the Christmas season and enjoy all its festivities," Mr Taylor said. "And while people may be concerned about their upcoming trip, there are a few things that people could do and pack to ensure that they are a bit more covered before they head off.
"Starting with the basics, it's best to use a hard cased luggage and pack your clothing items in resealable bags, as it'll be harder for the bed bugs to infiltrate once you get to your accommodation, and if they do get in, there is another layer of protection for your clothing.
"Given the level of the outbreak in Paris, it's best to ensure that you do not open your luggage on public transport, and if you do have a handbag or satchel to keep those closed at all times, unless necessary to get something out.
"Once you get into the hotel, people should look around to see if they can see any signs of bed bugs in or on the bed, other furniture in the room or even on the carpet. If there are sightings of these critters, go down to reception and see if a room swap is available.
"Otherwise, keeping your luggage and all personal items off the floor or upholstered furniture is best. If that's not possible in your room, a dry bathtub is the second-best place.
-ENDS-
For interviews and more information, please contact:
Noémi Hadnagy | m: 0433 377 252 | e: [email protected]    
Compare the Market is a comparison service that takes the hard work out of shopping around. We make it Simples for Australians to quickly and easily compare and buy insurance, energy, and home loans products from a range of providers. Our easy-to-use comparison tool helps you look for a range of products that may suit your needs and benefit your back pocket.
Did you find this article interesting or helpful?