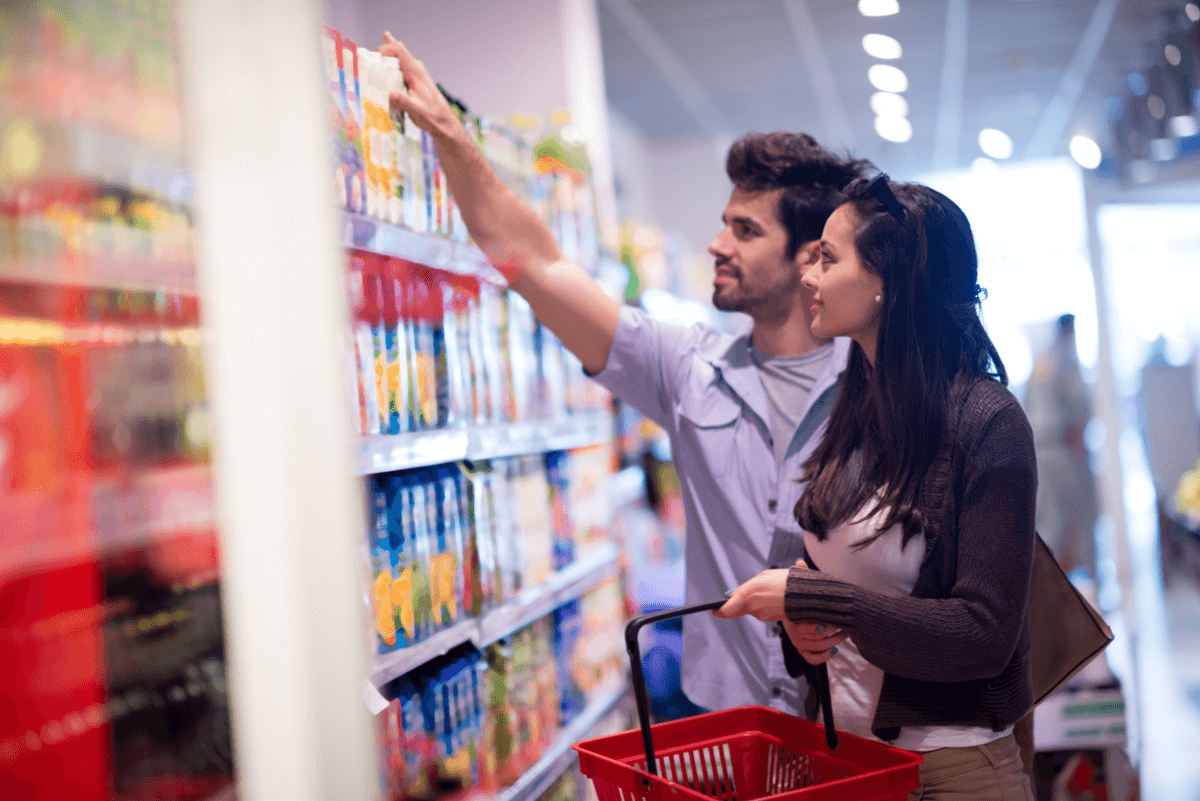 More than a third of Australians say that the rising cost of groceries is having the biggest impact on their budget, according to new research from Compare the Market.
A new survey from the comparison website found that 32% of Aussies surveyed said their grocery shop is currently the biggest financial burden, ahead of mortgage repayments (24.1%), rent (15.2%) and energy costs (7.7%).
Compare the Market's Noémi Hadnagy says it's no surprise that households are feeling the pinch in the supermarket and not seeing their dollar stretch as far as it once did.
"Our data shows that the average Aussie spends $199.46 on groceries per week, which is around $864 a month or $10,372 a year," Ms Hadnagy says. "Compared to just two years ago, Aussies are spending $1,565 more on groceries annually, which really adds up when we factor in a rise in rent, repeated rate rises for mortgages, as well as high energy bills and insurance renewals.
"When you add that up, it's enough to fund a weekend getaway, pay for your car's annual registration, cover your internet bills for a year or purchase a new smartphone. It's quite alarming."
According to Compare the Market's data, Aussies spent an average of $169.35 a week on groceries in September 2021, which jumped to $184.21 a week last June and has since increased by another $15.25. Ms Hadnagy says a perfect storm of factors are causing prices to increase at the supermarket.
"Recent weather events have driven up the price of some goods and we know there's been a shortage of some fruits and vegetables," Ms Hadnagy explains. "Similarly, businesses are forking out a lot more for energy, meaning it's costing them more to make the goods we rely on every day. It's also costing more to transport the goods thanks to higher fuel prices, and unfortunately, this cost is often passed on to the customer."
Gen Z is the generation most likely to be feeling the pinch of higher grocery prices, while Millennials are the least likely to say groceries impact their budget. Meanwhile, close to half of Aussies (46.5%) admit to spending less at the grocery store to afford their bills.
Once again, Zoomers are becoming the most thrifty when it comes to shrinking their grocery bill, while Baby Boomers are the least concerned about cutting back at the grocery store. But just how much has the bill increased on average over time?
| | |
| --- | --- |
| Year | Weekly spend |
| September 2021 | $169.45 |
| June 2022 | $184.21 |
| April 2023 | $199.46 |
"Gen Z is the most concerned about rising grocery bills and the generation spending the lowest amount at the supermarket," Ms Hadnagy says. "In contrast, it's Gen Xers spending the most each week at $225.32 on average. Of course, this age group is highly likely to have children and families and it does make sense that they're paying more than Gen Z or even Baby Boomers.
"Whatever your age, now's really the time to wake up to waste. We know prices are rising across the board, but there are ways to save. Spending a little bit more time planning or comparing prices is one of the easiest ways to keep that grocery spend down."
Ms Hadnagy's top tips for paying less at the checkout.
Research ahead of time. Shop where the discounts are, as supermarkets run weekly specials. You may even choose to split your shop across multiple stores to maximise your savings.
Be disloyal to brands. You may be able to save significantly by purchasing a different brand.
Look at the unit price rather than the big price displayed. This will help you determine whether it's cheaper to buy in bulk or at a smaller quantity.
Flash your reward cards and boost within the apps. Every dollar spent earns you points. But remember to boost within the apps to earn more points and take advantage of specials available.
Shop outside the box. Discount stores or department stores may offer some items, like lollies, chips, drinks and even cleaning supplies for less. It pays to compare.
See if you're eligible for savings through your insurer or energy retailer. Check your insurance policies, energy plans, mobile phone deals and more, as you may be entitled to hidden rewards and discounts you're unaware of. For example, many insurers allow you to earn points that you can redeem within special reward stores. Meanwhile, Australian households with an insurance policy or mobile plan with Woolworths can receive a 10% discount on one shop per month.
*Survey of 1,003 Australian adults, conducted March, 2023.
For more information, please contact:  
Phillip Portman | 0437 384 471 | [email protected]
Compare the Market is a comparison service that takes the hard work out of shopping around. We make it Simples for Australians to quickly and easily compare and buy insurance, energy and travel products from a range of providers. Our easy-to-use comparison tool helps you look for a range of products that may suit your needs and benefit your back pocket.
Did you find this article interesting or helpful?