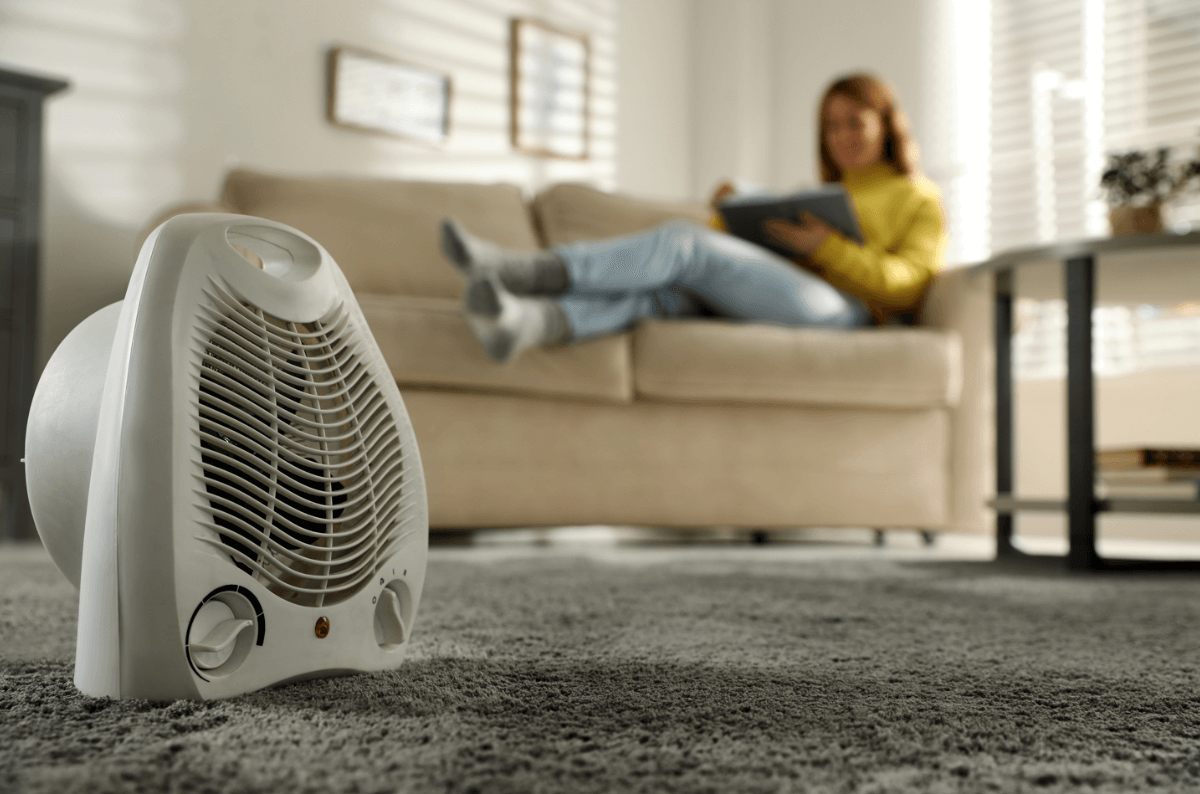 With households across Queensland grappling with the ongoing energy crisis, new Compare the Market research has revealed just how much more we could be forking out when running the heating this winter. In fact, some types of heaters could add hundreds of dollars to your electricity bill, which could hurt the hip pocket of households already facing rising prices.
While experts are predicting a warmer winter this year, many households will still opt for heating on those days when the mercury plummets. Compare the Market's Head of Energy, Meredith O'Brien, warns that it could be an expensive winter – depending on the type of heating you use.
"It's expected to be warmer than average in Queensland this winter, but as we're already feeling, temperatures are dipping and it's getting that little bit harder to get out of bed in the morning," Ms O'Brien says. "Many households across the sunshine state will be relying on their heaters to keep them warm, but it's important to know that doing so could increase your electricity bill.
"Our research shows that a cheaper portable fan heater can cost you nearly $220 to run over winter, which is a whopping 355% more expensive to run than a small reverse cycle split system, which costs an average of around $50 for the same period.
"So, while portable devices generally have a smaller upfront cost, they typically chew through more electricity than reverse cycle split systems and can cost you more in the long run."
If your home doesn't have a split system and you're in the market for a portable heater, the research shows that a panel heater could be the most cost-effective option. One model analysed would cost an estimated $91 to run over the winter months, which is $127.40 cheaper than a portable fan heater or half the price to run than a convection heater.
Of course, different heaters have different heating capabilities. Generally speaking, the more heat a heater generates, the higher the cost will be to run.
Of course, other factors that may impact your bill include:
your frequency of use
the size and capacity of the heater, relevant to the size of the room or area of space that you're heating
the energy-efficiency rating
your energy retailer's usage rates.
"When shopping, pay close attention to the energy star rating or the heating capacity. The higher the energy star rating, the more energy-efficient the heater will be," Ms O'Brien says. But remember that devices or appliances with a higher heating capacity will cost more to run.
"It can also be difficult to resist the urge to crank the heat to the highest temperature on those chilly days, but doing this often could lead to bill shock.
"Instead, set the temperature to between 18°C and 20°C and resist the urge to increase the heat. Each degree warmer can add 10% to your overall electricity usage, which could increase your overall bill."
Ms O'Brien says there are other things you can do to make the most of your heating and keep warm for less, including:
Keeping the heat in
You can reduce heating bills in winter by up to 25% by draught-proofing your home. If you do use a heater, remember that every degree warmer you set it can increase your energy usage by up to 10%.
Using smart thermostats
For those with ducted air conditioning and heating, smart thermostats allow you to control the temperature of your home virtually. If you forget to turn off your heater in winter, smart thermostats allow you to alter the temperature of your home while you're out of the house.
Using power wisely
If you're on a time-of-use plan, avoid using power-guzzling devices during peak hours outlined by your retailer. Generally, it's cheaper to run appliances overnight and on weekends – which are off-peak times.
Utilising solar power during the day when it's being generated by your solar PV system
If you are working from home, do your washing during the day or set timers for the dishwasher, washing machine & pool pump if you have solar. Solar PV systems generate electricity during the day when the sun is shining, so this is the optimal time to run appliances using solar energy.
Investing in Intelligent power point adaptors
A main cause of energy-guzzling in your home could be what is known as "phantom power". Devices that are plugged in but not turned on guzzle as much as 10 per cent of a home's power. Intelligent power point adaptors detect when a device goes into standby mode and block power from the wall this way.
Portable heaters:
| | | | | |
| --- | --- | --- | --- | --- |
| Heater type | Brand | Usage | Daily running cost | Quarterly running cost |
| Column Heater | Dimplex 1.5kW Oil Free Column Heater w/Turbo Fan | 1500W | $1.50 | $136.50 |
| Convection Heater | DeLonghi 2000W Convection Heater | 2000W | $2.00 | $182 |
| Portable Fan Heater | Kambrook 2400W Upright Fan Heater | 2400W | $2.40 | $218.40 |
| Panel Heater | Rinnai 1000W Panel Heater | 1000W | $1.00 | $91 |
| Tower Heater | Kambrook 2000W Grey Ceramic Tower Heater | 2000W | $2.00 | $182 |
| Radiant Heater | Nordic 1800W Radiant Heater | 1800W | $1.80 | $163.80 |
Assuming a home in Brisbane (4000) with electricity usage of 25 c/kWH uses their heater for four hours a day, seven days a week for three months. Actual costs may vary depending on the size of your room, how often you use your heater, the temperature you set your heater and how many heaters you use. Calculated using SA Government's Electrical appliance running cost calculator. Accurate as of 2/5/2023
Reverse Cycle Units:
Heater type
Brand
Usage
Energy Star Rating
Daily running cost
Quarterly running cost
Reverse Cycle Window Box
Dimplex C4.1kW H3.6kW Reverse Window Box Air Con

 

3600W
1
$1.11
$101.31
Reverse split (small unit)
Fujitsu C3.5kW H3.7kW Reverse Cycle Split System

3700W
3.5
$0.53
$48
Reverse split (medium unit)
Hisense C5.0kW H6.4kW Reverse Cycle Split System

6400W
3.5
$0.80
$73.38
Reverse split (large unit)
Panasonic C8.0kW H9.0kW Reverse Cycle Split System and Air Purifier
9000W
3.5
$1.46
$132.94
Calculated using Energy Rating's Energy Rating Calculator. Assuming a home in Brisbane (4000) with electricity usage of 25c.kWH. Annual calculation is estimated by Energy Rating based on average use in 4000 postcode. Compare the Market has calculated daily usage by dividing annual running cost by 365 and quarterly cost by dividing annual running cost by 4. Actual costs may vary depending on the size of your room, how often you use your heater, the temperature you set your heater and how many heaters you use. Accurate as of 2/5/2023
For more information, please contact:  
Phillip Portman | 0437 384 471 | [email protected]
Compare the Market is a comparison service that takes the hard work out of shopping around. We make it Simples for Australians to quickly and easily compare and buy insurance, energy and travel products from a range of providers. Our easy-to-use comparison tool helps you look for a range of products that may suit your needs and benefit your back pocket.
Did you find this article interesting or helpful?