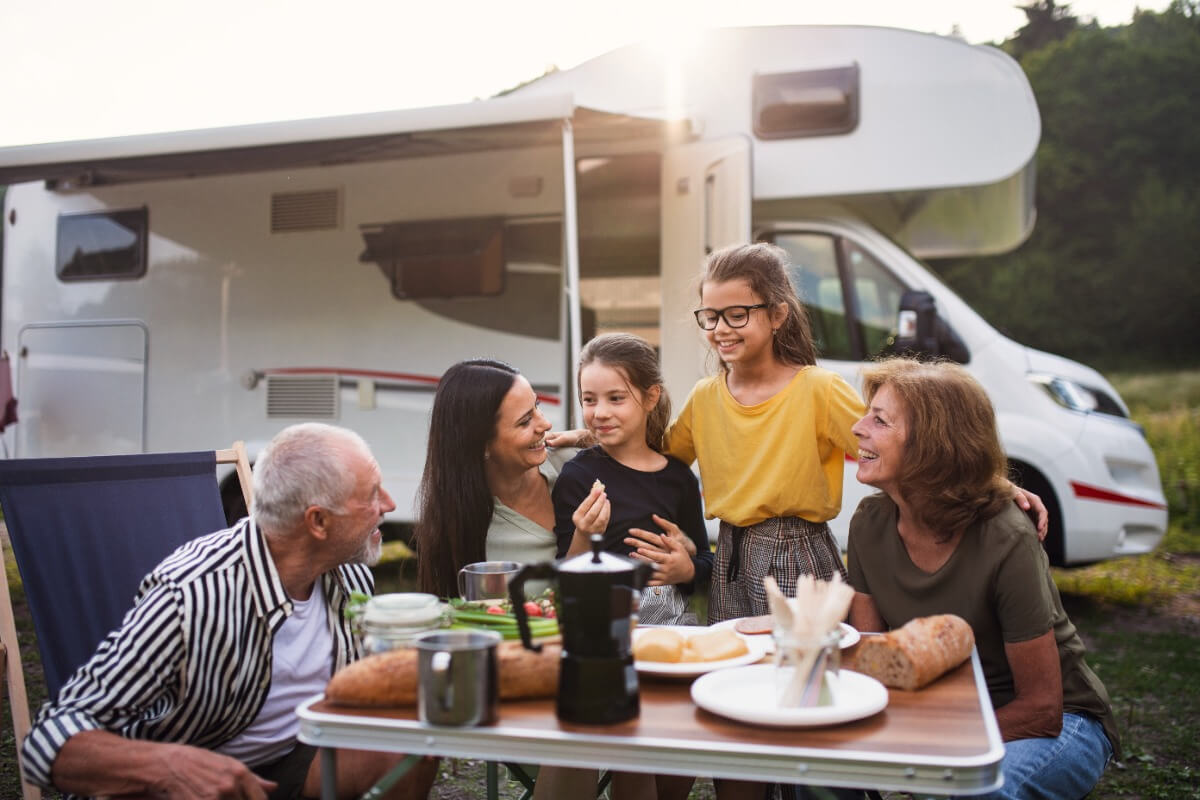 With thousands of Aussies hitting the road each day in caravans and campervans, Compare the Market is warning grey nomads to travel-proof their adventure or risk forking out more for their great Australian dream.
While this unique rite of passage seems as simple as securing a caravan or motorhome and setting away, there are many things you need to factor in to remain safe on the roads and ensure your usual home without wheels is protected when you're not there.
From having the proper insurance to finding the best fuel deals and even keeping on top of bills when you're exploring the country, Compare the Market's General Manager of General Insurance, Adrian Taylor, says there are important things to consider before setting off on your adventure.
"Many of us spend years finding the perfect caravan or campervan, mapping out our journey and preparing for our escapades on the road, but we can fail to consider things that could leave us significantly out of pocket," Mr Taylor says. "A bit of planning before your next road trip will ensure you not only have a great time on the road but you don't get stung by any unexpected costs.
Adequately cover your caravan
While some comprehensive car insurance policies provide limited cover for caravans and trailers, this usually only applies when your car is towing the caravan and almost never covers your caravan for its total worth. However, there are options available.
"Some insurance companies offer specialised caravan insurance as a standalone policy, which can provide cover for accidental damage, theft, fire, storm and more. This is vital, especially when you're driving in unfamiliar areas or on new roads," Mr Taylor says.
"Your caravan or campervan is essentially your home away from home, so it makes sense to protect it. Some insurers will even allow you to personalise your cover with optional add-ons like contents cover, which gives you added peace of mind on the road. Always read the Product Disclosure Statement (PDS) to know all inclusions and exclusions. The last thing you want is to be underinsured when you need cover the most."
Keep in mind that certain activities, such as driving under the influence of drugs or alcohol, driving through flood waters and driving recklessly, can impact the outcome of any claims, so always drive safely on the roads.
Prepare to pay more for fuel and tolls
Ensure you're factoring in enough for fuel on your adventure, especially because petrol can cost more in regional areas than it does in major cities.
"Regional areas have smaller populations and lower demand for fuel, which usually results in less competition but higher prices," Mr Taylor explains. "Fuel comparison apps like Compare the Market's Simples App are a free and easy way to track down cheaper fuel deals on the road. In the same way you'd compare prices at the grocery store, doing so with petrol on the road can give you more bang for your buck."
Similarly, towing a caravan or driving a campervan could bump you to a different vehicle class, which could come with a higher toll price.
"Always be sure to register your caravan's licence plate number with your online toll account or keep an eye on payment instructions if you're passing through a toll," Mr Taylor says. "Even if you're interstate, you're still required to pay for any toll road you use."
Doing it on the cheap
If you want the thrill of a grey nomad adventure without spending your savings on a caravan of your own, there are ways to explore Australia on a budget. Several companies, like Imoova, Transfercar and Europcar, allow you to rent a caravan or vehicle for as little as $1 a day.
"The idea is that you get all the perks of the grey nomad lifestyle without needing your own caravan or campervan," Mr Taylor explains. "You typically pay a small fee for each day, pay for your own fuel and deliver the vehicle to an agreed location."
However, Mr Taylor stresses that while these companies can be a great way to explore new areas, they're usually only for one-way trips.
"For example, you may pick up a campervan in Brisbane and need to drop it off in Sydney. $1 a day sounds like a bargain, but it can add up when you factor in petrol, meals and even your flight back to Brisbane if you're not planning on repatriating to Sydney. Always look at the whole picture if you're considering this path."
And, as we approach the summer months and peak holiday period, be sure to plan ahead if you're staying in caravan parks or campsites.
"We know that many holidaymakers are already planning their Christmas breaks, so now's the time to lock in a cheap rate for accommodation and secure a booking," Mr Taylor says. "The last thing you want is to be left without somewhere safe to set up camp at night – especially in an unfamiliar area."
Consider travel insurance
While you'll still be able to access subsidised healthcare anywhere in Australia with your Medicare card, domestic travel insurance can prove valuable and provide you with cover for unexpected accidents and incidents when you're travelling around Australia.
Your plans may be disrupted, you could lose your luggage or it could become damaged and your trip could be impacted by natural disasters or severe weather. Domestic travel insurance can be a great financial safety net to ensure your holiday stays on track.
"Many nomads consider travel insurance to allow them to trip around Australia with even great confidence knowing that some of their mishaps can be covered by insurance," Mr Taylor says.
"Domestic travel insurance will provide cover for luggage and personal effects that nomads take with them while exploring Australia, and most domestic policies will also provide cover for personal liability."
Home security
Many nomads work their whole lives for their great Australian adventure but being away for longer periods can leave their homes susceptible to burglaries.
"Unfortunately, leaving your home unoccupied creates a perfect opportunity for brazen thieves," Mr Taylor says. "However, we know that home security systems, alarms, cameras and motion-censored lights can deter potential thieves. Worryingly, our recent survey shows that 62.5% of older Aussies have no security measures in place.
"Consider having a family member or friend stay at your home or check in regularly while you're away. Home and contents can also be important, however, be aware that most home and contents policies will exclude cover for homes that are uninhabited for a set period, which can vary depending on the insurer. Similarly, the definition of uninhabited and unoccupied varies between insurers, so always check your policy's Product Disclosure Statement for the details."
Keep in mind that some insurers may still be able to provide you with cover if you advise them how long the home with be left unoccupied for. Always be aware of the specific terms and conditions with your insurer before you plan your adventure or make arrangements so your home isn't left uninhabited.
Keep on top of bills and avoid fines
Bills don't just stop when we're on the road, and even if you've left your home in the capable care of a loved one, they're something you'll still want to keep on top of.
"Where you can, opt for paperless bills that can be sent via email or to an online portal. This will ensure you stay on top of your expenses – no matter how long you're on the road," Mr Taylor says. "Failing to pay bills could leave you in a pickle when you return home or even impact your credit score.
"Similarly, online banking has become commonplace, and you can organise direct debits for things like insurance, energy, rates and more. Simply set up your payments so you can enjoy your adventures without the stress."
Depending on the length of your trip, you may be able to redirect mail to a new location, while you'll also want to keep on top of voting if you won't be in your electoral area for upcoming elections.
"There are a number of local elections coming up and even if you're on the road, you could be fined if you don't cast your vote," Mr Taylor explains. "Contact the Australian Electoral Commission office and advise them of your travel plans and dates, so they don't remove you from the electoral roll. You'll still be able to cast a postal vote, early vote or even submit your vote in person if you're in another state."
For more information, please contact:  
Phillip Portman | 0437 384 471 | [email protected]
Compare the Market is a comparison service that takes the hard work out of shopping around. We make it Simples for Australians to quickly and easily compare and buy insurance, energy, travel and personal finance products from a range of providers. Our easy-to-use comparison tool helps you look for a range of products that may suit your needs and benefit your back pocket.
Did you find this article interesting or helpful?