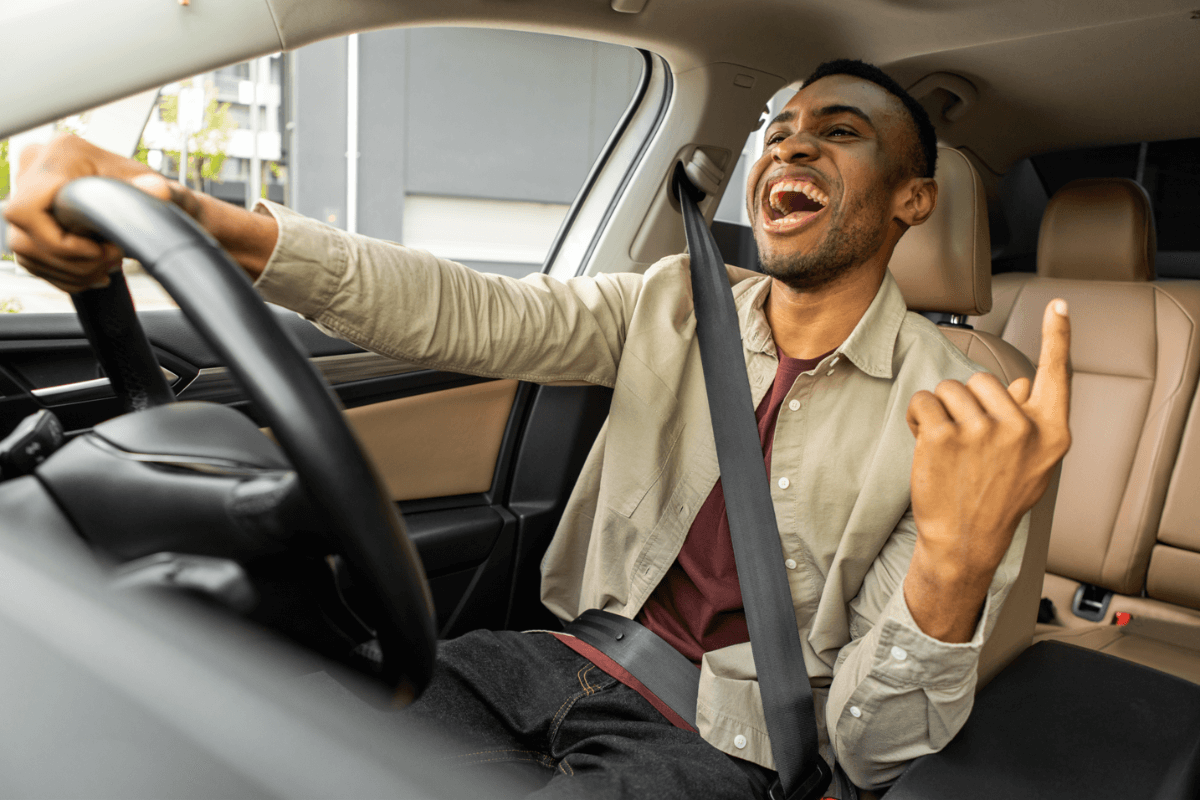 If you've flipped a P-plater the bird while driving, it's probably because they're a bad driver – or at least that's what the majority of Australians must think, with 51% declaring Generation Z as the most dangerous on the roads.
This comes as new Compare the Market research reveals that 39% of Zoomers have used their phone while driving, which isn't just dangerous but is also a criminal offence.
In the February survey of 1,010 Australians, Gen Z also confessed to a number of audacious driving habits, including eating food (63%), applying makeup (19%), reading a book (4%), taking a photo or video (24%), and vaping or smoking (25%) while driving.
Unsurprisingly, the majority of people who voted Gen Z as the most dangerous drivers were Boomers.
But while Gen Z was also the most likely to believe Boomers were the most dangerous drivers, more than 46% of Boomers said they've never done any of the above dodgy driving habits.
This compares to an abysmal 23% of Zoomers who say they've never used their phone, eaten food, applied makeup, read a book, taken a photo or video, and vaped/smoked while driving.
| | | | | | |
| --- | --- | --- | --- | --- | --- |
| | 18-25 years | 26-41 years | 42-57 years | 58+ years | Total |
| I have used my phone | 39.10% | 43.40% | 32.50% | 13.80% | 31.10% |
| I have put on make-up | 18.80% | 11.70% | 3.90% | 1.40% | 7.70% |
| I have eaten food | 62.50% | 64.40% | 64.90% | 48.20% | 59.40% |
| I have read a book | 3.90% | 4.30% | 0.90% | 0.40% | 2.20% |
| I have taken a photo/video using my phone | 24.20% | 13.90% | 12.70% | 2.20% | 11.50% |
| I have smoked/vaped | 25.00% | 12.80% | 21.90% | 13.40% | 17.00% |
| I have done none of the above | 22.70% | 27.00% | 27.60% | 46.40% | 32.40% |
Sourced from Compare the Market's February survey of 1,010 people.
Overall, only 21% of Australians believe Boomers are the most dangerous behind the wheel, followed by Millennials (19%), while Gen X was voted the safest at 8%.
Meanwhile, Millennials and Gen X are most likely to view themselves as the most dangerous.
According to Federal Government data, a new P-plater is six times more likely to have a severe crash than any other driver.
But Compare the Market General Manager of General Insurance, Adrian Taylor, said it's not just P-platers that drivers have to look out for.
"Our research shows that Millennials are the most likely age group to use their phone while driving," Mr Taylor said.
"That's a concerning statistic, especially considering using your phone while driving is illegal.
"If you get into an accident and it's been discovered that you were distracted by your mobile at the time, your insurer may not cover you."
While Gen X was voted the safest drivers by other generations, 32.5% of Gen Xers claimed they had used their mobile phone while driving – that's 6% higher than the number of Gen Zs who said they'd done this habit (39.1%).
And, it appears that the hunger is real for some generations, with more than 64% of Gen X and Millennials admitting to eating behind the wheel.
"Although snacking while driving isn't technically illegal, this could impair concentration while driving," Mr Taylor said.
"So, you might get away with eating a muesli bar or sneaking a chip on a takeaway run, but perhaps not noodles or soup.
"In Queensland, you can be fined up to $575 and 3 demerit points if you fail to stop at a yellow or red traffic light."
"It doesn't matter how many driving hours you've logged – any habits that make you look away from the road can cause you to crash.
"Taking your eyes off the road for two seconds doubles the risk of a crash or near crash.
"The younger generations get a bad rap for being bad or dangerous drivers, but that's because they're still learning and don't have as much driving experience.
"So make sure you give the P-platers a bit more room on the roads, don't tailgate them if they're going slow.
"Have some patience; It's better to be safe than sorry.
"Look out for all drivers on the road, particularly those that are swerving in and out of lanes.
"You don't know what's going to be around the corner, so it's better to stay focused on the road."
For more information, please contact:  
Natasha Innes | 0416 705 514 | [email protected]
Compare the Market is a comparison service that takes the hard work out of shopping around. We make it Simples for Australians to quickly and easily compare and buy insurance, energy, travel and personal finance products from a range of providers. Our easy-to-use comparison tool helps you look for a range of products that may suit your needs and benefit your back pocket.
Did you find this article interesting or helpful?