Have you got an upcoming road trip across the United States? Or maybe you're planning on go-karting in the streets of Tokyo. Regardless of where you're going, if you're going to drive in another country, you may need an international driver's licence.
Otherwise known as an international driver's permit (IDP), this licence is sanctioned by the United Nations. This handy card will allow you to legally rent vehicles and drive overseas without taking extra tests on your holiday. It's also a recognised form of photo ID in 174 countries.
You can use an international driving licence in more than 150 countries, and it's usually printed in nine different languages for local authorities (English, Spanish, Japanese, German, Greek, Arabic, French, Russian and Chinese). Many insurance companies won't cover you for any vehicle-related claims if you drive without the proper licence, so make sure you do your research.
Where do I get an international driver's licence?
You can get your international driver's licence or international driving permit online from the Australian Automobile Association (AAA) website as authorised by the Australian Government, or in person at your local state or territory's motoring club:
| | |
| --- | --- |
| State or territory | Motoring club |
| New South Wales | NRMA |
| Australian Capital Territory | NRMA |
| Victoria | RACV |
| Queensland | RACQ |
| South Australia | RAA |
| Western Australia | RAC |
| Tasmania | RACT |
| Northern Territory | AANT |
You'll need to have the following items with you whether you apply in person or online:
A current Australian driver's licence
Passport-size colour photo (no older than six months)
A credit or debit card for payment ($42 plus postage*).
*Price subject to change. Current as of August 2022.
Do I need an international driver's licence?
You'll need an international driver's licence in most countries if you're planning to drive or rent a vehicle. You can get this licence as long as you're over 18 years of age and have a valid open or provisional driver's licence;  while drivers on their P-plates can obtain an IDP, learner drivers are excluded. It's also important to remember you'll be subject to the local driving laws of whichever country you're in.
That's to say, most locations have a minimum car rental age of 21 and require a full driver's licence for you to be able to hire and drive. Other restrictions and conditions may apply that dictate what you can and can't do in each country, so be sure you look it up in advance on the Australian Automobile Association website.
Even after you get your international driving permit, you should always carry your Australian driver's licence. Your local licence validates your international driver's licence, meaning that you can only drive if you have both documents on you.
An expired, suspended or revoked licence isn't a valid document that you can use to get an international driver's licence, either. Furthermore, driving without the correct licence could get you arrested or land you in jail. Disobeying local driving laws and road rules can also invalidate any claims on your travel insurance.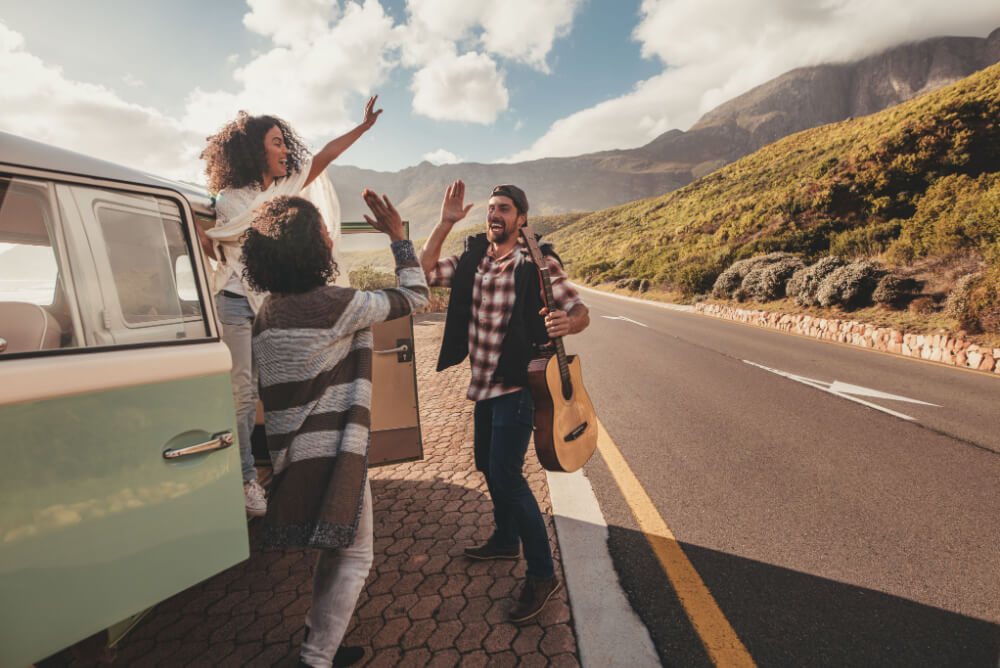 How long does it take to get an international driver's licence?
It usually takes three to eight business days to process and deliver an international driving permit to Australia if you've submitted an online application form. If you need the licence immediately, your local motoring club should be able to issue you one on the spot, provided that you meet all the requirements and have the correct documents.
Which countries accept an Australian driver's licence?
Most countries require you to get an international driver's licence to drive or rent a vehicle. However, you may be able to drive with just your Australian driver's licence in some countries, like Vanuatu, Puerto Rico and New Zealand.
Certain countries, like Portugal, the Philippines and the United Kingdom, will allow you to drive on just an Australian license for a certain amount of time (e.g. six months), so be sure to check out the specific driving requirements for any destinations you plan to drive in before departing.
How long can I drive on my international driver's licence?
Unlike a regular driving licence, an international driver's licence is only valid for 12 months from the date of issue, or until the expiry date of your Australian state or territory driver's license if that comes first. So, if you got an IDP a year ago and your trip was delayed, you'll still need to get it renewed for your upcoming trip.
What happens if my rental vehicle gets damaged?
Did you know travel insurance can also cover car, motorcycle and scooter rentals? While it's a good way to get around your destination, certain risks come with renting a motor vehicle. Fortunately, car rental companies typically offer rental car insurance when you sign a hire agreement.
This insurance will typically cover the costs if your rental gets stolen, damaged or involved in a collision while you're travelling, subject to the insurance terms. However, you'll still have to pay an excess, which can cost thousands of dollars.
With travel insurance, though, your insurer can cover this rental vehicle excess owed when you claim on that hire car insurance. Keep in mind, your insurer can deny your claim in certain circumstances, such as if you disobeyed road rules or did not have the correct international driver's license. To find out more about renting vehicles overseas, check out our page on car hire excess.
It's important to note, that most travel insurers will not cover rental excess for motorcycles, mopeds and scooters. If you're looking for excess cover for a motorcycle or scooter, be sure to read the PDS of your policy before purchasing to make sure you can get the cover you need.
Compare travel insurance for your next trip
Travel insurance makes it easy to protect yourself when you go on holiday. Compare a variety of policies side-by-side with our travel insurance comparison tool. It only takes minutes to compare policies for your trip.
So, what are you waiting for? Compare travel insurance today!