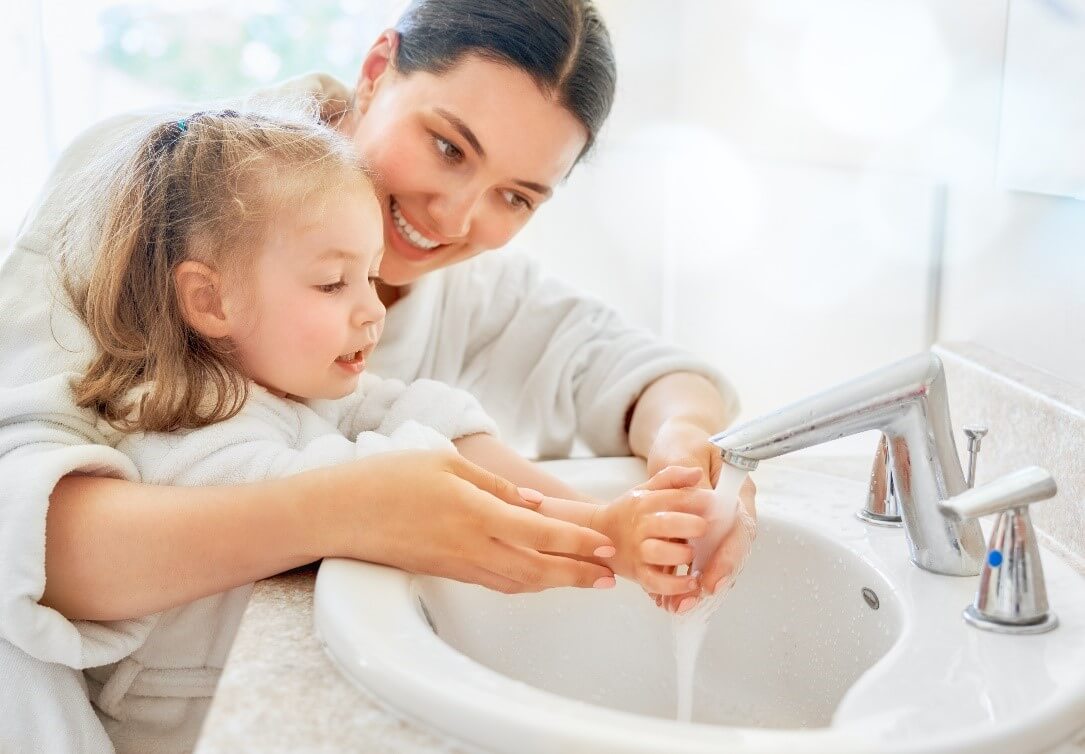 Whether it's body wash, shower gel or simple bar soap, we all have a favourite type of soap for our daily hygiene rituals. But are we getting the best value for our money?
Let's take a look at how much we really spend on our everyday hygiene products and what type of soap you should consider using.
How much do Australians spend on body cleansing products?
According to the Australian Securities and Investment Commission (ASIC), the average Australian spends $29 per week on personal care, which refers to the various products used to maintain personal hygiene and appearance.[1] That's $1,508 per year.
Though body cleansing products may only make up a fraction of that figure, it just goes to show how much Australians are willing to spend to maintain their appearance and personal hygiene.
Is there a difference in price depending on type of soap you use?
To find out whether there's a difference in price of various body cleansing products, we've graphed the prices of bodywashes, bar soaps and shower gels available in Coles. We chose Coles because it's one of the most popular supermarkets in Australia with an average of 6,337,000 Aussies shopping there every month! [2]
Since some Aussies prefer natural and organic products, we've organised the products depending on whether products used the words 'natural' or 'organic' to market their brand on their website.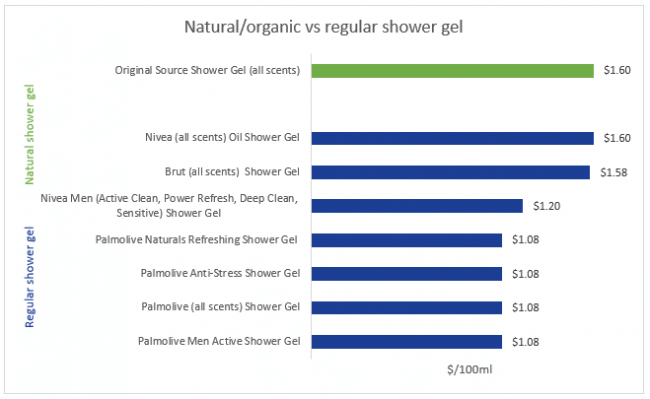 The average price of regular shower gel is $1.24, compared to $1.60 for natural/organic shower gels.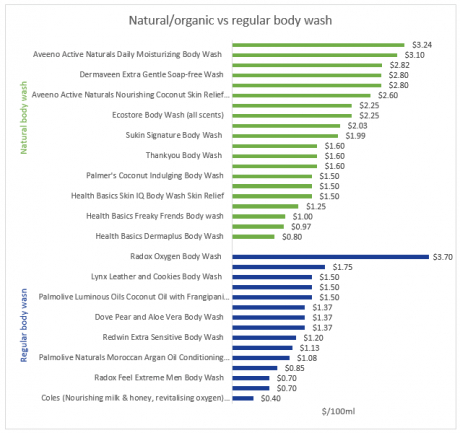 The average price of regular body wash is $1.34, compared to $1.96 for natural/organic body wash.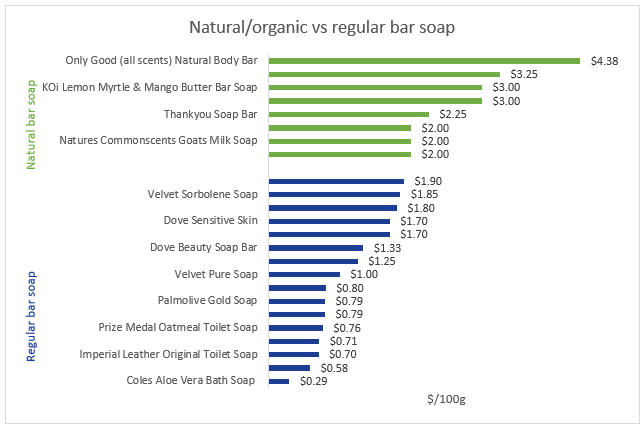 The average price of regular bar soap is $1.12, compared to $2.74 for natural bar soap.
Note: We've excluded the prices of hybrid products (shower gel body washes, shower creams, scrubs), and grouped together products of the same line if the only point of difference between the products was their scent. We've only included products that were available at the time of writing and products that clearly labelled themselves as a shower gel, body wash or bar soap.
The prices per 100ml were accurate at the time of writing and may be subject to change at any given time. This graph does not represent Coles' full range of body cleansing products or all body cleansing products available in the market. Prices accurate as of 31 July 2020.
Out of all the regular body cleansing products, bar soaps were the cheapest on average – however, they also offered the most expensive natural/organic option.
The impact on your household budget
Assuming the average person uses a 500ml of body wash in four weeks, they could be spending anywhere between $18.85 to $284.70 per year if they purchased their body cleansing products from Coles.
Of course, the following factors will impact how much you spend on body cleansing products and how much you use in a four-week period:
whether you use a loofa to lather your product;
if you let your soap bar dry;
how much of the product you use each time; and
how often you shower.
Using a loofa may extend your body product's life span as you can form a better lather and therefore use less product. If you're using bar soap, letting bar dry will stop it from dissolving and ensure that you're getting the most out of it.
Another factor that could impact your household budget is whether you use organic/natural or regular body cleansing products. The average organic body wash price is higher than the average regular body wash price. The same trend can be seen for shower gels and bar soaps.
So, which type of body wash should you be using?
Depending on your skin type, allergies and sensitivities, you may prefer one product or brand over another. However, you may want to consider the following the next time you go shopping for body cleansing products:
Shower gels had the highest volume of surfactants and abrasive ingredients, which would provide a thorough clean, but may cause skin irritation for those who have sensitive skin. This type of product generally offered fewer moisturising ingredients for a lower price.
Soap bars are generally the cheapest category of cleansing product and they had the least amount of irritating ingredients per product. However, keep in mind that bar soap may not be the most moisturising and can strip your skin of the natural oils it needs to stay healthy. Soap bars may also cause skin tightness.
Meanwhile, natural/organic soap bars had the highest average price and the highest percentage of readily recognizable ingredients, such as oils and extracts from various herbs, fruits and legumes (also known as botanicals), in each product.
Body washes are average in cost and typically have more irritating ingredients than soap bars, but less than shower gel. Organic body wash prices were higher than regular body wash prices, and generally had a higher proportion of botanicals than standard body wash. Standard body washes are generally formulated to include a higher amount of humectants and moisturising agents. Glycerin, for example, helps to soften and moisten the skin to decrease itching and flaking.
Across all three categories, organic products were often free from parabens (a preservative), synthetic fragrances, petrolatum, mineral oil, silicones, and sulphates but they had a higher price point. However, that doesn't mean that expensive products were always better.
Formulations that include one or more of these ingredients are not necessarily bad for your skin or health. For example, undiluted essential oils can irritate or burn sensitive skin.[3] Likewise, formulations that do not have a stable preservative system can lose efficacy or become contaminated with microbial matter.[4]
Read more of our other articles for more great tips for your household.
Sources
[1] ASIC. Australian Spending Habits. Accessed 30 April 2020.
[2] Roy Morgan. Looking beyond panic-buying, Australia's big supermarket store is Aldi's growing market share. Accessed 29 May 2020.
[3] FDA. (2017). Aromatherapy.  Accessed 5 August 2020.
[4] ACCC. (2015). ACCC analytical survey of microbiological contamination of cosmetics for use around the eyes. Accessed 5 August 2020.
Did you find this article interesting or helpful?